Apparently until Queen Victoria there was no traditional 65th anniversary gift; the charts jumped from 55th to 75th.
Sapphire means blue in Greek. The sapphire stones are characterized by their extreme hardness exceeded only by the diamond and their color and transparency. The blue sapphire is often called the gem of the sky and it comes in many shades of blue ranging from the deep blue of the evening sky to the mid-blue of a summer's day sky.

In ancient time it was believed that the earth was embedded in a big blue sapphire and that was why the sky was blue. In many civilizations the blue sapphire is a symbol of heaven
There was a big blue sapphire sky today where I am in Kamloops, BC. In another dimension I might have been shopping last month for a blue sapphire for today. Because February 5, 2015 would have been my parent's 65th anniversary.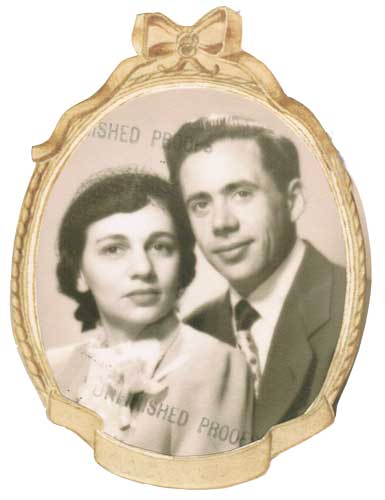 I see some sweet irony in this wedding photo being stamped with "UNFINISHED PROOF". Proof of? Never finished? I found buried in the digital photos their wedding certificate. I likely scanned at their house after Mom passed away in 2011 and my sisters and I cleaned out her house.
Unfinished Proof. Honoring and cherishing and plighting truth. In affection and sincerity.
Their first year of marriage was on a yearly salary of less than $5000 (I like how the 1950 1040A tax form is one page long). That was Mom who worked at "Reliable Liquors", she cleared $1000 salary in 1950 as a bookkeeper; Dad making $4000 as a bricklayer. Income disparity?
Taxes paid must be proof.
No blue sapphires given today, except from the sky. It made for light that sang and danced as proof of its pure blueness.
Unfinished.
Proof.
Poof.
---
Top / featured image credit: cc licensed (BY-SA) flickr photo by cphoffman42: http://flickr.com/photos/kitonlove/5784831032