In a bit of a self test, I am using the TRU Writer SPLOT tool to build a collection of papers I have published:
This is a little different from the other versions we have set up (in addition to the demo site we have two more being tried out in TRU English courses) because its only for me to write. I did create a cryptic access code, but do not need it since I am the site owner.
The link for the form is not on the site, but I go there directly to the submission form. I could write it as a post, but would have to remember a bunch of custom meta fields. And using the form helps me better understand the process as a user of the site.
And just to go far in the way back machine, the first one I created was for a paper I co-authored in 1991 as a graduate students in Geology at Arizona State University Hydraulics of the August 7, 1980, Pyroclastic Flow at Mount St. Helens, Washington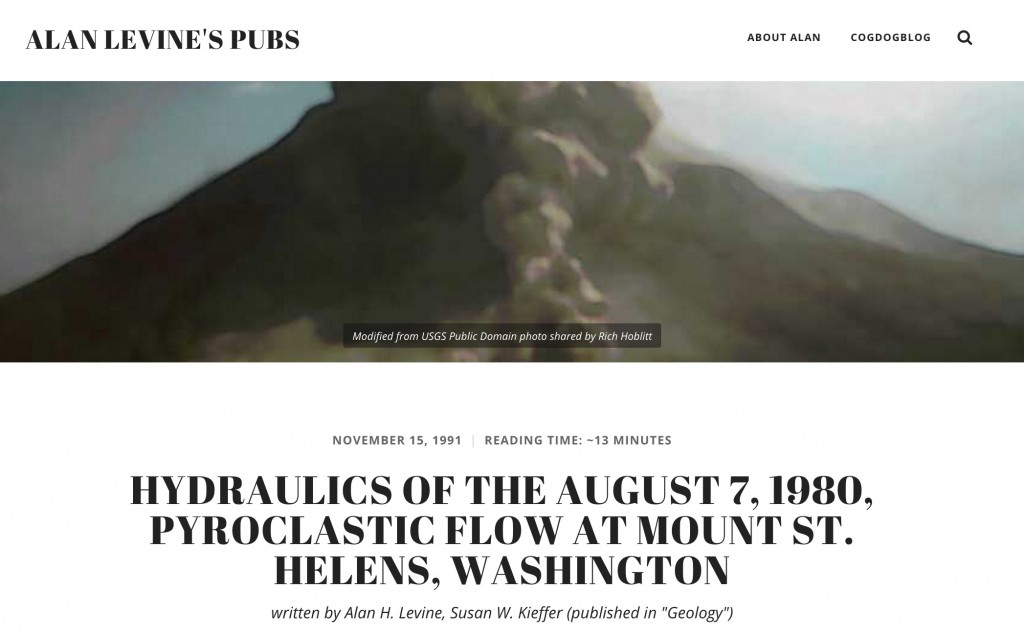 This was originally published in the Geological Society of America's journal Geology (abstract). A few years ago I contacted the journal, and they graciously emailed me a copy of the PDF version.
I have an old folder of my original files- none of the graphics files open (unknown format). The original Word doc I have is too old to open in a modern version of MS Word, but I could open it in BB Edit to copy the text.
I used that the PDF as guide, and also to do screen captures to get the diagrams as images. There was quite a bit of fine tuning in HTML to get the subscripts and superscripts on the equations (and do not ask me to explain my own writing, I barely remember this stuff).
The research was based on field observations of a USGS Geologist, Rick Hoblitt, who took a series of photographs of an August 7 small eruption at Mount St Helens (available as public domain as a USGS Paper). Hoblitt had shared with me and my advisors copies of his photos — they had time stamps so essentially we could calculate the velocity of the flow front between photo. The photos are at home, but I had one GIF image, that I tossed in Photoshop to make the header image.
Start with the oldest.
For all of these I use the WordPress feature to change the date of the post, so my first blog post was "published" in 1991.
The others I have posted so far include Database of Dreams an article I write in 2000 while working at the Maricopa Community College (published in our own newsletter). I was able to quickly add two things I authored/co-authored for EDUCAUSE Review: Web 2.0 Storytelling: Emergence of a New Genre and DS106: Not a Course, Not Like Any MOOC. For these, I had the original Word documents, so it was a cut and paste operation and some minor touchup.
I have a few more to add, but am pretty much happy with having this site as a stand alone collection of my published writing.