This may be one of my favorite all time portrait photos, capturing I think the playful but serious intent of Audrey Watters. during a Minding the Future event in 2013 at University of Mary Washington.
She had picked up a 3D printed shark jaw, and I barely got the camera pointed in time. I'm rather proud that Audrey still uses it as her twitter avatar.
That photo is shared freely on my flickr site, as it says, under Creative Commons ( BY-SA ) license. You do not need to pay to see the photo nor use it. You can download it, use it, as long as you provide attribution in some way and you share it in the same way. It is not behind a paywall.
That is how I read what Share Alike means. Quoting from the license:
ShareAlike — If you remix, transform, or build upon the material, you must distribute your contributions under the same license as the original.

No additional restrictions — You may not apply legal terms or technological measures that legally restrict others from doing anything the license permits.
You may not apply… technological measures that legally restrict others from doing anything the license permits.
Witness a technological restriction on the use of my photo that restricts others from even accessing this photo.
It is impressive and a well-earned honor that the Chronicle of Higher Education recognized Audrey's work as a "Rabble Rouser". I caught wind of this while traveling Friday, and I was pretty sure I saw the full article on my mobile device. Most of all, I was stoked to see the same photo used in the Chronicle article.
Yet when tweeted out again this morning by Bryan Alexander:
Congratulations to @audreywatters for being one of the Chronicle's Tech Innovators 2015! http://t.co/JSqCNEzFtV

— Bryan Alexander (@BryanAlexander) April 21, 2015
I followed the link again this morning, now that I am home on my laptop. Except this is what I see: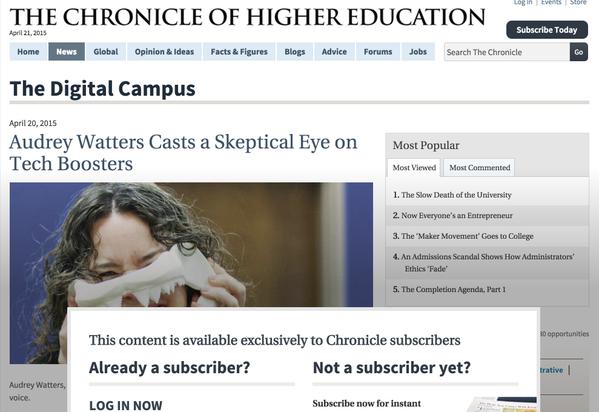 Yikes.
Paywall.
Now (insert cliché about not being a lawyer), but to my small mind, my photo is not being shared alike in the same manner it was original shared. You cannot even get to it without breaching the paywall.
All of the Chronicle Innovators are locked behind the paywall, including the founder and CEO of Lumen Learning (a company devoted to openness), plus others who most likely do their education work in the open. Without paywalls.
After two or more decades of awareness that creating scarcity of digital content is a physical paradox (the cost of copying is nil, and giving a copy does not take away the original), this is still the practice to create value in publishing.
Now, I know what may happen. If somehow my whinging even makes it to the shores of the Chronicle Fortress, they might go in and swap out my photo.
That is not what I want. That is treating the symptom and ignoring the disease. It is a digital disease of refusal to accept the way the digital world operates.
That is not what I want. So, because it is in the way Creative Commons works, I give permission to the Chronicle of Education to use by Creative Commons Share-Alike licensed image in a way te original was not shared. They can lock it behind a paywall. I grant them an exception.
I would hope, vainly, in return, they might reconsider the paywalling of content. I make a gesture to the castle, maybe they might open the window and smile back.
Vain.
Hope.
Or keep on going Paywalling and Paywalling Alike.
---
Top / Featured Image Credits: It's my image, but for the record that photo is a flickr photo by cogdogblog (aka me)
http://flickr.com/photos/cogdog/16349247587
shared under a Creative Commons (BY-SA) license. That means, you can use it if you share under the same conditions. That means you have to actually be able to access it in the first place.