A late congratulations to Bonnie Stewart for defending her dissertation on Friday. I am little peeved she scheduled it the morning I left for a 4 day backpack to the Grand Canyon, so I missed the live video stream and all of the twitter live action support.
Through emails I did not see until today, Sara Honeychurch and others started a playlist of tribute songs, and I felt compelled to pen a quick one tonight.
Knowing that Bonnie is a major David Bowie fangirl, I saw right away that the words to Space Oddity e.g. "Ground Control to Major Tom" had a nice option to make it "All of Twitter to #DrBon". The chords are really doable and the song does have a nice acoustic guitar strum throughout it.
So here it is, a hasty re-write of the lyrics, and about 3 practices and a one take recording…
I might have spent more time doctoring up the poster (pretty tricky since nearly all of Bonnie's photos are looking right into the camera):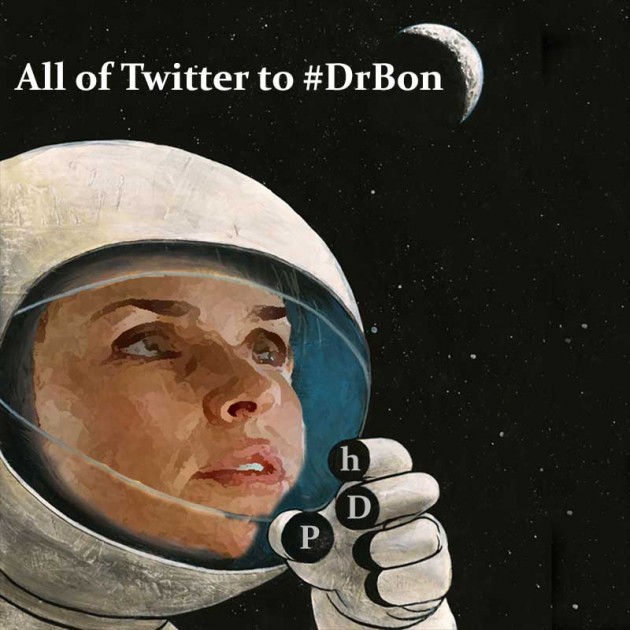 It's just a coincidence I made a song for Bonnie's husband Dave Cormier last week; this is not a regular thing!
And here, for anyone who cares, or cannot make out the words I am croaking, are my re-written lyrics and the chords I played:
1

2

3

4

5

6

7

8

9

10

11

12

13

14

15

16

17

18

19

20

21

22

23

24

25

26

27

28

29

30

31

32

33

34

35

36

37

38

39

40

41

42

43

44

45

46

47

48

49

50

51

52

53

54

55

56

57

58

59

60

61

62

63

64

65

66

67

68

69

70

71

72

73

74

75

76

77

78

79

80

81

82

83

84

85

86

87

88

89

90

91

92

93

94

95

96

97

98

99

100

101

102

103

104

105

106

107

108

109

110

111

112

113

114

115

All

of

Twitter

hashtag

Drbon

All

of

Twitter

hashtag

Drbon

Close

the

slide

deck

and

put

your

smile

on

All

of

Twitter

hashtag

Drbon

Commencing

countdown

,

streaming

video

on

Kiss

the

kids

and

know

our

support

be

with

you

This

is

All

of

Twitter

to

Drbon

You

've really made the grade

And the tweeters want to know whose shoes you wear

Now it'

s

time

to

defend

the

thing

if

you

dare

This

is

DrBon

to

all

of

twitter

I

'm stepping through the door

And I'

m

floating

in

a

most

the

peculiar

way

And

the

tweets

look

very

different

today

Am

I

standing

in

the

defense

room

In

front

of

all

the

world

Dave

has

clicked

the

stream

And

it

's feeling like a dream

Though I'

m

past

one

hundred

thousand

words

And I think my committee knows which way to go

Tell my hubby I love him very much (he knows!)

All of Twitter hashtag Drbon

Your defense is done, there'

s

nothing

wrong

Here

am

I

floating

above

PEI

Dave

has

closed

the

stream

And

it

'

s

feeling

like

a

dream
---
Top / featured image credits:
from photo tweeted by Dave Cormier
(like will tweets ever get creative commons?)