About two weeks from now marks three years since my last salary paycheck from my last full time position, meaning I have managed to keep myself housed, fed, and otherwise amused by earning my own kibbles. I'm inspired by friend and fellow self-employed edtech dude, Bryan Alexander, to do some regular summaries for their "business" not to report to anyone really but themselves.
Bryan and I have a lot in common, besides friendship. In 2013 he struck out on his own resigning a leadership position (aka regular paycheck) in an educational technology membership organization, NITLE. I left a similar role in a similar organization (NMC) in 2011, though I went on a 2 year travel sabbatical/odyssey. Bryan works from home in a small town (Ripton) in the mountains of rural Vermont; I work from home in a tiny town (Strawberry) in the mountains of north central Arizona. His logo features a bear, mine a dog. We both enjoy chopping wood. He has a much more grand beard than mine.
These past few years for me have been very liberating, but always with the background chatter of worry about being able to earn enough to do this for a while. I've gotten valuable advice from colleagues who have done independent work for a long time like Nancy White and my buddy Mike Kelly.
I'm hardly organized as well as Bryan, who has incorporated, has likely an accountant, and I bet the family has roles in the company (I expect his son to have a role of Nerf Gun Supervision and Hestia has a role in security).
I did start out to formalize the "business" not sure it would even be viable. I got the domain http://cogdog.it intending to make it a "business" site, but have since just redirected that to my calling card site (desperately needs updates, c.f. shoemakers children going barefoot). I did file in Arizona for a D.B.A (doing business as) CogDog It. For a while I set up a separate bank account, but I just rolled back the last two years to just doing my business as proprietor. If anyone can explain a need to set up a corp or LLC I seek understanding.
My overhead is pretty low- my housing costs are reasonable, I have no debts besides the mortgage, my vehicle is paid for and hopefully will keep me going for another 5-10 years (Go Red Dog, Go!). I only have to support myself. I seek mainly to make sufficient dinero to pay my bills, do some travel, and maybe slide a tad into savings as a cushion. I have no desire for boats, fancy cars, diamonds, etc.
Health Care
Last year, my health care costs were about 18% of my salary (Hug your employer if this is covered for your job). I am type 1 diabetic, so this is a critical care cost. I cannot say enough (sorry Tea Baggers) about the Affordable Care Act; without it I may be paying double for less health care- my premiums for this are 13% of my salary, the rest are out of pocket expenses for co-pays, the 20% of supplies not covered by insurance.
Record Keeping
I am not using any sophisticated accounting software. I use an app called iBank to track expenses, and I use categories that match the ones needed to report what file in TurboTax (having returned home the week before filing this year, I vowed to keep better records). Each month I import my bank statements and apply the appropriate categories in iBank, which can generate nice reports.
I use the Pikki iOS app (recommended by Darren Kuropatwa) to scan and track receipts- it saves to my Dropbox before I stuff the paper in a brown envelope. I finally got smart and set up a spreadsheet as well to track my driving mileage, mostly trips to the Phoenix airport for work related travel.
Some Charts and Graphs and Stuff
I spent some time this morning pulling together some for work. I was interested in the amount of time I travel for work- and compiled from a bit of summaries in TripIt, my Google Calendar, and sometimes using my flickr photo archive to figure out, say where the heck I was in October 2013.
By percentage of days, my work travel has/is:
2013: 24%
2014: 44% (boosted by 3 months in British Columbia for the TRU Fellowship)
2015 (so far): 63% (TRU fellowship and other travle home through April, but still alot more)
I am not surprised that I am gone about half the year. I enjoy the travel, but also enjoy being at home. So I guess thats a balance.
I also charted the types of work I do, based on percentages of my total income. The categories I use are: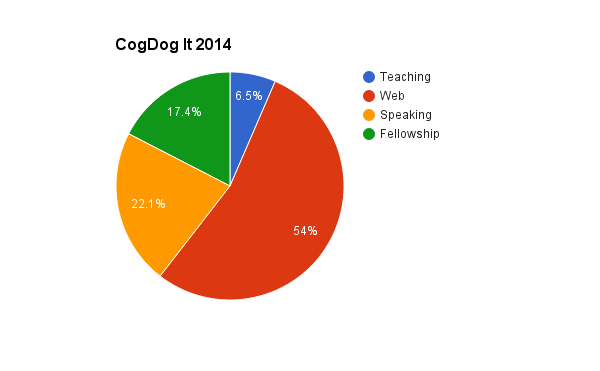 Interpretations? I can see the web projects becoming a bigger part of the work, though in 2015 (just half the year data) that is dominated by the UDG Agora one which is more than just web development, it is also teaching, facilitation.
I have also made a fraction of a fraction of a fraction selling some prints of photos at That Brewery and I have done one photo shoot for a friend's holiday cards. Photography for me remains my main reason to get up in the morning and enjoy it for its own rewards.
There is No PR Office Here
A bit about the work I have lived off of the last 3 years- I do no solicitation for business, no advertisements, no service pitches, no email newsletters, no pitches for clients, no self promotion beyond writing about my work here. Every paying project has come from a personal / professional connection, a recommendation from there, with sometimes an unexpected invite out of the blue (like speaking at the CALI conference this year, thanks John!).
Pretty much I have taken everything that comes my way. I have turned 1-2 things down because of lack of time.
I also have no idea how to price this stuff. it's the part of the conversation I dread. I cannot put a number on the time to do something like a web site. So I play the dance of listening to what budget they have, or if asked, I make a suggestion based on loose estimate of time and what I know I have to make to pay for my bills. I have no formula, and flex if the project is interesting.
I thus do things at a low price for things like a friend's restaurant site and interesting non-profit organizations like The Edible Garden Project. If I priced those projects by hours they could not pay me. And in all these kinds of web projects I learn more myself that carries to the next.
The Road Ahead
People sometimes send me job postings and I briefly considered a full time job in the Maricopa system where I started. I honestly do not want to move anywhere, even driving weekly to Phoenix, for work. I love where I live in Strawberry, AZ, even if I live here only 50% of the year.
At this point, it does feel like I can sustain this freelance bit for a few more years. I feel always the nagging doubt that a dry spell could really sink into a credit card borrowing fit of desperation. I enjoy the mix of projects. The fellowship at TRU was truly ideal, as it was 5 months of income with the freedom to do more R&D rather than deliver projects and web sites.
I am full up on projects through 2015. I am hoping maybe I can do more online teaching in Spring 2016 (Maybe an online DS10 but that's up to UMW). I would consider another possible full time job if it is one I can do remotely from home. Intense travel is one thing keeping me from adding the "Dog" back into my life.
There is a plan, by April 2023 I will stop looking for work and live off of my retirement and savings. I would likely not stop the things I do, but would not need to do them for living off of.
That's the report. This stuff seems to be working.
---
Top / Featured image credit: Pixaby CC0 Public Domain image by geralt https://pixabay.com/en/grid-ad-board-annual-report-817366/