Purring like a finely tuned machine…
To followup on the first phase the blogging about the UdG Agora Project, here I will dive into some details of the web site(s) which I am responsible/to blame for. This post covers the overall set up, some stats, and info on the main site. Subsequent posts will/should detail how the sub sites work.
Building the Prototype
Before our planning trip to Guadalajara in late April 2015, I created a demo site on my own Reclaim Hosting account with the intent it would be moved either to either a UdG server or its own domain. Just for fun (and only $6) I was able to land the domain cogdog.casa really a placeholder for sandbox sites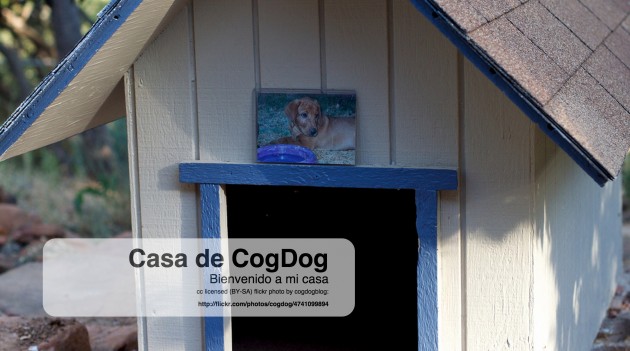 I set up a subdomain for the UDG project at udg.cogdog.casa (these all now redirect to the current site, than you htaccess). Not knowing at all what we would call it, I think the site was called "Project Misterio".
It's a WordPress multisite, set up because I knew there would be different subsites. I opted for a directory structure for the subsites, so they all seemed to be part of the main site. From the start of talking about the project with Tannis Morgan, I was pretty sure we would use an iteration of the ds106 assignment bank using the WordPress theme I had built for that purpose.
That's pretty much what I had as a demo for the trip to Mexico (more on the development of the Challenge Bank in a later post).
Site Development
In May and into June I lined up the other parts of the site:
This was all built over a period of about 6 weeks, interspersed among some other projects.
Reclaim Hosing FTW
There was interest from the UdG team to run the site on a UdG server, and I was fine with that if I had access to ftp and the database. You never know quite what you get on a university server. I had another projects this year where I had to run my own dev server and push changes to a private github, so the tech team could load files.
Because there would be a continued stream of mods I need to make, including during the events in July, I'd need direct access. Things were just starting to move to get me access to a UdG server by late June, but that left very little time to do a transfer (another unknown when moving sites).
I made a case to put our site on its own domain hosted at Reclaim Hosting for the sake of expediency with the idea at the end of the project, we can move the entire site to where-ever UdG wants it. The migration was easy from my Reclaim account to a new one; in fact Tim Owens did it in about an hour the morning of the say he was leaving for vacation.
In fact, Tim told us we would be nearly along on a brand new server, so performance should be (and was) top shelf.
This did mean Tannis and I had to do some quick domain name shopping, all done back in forth in a Slack private message stream. A few ones we discussed were "agora21.net, agoralearning.me, agoralearning.info, theagora.space" but landed on theagoraonline.net.
The idea is if there were future project, each would get its own subdomain, and with that fast help from Tim at Reclaim Hosting, and a simple redirect, we were live on June 29 with udg.theagoraonline.net — it's a bit long but we like it.
The Site Works For Me, What About With A Crowd?
The big knot in my stomach on heading to Guadalajara was what would happen when we had 150 participants and the rest of us hitting the site together each week? There are the unknowns of the server load, WordPress itself pounding its database, and the local connectivity. We were assured the campus had a gigabit connection. But so many ways it might have collapsed.
Fortunately it didn't.
Before going I was looking at all the tricks I knew or could google to optimize WordPress. Cleaned the database. Flushed revisions. I tried a caching plugin, but it broke a site. I thought about running the DNS through Cloudflare.
Tim Owens assured me being one of only a handful of clients on a new Reclaim Hosting Server would take care of things, not to waste time with the fiddling. He also offered to whitelist the IP addresses from the UdG campus once I could send him an IP range (we did not get that info until the morning of our first day). Plus Tim, Jim, and the rest if the Company (Slim? Pim? Sim?) were on call for any problems.
We had none.
Some of the rooms at CUADD had some local wireless access issues, and there was a bit of router swapping. All of the participants had data on their UdG supplied iPads, some on 3G (that was pretty slow) some on 4g, so that was a useful back up for many. The last Thursday morning there was a campus network outage; and we scrambled to run the scheduled session as more discussion; it was fixed by the next round.
Considering the demand, it was pretty stellar.
Numbers and Charts 'n Stuff
I have some DATA provided by WordPress.com stats enabled on the sites. Here are some per-site graphs showing the high accesses for the three main sites:
I was able to look at the table view of the data to get numbers on each week. I used a sophisticated tool to assemble this summary chart (!)
So our activity was 33,532 access for week 1 and 36,973 in week 2, meaning a total of 70,000 for the entire time. That's not xMOOC massive but it sure is a lot in my book.
The most active site was the Challenge Bank, not surprising since it was the place participants found activities and submitted their responses. The next most active was the main site, where people went to get the info for the studios. We might have to do some thinking why this activity was higher the second week.
There was more Daily Try visits in week 1- thats because at least for 3 of the closing lunches we had an activity that sent people there, and we did not do that for week 2. The Image Pool was used more in week 1 in Brian's studios; I think he shifted his approach to have people submit their work via twitter URLs.
The Challenge Bank contains over 2000 "responses" to challenges, meaning work completed and submitted by participants; and the Daily Try has over 400 responses via twitter (some people have been adding as comments)
The Numbers Are Good… What's Next?
A few more posts with some WordPressing notes on each. I'll be filing
all of the UdGAgora posts in its own category
---
Top / Featured image credits: flickr photo by rumpleteaser
http://flickr.com/photos/rumpleteaser/8821762756
shared under a Creative Commons (BY) license