Pure silliness. I plopped one of the major scientific academic disciplines in front of ".com" and ended up on a dating site.
It's legit. Domain names are the wild west (I am hoping to pick up a special vanity domain soon). But this turned into a funny 30 minutes of diversion as I saw where I ended up. Thankfully, Geology, the subject I studied, offers no surprise at Geology.com.
Here's a matching game. I have 14 academic disciplines listed in the image below in the left column; randomized on the right are the kinds of sites you end up with when you ".com" them. How well can you guess' em?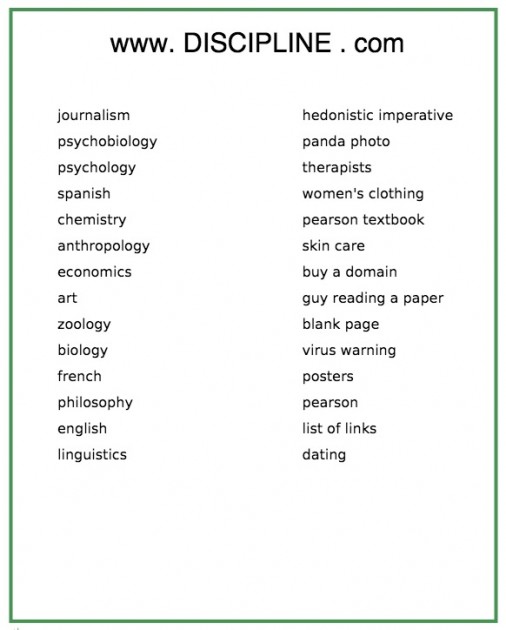 Kind of ironic that the site I found the images above for comes from Education.com a site that looks like offers info/resources for parents and teachers (?). I found there a Matching List Reading Worksheet Generator. I would have generated the PDF worksheets, but they wanted to me to create an account before giving me the goods, so I just snaked a screen grab.
Consider this attribution.
If you want to cheat you can investigate the disciplines I listed:
There's a fair bit of squatting on many of these domains. I doubt there will be much reclaiming of them going on.
I pass no judgment here; it's just more of my weird curiosity at work.
It seems oddly relevant, given some prime ed tech domains are available today!
The domain http://t.co/n90let3HQo will cost you $329. Way cheaper than buying Blackboard (or http://t.co/7LG1nyRfea, which has been bought)

— Audrey Watters (@audreywatters) July 30, 2015
The Pick a Domain Blindly Game, fun for dogs of all sizes
---
Top / Featured Image Credit: flickr photo by abbybatchelder http://flickr.com/photos/abbybatchelder/4054042797 shared under a Creative Commons (BY) license
The post "Pin the Discipline on the www._________.com Domain" was originally zapped with 10,000 volts and declared "It's ALIVE" by Dr. Frankenstein at CogDogBlog (https://cogdogblog.com/2015/07/pin-the-discipline/) on July 29, 2015.