This is where I might start with "I don't know a lot about film" or "I'm not a film critic".
I've used before the extras on DVDs and its relation to the film as a metaphor for blogging about our work and the final paper/media production/presentation. And a long time ago, in a career far far away, I used the metaphor of a movie studio for multimedia production with students and faculty working together.
So there is something about film-making that intrigues me, that we go to the movies, and never realize how much work and how many people went into making it, and the invisible bits like foley sound or whatever a second assistant grip does.
It might have been in one of the Katexic email newsletter that I came across the Cinephilia & Beyond site that goes behind the scenes of movies, with a lot of focus on screenwriting.
Who know what it was or why I decided to read today's Cinephilia and Beyond story on Eternal Sunshine of the Spotless Mind, but it sent off a wild round of mind ricochets.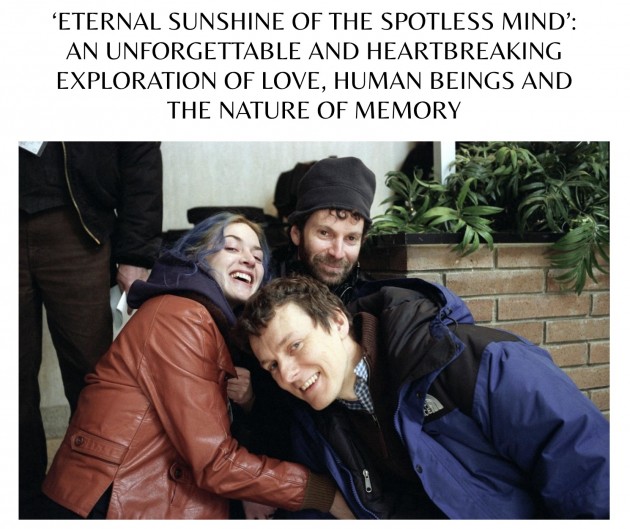 It's been a while since I've seen the movie, but remember it's mind / time twisting plot, mind erasing, the dark streaks of reality, and like many, marveling that Jim Carrey could actually act. Once.
This is not a film review; go to IMDb for the 411 on the movie.
This is how creative ideas happen, not by some 10 Tips to Write a Hollywood Movie post on medium…
Having heard his friend complain about her boyfriend for what seemed to be a hundredth time, French artist Pierre Bismuth asked her if she would erase him from her memory if such an option was at her disposal. He soon passed this idea to his friend and filmmaker Michel Gondry, who liked the sound of it and discussed it with Charlie Kaufman, with whom he worked on Human Nature. From a simple discussion in a cafe, therefore, sprung out a film that many believe to be one of the very finest produced in this century.
I know only some of Charlie Kaufman – that he wrote Being John Malkovich and while I saw Adaption once I really did not understand it. I like how IMDb lists his "trademarks":
Scripts usually feature reluctant protagonists who start out in the story as downtrodden or self-doubtful, frustrated with life or love or their professions.
Stories with bizarre plots that showcase a sense of fantasy in the real world.
His films often deal with themes of reality and identity
but maybe the best is his quote "I don't know what the hell a third act is." which says to me he avoids the conventional approach.
Every Cinephilia includes an embedded copy of the film's screenplay– I like how they paraphrase it's use, sort of a copyright nod/dance:
A monumentally important screenplay. Dear every screenwriter/filmmaker, read Charlie Kaufman's screenplay for Eternal Sunshine of the Spotless Mind [PDF]. (NOTE: For educational and research purposes only). The DVD/Blu-ray of the film is available at Amazon and other online retailers. Absolutely our highest recommendation.
I've looked up screenplays for dialogue segments, but have to admit I have never read one fully– I did ready about the first 12 pages of the one for Eternal Sunshine, and am thinking it might be worth taking on reading an entire screenplay. It's a rather different kind of writing, where the author has to concisely set the environment of the scene in such a way the director/producer can design it for the camera, but where most of the action is carried in dialogue and short stag direction.
It's rather visual and audio media done all in text!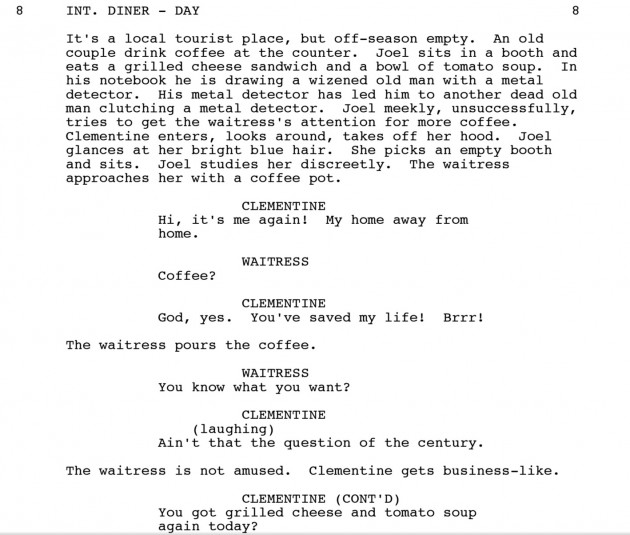 Cinephilia & Beyond intersperses the story with large photos many taken from the film set and embedded video, plus excerpts of interviews.
I get a lot out of reading the questions to Kaufman and director Michel Gondry which gets at the relationship of writer and director. The interviewer asks Kaufman about dealing with the audience's expectations / ability to deal with sophisticated plots — this is a powerful statement about a writer who is not doing his work thinking about what people think.
From my vantage point in writing a story, I can't and don't and have no interest in thinking about the level of sophistication of the audience. I can only think about what interests me, and maybe what I would want to see if I were watching the movie. To me, that's the key to writing something that's not pandering. I go about my business and try to do what I'm interested in doing in the best way I know how to do it. That's my job.
What's interesting about the Cinephilia & Beyond articles is that they are long and dense with content, but after the opening discussions, presentation of the screenplay, and some interview, a lot of it is abstracted from other sources. This is often other interviews with the person that did the music, or the editor.
There is a great interview with Carrey and Gondry where they talk a lot about the "making of", again, showing us a glimpse of what we never see in a movie because we only see what the camera records and the editor shapes.
And then there is this amazing look at how the special effects were done
What I did not expect to find here was a video clip that literally jumped out of the page. Kaufman had given a lecture at a screen writer's gathering in 2011 (the entire talk is available in SoundCloud).
But it is this 5 minute segment, where someone put Kaufman's audio over a montage of clips from his movies that exploded my head…
Kaufman launches with an observation of the commonality of the deep human pain we all have, how creative people tap into that. But then he moves on to a commentary about the state of the world of information, entertainment is "produced in the same factories that make Pop-Tarts and iPads", how it is controlled, how we are controlled. How prescient from 2011 for 2016.
And then…
then…
Don't be tricked into thinking that the way things are in the world are they way they must work. What I'd like to express is that the notion of being honest, thoughtful and aware of the existence of other living beings a change can begin to happen in how we begin to think of ourselves and the world.

We are not the passive audience for this big messed up power play. We don't have to be. We can say who we are, we can assert our existence, we can say to the bullies and con men, the people who try to shame us, flatter us, to the people that have no compunction in lying to us to get our money and our allegiance, that we are thinking, really thinking about who we are, and we will express ourselves, and with this, other people won't feel so alone.

I want to tell you I have a hope there's another way to be in the world, and that I believe that with courage and vulnerability and honesty that the stuff we put into this world can serve a better purpose.

What I have to offer is me. What you have to offer is you.
This. From 2011. We need now more than ever in 2016.
I could make this a creed: "I want to tell you I have a hope there's another way to be in the world, and that I believe that with courage and vulnerability and honesty that the stuff we put into this world can serve a better purpose– what I have to offer is me"
This aside, I find so much in this kind of writing, and showing, and explaining that I wish we had more of in education. This is the stuff that you cannot deduce from analytics or meta-data or metrics. This is the stuff that would be inane to slap a badge on.
What if more educators could break down their methods and process into something this rich, share it "with courage and vulnerability and honesty" and make a statement as moving as that video?
Oh– "I don't have time."
Yeah.
It's not impossible. I would gather The authors of Cinephilia & Beyond do more than blog. They have shown it's possible. They do it consistently.
"Don't be tricked into thinking that the way things are in the world are they way they must work."
What do you have to offer?
---
Top / Featured image: No searching/metaphorizing here- this is the logo from the Cineophilia and Beyond site