For as vast and fast expanding as it is, the web ends up being rather friable (that's my geology vocabulary surfacing).
All set off by a seemingly simple tweet by Rob Reynolds
Nice post by Tim Holt on why some teachers don't share and how to get them interested | https://t.co/uGlHonBfFv | #curation #education

— Rob Reynolds (@xplanarob) April 14, 2016
It reminded me of a paper from a colleague I met way back in my own way back machine, back to my Australia contacts from the early 00's. This one paper always stood out for it's title, which I recalled being about "Why Teacher's Don't Share". A google search would get me all kinds of stuff, but I did not have specifics enough in my head.
But I do have a blog. With it's own search. I knew I had blogged about it, and like that, found.
Sort of. I have a post from May 2003 with the title, and it mentions that the paper is from Greg Webb, whom I am pretty sire I met in Sydney in 2000. The paper's title was "Why teachers don't share resources, and what we can do about it" and my hunch was what Greg wrote then still first in 2016.
With irony, I see that his paper was published in some kind of early web annotation tool:
What is even more interested about this paper is a little known technology from WebOrganic known as Pageseeder— it allows readers of this paper to embed threaded discussion comments directly into the part of the paper they are commenting on- very different from reading a paper and going to a discussion board; this places the discussion right in the context of the paper.
Sadly, so sadly, so typically, the link in my blog post led to Room 404: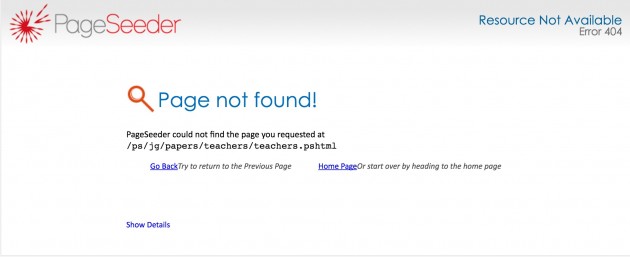 Sounds like a job for the Internet Archive Wayback Machine.
Nope. This means the Pageseeder site does not allow its content to be indexed by the Wayback machine.
But the NVER site has a way to request the paper it has metadata for:
Ok.
I find a record for it in some site called VOCEDplus, "the international tertiary education and research database". Well it's not the paper but some kind of library like record. I get an abstract:
This paper discusses in an informal and non-rigorous way some of the reasons why tertiary teachers may not share their resources. It starts with a provocative statement and it offers some suggestions as to how this non-sharing may be overcome but does so knowing that it requires changes in working conditions. Flexible delivery has been with us a good six years and there has been no significant change to cater to the new working conditions it requires. But discussing it and bringing the issues out in the open will help.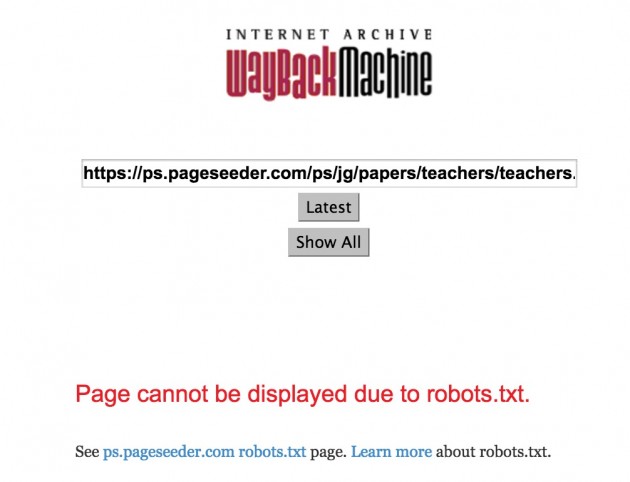 There's a link to it http://nw2000.flexiblelearning.net.au/talkback/p41.htm which I vaguely recall was maybe a Flexible Learning online conference I probably participated in during 2000 when I was in Australia for a sabbatical.
But alas I am 404ed again

And this URL too is locked out of the Wayback machine.
What happened to the root site? http://nw2000.flexiblelearning.net.au/? It's been archived, and I'm sent to it's current organization site… which is devoid of all its history.
Why is it so freaking hard to locate a 7 page paper from 2003? It's not like I am asking for 2003 B.C. Oh but look how "easy" it is to request the paper:

For one thing it was "published" into some non-standard format on a third party server that changed it's infrastructure.
Meanwhile, I can share a paper I published online in 1994, because (a) it's published in [crude] standard HTML AND it's sitting on a server I manage.
Okay, so I failed to find some obscure paper from 14 years ago. The web was so primitive then, eh?
But think about all the stuff you might be spraying about in other silos, your Instagram photos, your google docs, your pinterest boards, and tell me how viable they will be in 2030.
Or make that "friable:, not viable. For all it's strength of connection, the present web is quite fragile and far from future proof.
---
Top / Featured Image: Screenshot from today's failed effort to find a link to a paper from 2003.