May 2 could have been my Dad's 90th birthday, but the only notched 75. Just fathoming that the last birthday he saw, and I saw, was fifteen years ago. I was planning to visit him in Florida for a special birthday, but no one in the family expected that birthday would be in the hospital.
About 6 weeks prior, a doctors visit for some stomach issue revealed that cancer had wrapped it's tentacles around most of his interior organs.
I'm playing some math games, and figuring I am the age he was in 1979, when I was a know it all (not) 16 year old. I could not find any photos of him from 1979, but here is in 1981.
George was a family friend, and both a mentor and likely my father's closest adult friend. At two years older than me now in the photo, Dad's hair looks more full than mine, and he's pretty dapper in a tux (I bet this was a Masonic Lodge dress up).
We did a Four Corners road trip on a "guys" visit in 1988, by second year after moving to Arizona. No comments on my hair, glasses, shorts, and general dorkiness. Look at Dad. Clutching a giant VHS video camera. It was the 1980s, damnit!
One of his points of prides in Florida was growing pineapples from the sliced tops of store bought ones. This one may have been the grandaddy (I remember them being about softball sized). At some point they were attractive enough that someone jumped the wall and swiped a pinepple over night.
I'm stopping to take in a swath of time, fifteen years since he's been gone.
It was an inconceivable possibility until it became a reality.
He's been gone that long, but I still have his history, a fifteen year old tribute I made, because that was the only thing I could do to face it, and still there, fifteen years later, in my own corner of the web.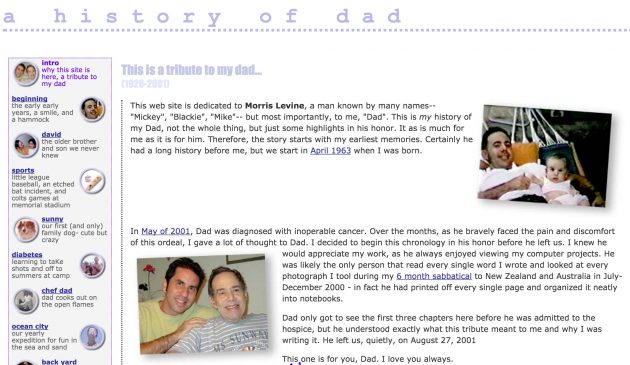 Fifteen….
---
Top / Featured Image: A partial scan of one of the construction estimation sheets that my Dad must have worked on around 1970 for the construction of the USF&G building in downtown Baltimore.
I still have no real idea what a "Construction Cost Analyst" did day to day (there was a lot of yellow sheets of columnar grid paper, and likely slide rules…), but Dad did it.