There is less of me going around.
I'm talking technically about mass, of which, as we recall from high school physics, combines with gravity to give as what we call weight. It's not the gripping horror story Jim wrote about as The Shrinking Man. But I am closing in on being 20 pounds lighter since March.
Here's my data- un aware was I that since I got an iPhone in November 2015, the Health app was measuring my walking distance. Starting in March, I started also manually entering my morning weight (I briefly looked at "smart scales" and realized it was $300 cheaper to spend 15 seconds a day typing in 3 numbers), with a big high of 213 in mid March 2016.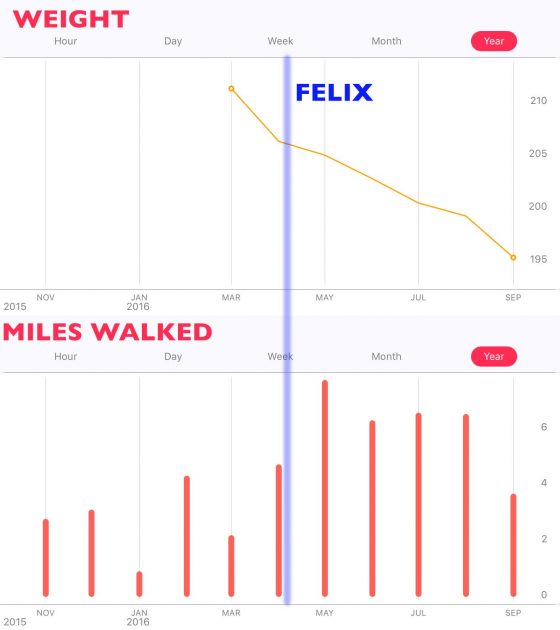 I'm not doing any kind of gimmick plan. I'm not drinking weird protein shake concoctions. I'm not going to a gym. My big secrets are:
Cut out most beer Think how many skinny regulars you see filling your local bar. Beer is liquid weight. I love beer. I still drink it sometimes, but much less. That does no cut out the good times- cocktails with sugar free (or no) mixers work quite well.
More Exercise Again, not doing anything regular, but just spending more time outside walking, hiking, and doing yard work. I see lots of people where I live zipping up and down the streets on quads and carts. Most of them look… wide. I have a new walking reason (below).
Less Food or reducing portion size, no seconds, less snacking carbs, more salads, veggies, fruits.
But this is my real secret…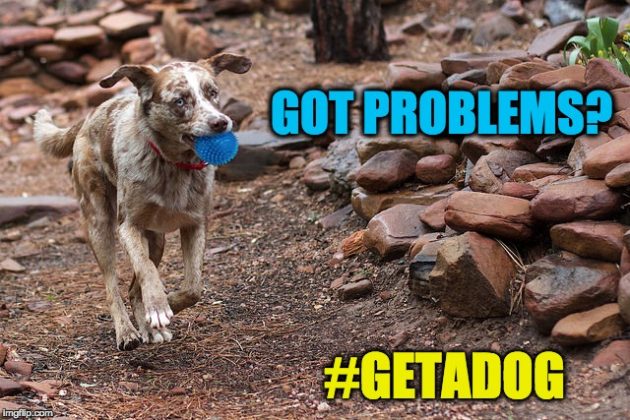 Yup, having Felix in my life has changed it all, that blue vertical bar on my graphs is his arrival in early April. The peak in February was my month in Puerto Rico, where I walked more. And September is low because I just got back from a week of driving channel.
My walking has gone from less than 2 miles per day to more than 6. I'm out walking 2+ hours a day, away from the screen. I'm getting to know neighbors I've never talked to before. Just the mind relaxation has helped in several occasions to think through ideas or technical problems. Mostly it's great to walk all the roads where I live, and venture into he adjacent Natural Forest, and practice noticing details.
It pays off to look at the ground!
I found a Jackson in late June.
So I had my shock yesterday morning, when after a week of travel to Colorado, where mostly I sat in the truck, or around a campfire, or eating, when I got in the scale, and gasped because– it had dropped 3.5 pounds since last check when I left.
Weight bounces around, mine seem to fluctuate on 3-4 pounds, but its the average that I am looking at fall. Sure I play tricks. I weigh first thing in the morning, without pants on. I sometimes weigh again after a bathroom visit. But it's been falling.
As has been my pants without a belt.
I thought I had done the easy loss, that I had bottomed out in August. And I am not getting bent out of shape when it blips up, or when I am "bad" (there is no "bad" – there is alive or dead).
The back pain I was feeling last summer while doing yard work– is gone. The stiffness in my knee I felt in April– gone. Having less of me (mass) feels really better.
I'm only slightly bragging, but it just feels good too to see some results, and ones from my own approaches, not some fad routine from a book/web site/talk show.
I've got more to go, so try to see me before I disappear ;-)
---
Top / Featured Image: flickr photo by benjamin.ks.chan https://flickr.com/photos/benchan/18834841813 shared under a Creative Commons (BY-SA) license