Tony Bates recently posted Who are the founding fathers of distance education? following the release of a Steve Wheeler produced video interview with Tony and other identified "fathers" Michael Moore and Sir John Daniel.
As he is, Tony humbly downplays his role, and lists five other suggestions in his post, inviting others to add comment with their suggestions (As he does, Stephen Downes prolifically responds and counters the idea a bit).
I do have to say, this in this age of 2016, that it is shocking that someone would put three white men on screen with a label of "founding fathers." What does it take to consider the impact of language from previously centuries where the norm was suppressing the rights of women and people of color? Yes, it's "just a phrase", but to me it's poor form.
I left a comment on Tony's blog, but his blog never seems to take my comments. I will assume it's a technical flaw.
So I present as an addition to so called "fathers" Anna Elliot Ticknor.
I only know of her through a fabulously written Hybrid Pedagogy article by Keith Brennan titled "The Victorian MOOC".
In 1873 Anna Elliot Ticknor created the Society to Encourage Studies at Home — the first correspondence school in the US– to offer education to those excluded from the university system- women. Of multiple skin colors.
And yet women, in pursuit of education, opportunity and knowledge sit in drawing rooms, kitchens, porches, and schoolhouses across the continent, opening packages from the same organisation: The Society to Encourage Studies at Home. The packages are filled with books and papers; there are letters crowded with answers, questions, feedback, criticism, resources, learning and encouragement posted from over 200 volunteer Society teachers — almost exclusively women.

The Society to Encourage Studies at Home is a 19th century network of women who connect across the continent over the postal system. Women may be significantly disbarred from third level education, but they are not disbarred from organising, networking, connecting and educating. And this is what they do. They organise and educate one another. They organise departments, schools, libraries, curriculum, instruction and education. An institution. On a massive scale. They reach out to ten thousand students over twenty-four years. It is a massively open postal university.
With 200 volunteers they 'leveraged the postal service — the most advanced, accessible and democratising information technology of their day — to provide support, education, opportunity, and resources to women regardless of race, location, class, or financial disposition. Women who were actively, explicitly, and implicitly excluded from education.
It's the story of an ed-tech revolution that came to be called the "Silent University"' In 24 years they educated over 7000 women and and a claimed MOOC stomping success rate of 65%.
Unlike modern approaches, it was never about the technology (the postal internet) or the content:
The desperate need was not only for content — books, essays, curriculum. It was for content resourced with access to empathetic expertise. The warmth, support, empathy, and understanding that were at the heart of the project seem key. So were the resources and method.
Ticknor's own ethos was one of warmth, encouragement, support, access to resources, and regular access to expert instruction and feedback. Each learner had an instructor. Each instructor regularly corresponded with their student. Each student stayed with an instructor for a long time and corresponded back and forth. Each relationship was allowed to determine its own course. And each instructor followed their students development closely. Reading their notes, reading their essays, setting their exams, setting their reading in response to their needs.
That, of course does not "scale", so we leave personal "warmth, encouragement" to the side for click counts and bot graders.
Brennan scolds us for fogetting history in worshiping the "Silicon Valley and elite institution narrative":
If History has forgotten the Society, and eduprenuers have usurped innovation, then Thrun's pivot, and EdX and Coursera have also forgotten the dispossessed. The Society achieved something that modern mooc innovations have so far failed to do: Openness. Access. Egalitarianism.

The failures of history are condemned to repetition if we fail to listen. The successes are available if we care to tend to the past. The core lesson of what has been termed the paleo-history of education technology is perhaps this. Edtech is not disruption. It's iteration.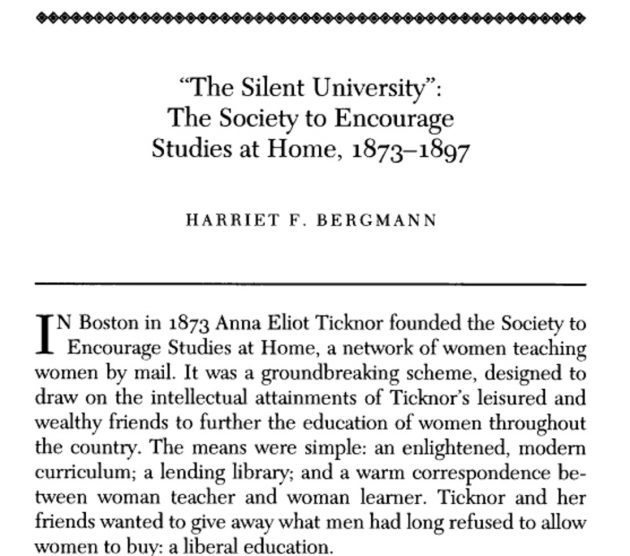 There is very little history on the Society to Encourage Studies at Home; a jstor paper
"The Silent University": The Society to Encourage Studies at Home, 1873-1897 published in 2001 by Harriet F. Bergmann in the The New England Quarterly
Thin even of the nurturing name for this Silent University — Society to Encourage Studies at Home — not about bringing Ivy Leagues to the poor around the world, not about disrupting education, not about promotion for the sake of counting registration numbers, not about getting a certificate.
Just the encouragement for studies at home.
Go Anna, you are as much a father founder as the others.
Founder of the very first correspondence school in the U.S.
And nearly completely forgotten.
---
Top / Featured Image: My remix of a frame from the Creative Commons licensed video Learn from three founding fathers of distance education interviewed by Steve Wheeler #EDEN16 with addition of Public Domain image of Anna Ticknor from Wikimedia Commons