I'm still got in my brain the hoofbeat sounds of Western 106…
Those sounds are louder as I prepare for the DML 2017 pre-conference workshop I'm doing with Kim Jaxon, long trail titled "Staking Your Claim: How the Open Web is Won for Teaching & Learning":
How do educators support students as they navigate an open web? What is our shared responsibility as curators of the web? How do we build an open space that maintains a culture of kindness and playfulness? To understand the challenges and affordances of an open web, to realize its democratic potential, we must be players on the web. At most educational institutions–kindergarten through college–students and teachers are limited to whichever Learning Management platform the institution supports. But the promise of the open web can never be realized inside the LMS: learning to curate, make, network, collaborate, and create robust identities happens outside, on the open range. We invite participants to imagine, play, and and stake their own bit of land on the open web.

With a Connected Learning framework–principles that focus on identities, networks, and communities– and expanding on last year's Crafting Connected Courses workshop (http://connectedcourses.stateu.org/), we will open up the frontiers of possibility with hands on exploration and creativity.
This is a followup to the one I did last year with Justin Reich; who was kind enough (or kept his distance safely) to go with my idea of a play on Westerns with "How the Web Was/Is Won" — filled with GIFs and a remixed poster lifted from the movie How The West Was Won.
A lot of what we did last year was built around participants creating a 30 day account on StateU the Reclaim Hosting test site that gives you for 30 days a free fully functioning Domain of Your Own, a cpanel to go crazy with.
The special spice in the beans was the ability (thanks Tom Owens) to create a series of WordPress sites as "templates" that was completely configured, plug-in installed, so when choosing to install WordPress, participants could opt for getting pre-built SPLOTs, ds106 Assignment Bank or a Feed WordPress aggregator site.
The thought we had was to give people enough of a head start on these tools rather than having to do it from scratch.
Kim was in the workshop last year, so she is ready to co-lead this year. But we are re-thinking a lot of the structure, hopefully making it more "studio" like so people can go at their own pace and entry level. I grow weary of trying to lead 20 people lock step through this stuff. It pretty much never works for everyone.
And maybe offering a bit of a wider range of small tools beyond ones that are WordPressed. Maybe some Tom Woodward inspired Google Spreadsheet magic. We're still stocking the wagon.
But instead of working on the outline today (well I did a little) I focused in the important part… making a movie poster. We are being encouraged t do some promotion to get people to register, but heck, I would do the poster anyhow.
I gave soe thought to finding a different Western movie to build some art around. Paging through the AMC Filmsite on Westerns I saw the title for The Big Country a 1958 film starring Gregory Peck. I've never seen it, but it appears he is an East Coast dude who rolls up into a Western town and lands in the middle of a feud. I might watch the movie this weekend 😉
But the plot does not matter- the title fits with ours, and the poster image there in IMDb yelled out to me for remix. I did not even know til I went to a site I found a version of the poster that the artwork os by the great Saul Bass.
I could see replacing the actor names in the top with Kim's name and mine, changing up the text. The solid red background would make backfill easy.
I typically start by trying to get relatively close with fonts, I don't see a need to get exact. So I type in a word that's in the original in a glaring color, and start looking for close matches in my collection. For this one Avenir Next Condensed demi bold had the right shape. I play with the spacing and then use the resize tools to change the scale to get it close enough:
I had "Open Web" there first, which called for wiping out the original "country" and using the clone brush to copy some of the sun that was under the original text. Later I went back and decided to return the Country but add the additional text.
The Outline text for the actors name (and the 2017 DML Conference line I inserted) is the same font, just scaled a bit different. There is a trick- the color of the text is the exact color as the background, but I use the Stroke feature in Layer Styles to outline the text in the same tan/yellow color as the original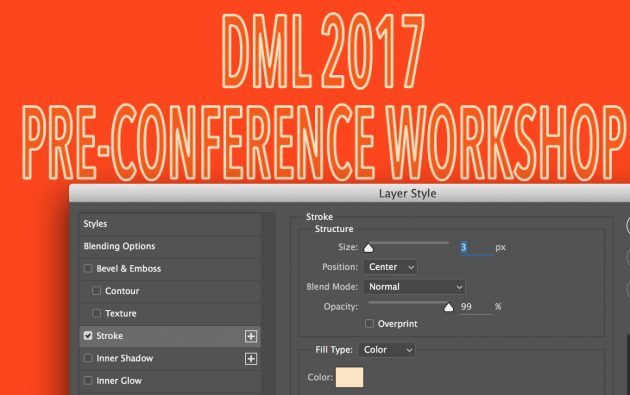 I have all I need to paint over the original text and insert my own. For the actor faces I use the DML logo, Kim and my twitter avatar, and a generic icon to represent a potential participant. I decided to not bother with all the detail of the credits at the bottom and just insert some text and links.
Check it out!
Now I'm in the groove! I love doing poster / book cover remixes. If anyone wants to offer a class in doing this, sign me up to teach it.
When I sent it to Jamieson Pond at DML it took hime about 10 minutes to write back and say he added the poster to our workshop page https://dml2017.dmlhub.net/workshops/staking-claim-open-web-won-teaching-learning/.
Coming in the next few days / weeks, some GIFs made from the movie with our workshop info… here is a sneak peek (a tad heavy at 2.9 Mb but can be slimmed later):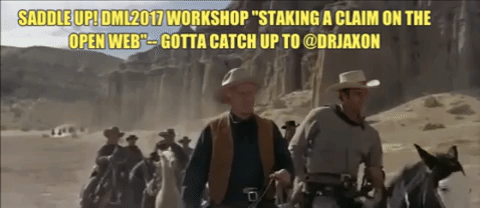 Now if I can only stop spelling Kim's last name wrong! I had a few redos…
What are you waiting for? Make plans to be in Irvine Oct 4-6 for DML and sign up for our workshop.
---
Featured Image: Cropped detail of the movie poster I mashed up from an original one for The Big Country found on the Art and Artists blog post on Saul Bass film posters. This post has no attribution for the images, and I'm likely in the area of copyright. But mine is an obvious parody done in the name academic endeavor. I'm on shaky grounds, but it's art damnit.