It's really not that difficult.
If you can rationalize being part of an enterprise that
If you can rationalize all of that, and more, and still console yourself that somehow your own actions, data are not part of the above… well insert cliché of availability of cheap Arizona ocean front property.
I live in Arizona, and I know where the ocean is.
If you rationalize being part of supporting and supplying a surveillance business because "it's the only way to stay in touch with people" and resort to poor grandma or Aunt Bertha who would be cut off, well you are part of tossing their identity and data under the bus as well. You are discounting their intellect to possible communicate any other way and you are slacking off on assisting them.
Just because it's "easy". Or "convenient".
Humans communicated long before this company existed and they will after it crumbles.
The numbers are big, but not immune; from John Lancester's You Are The Product (my emphasis added):
Perhaps the biggest potential threat to Facebook is that its users might go off it. Two billion monthly active users is a lot of people, and the 'network effects' – the scale of the connectivity – are, obviously, extraordinary. But there are other internet companies which connect people on the same scale – Snapchat has 166 million daily users, Twitter 328 million monthly users – and as we've seen in the disappearance of Myspace, the onetime leader in social media, when people change their minds about a service, they can go off it hard and fast.

For that reason, were it to be generally understood that Facebook's business model is based on surveillance, the company would be in danger.
How can you ignore the obvious extend of its business model? That there is a space for alternatives?
Be part of that threat.
Leave.
Now.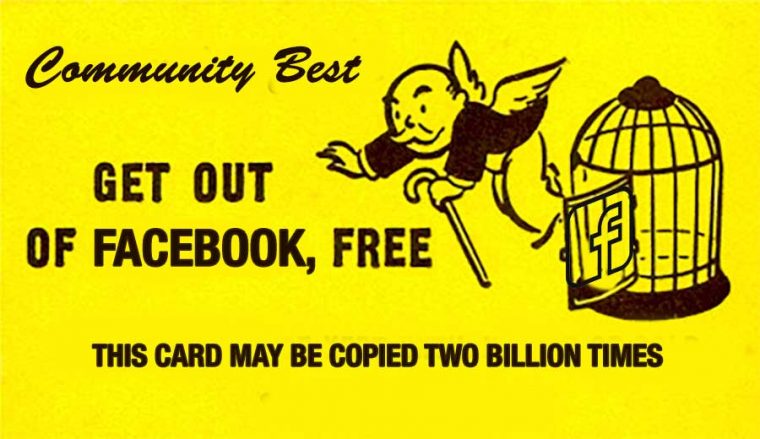 On the back of this card:
Delete (do not deactivate) permanently
Do not wait for some benevolent entity do this for you; make it happen directly
Why wait for someone to do it? A mass exodus will do it.

— Alan Levine (@cogdog) September 15, 2017
Or just keep believing your rationalizations.
---
Featured Image: Color modified and evil logo superimposed on Wikimedia Commons photo Exit Sign Above Australian Door released into the public domain.