That was me a few days ago being tossed from my workshop demo at DML.
Wednesday was the 2017 DML pre-conference workshop Staking Your Claim: How the Open Web is Won for Teaching & Learning I did with Kim Jaxon, who had zero hesitation with my goofy western metaphors.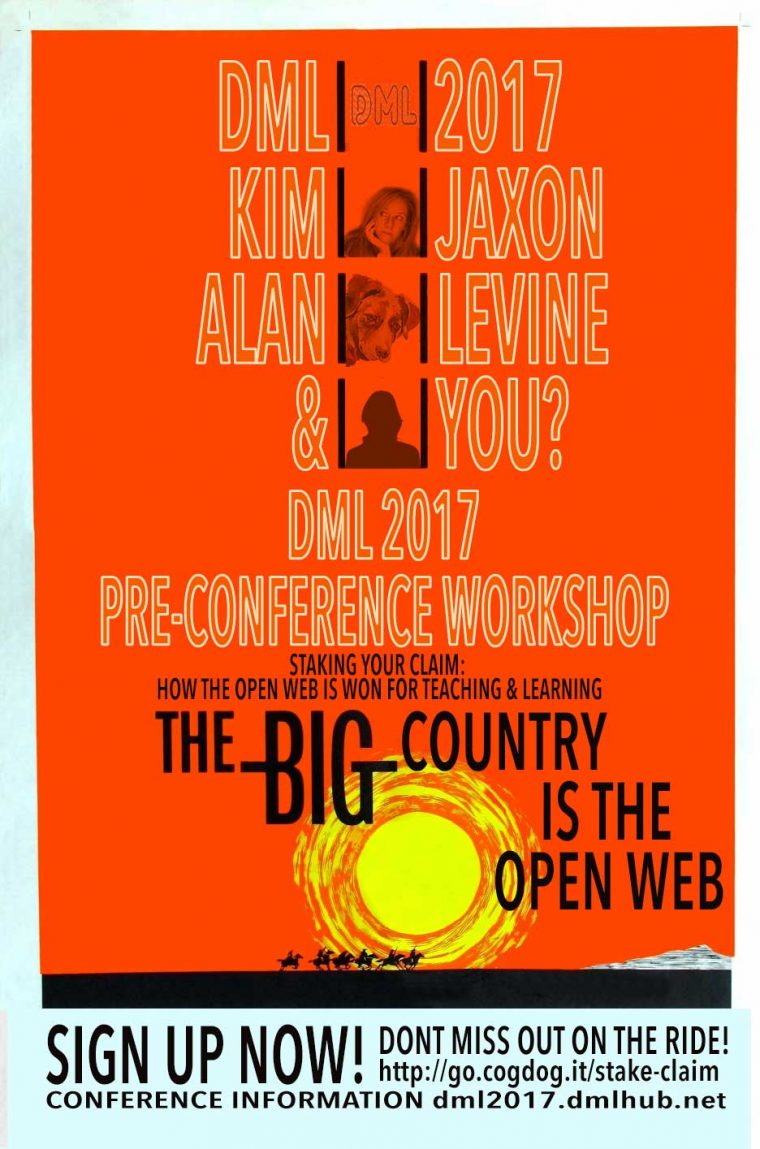 This was a second round from a version I did of this workshop with Justin Reich in 2015. The aim of it was as little as evangelizing about Capital O Openness and a lot of hands on experience building. The rodeo arena is the StateU site offered by Reclaim Hosting as a demo space for people to try out a full functioning domain environment.
The clown trick is getting it set up with a few versions when one chooses to install WordPress, so that someone can get, rather than an empty plain Hello World site, one completely filled out with themes, plugins, and content:
My idea was it would give people a step stool lift up onto the WordPress horse. And guess what… all of this is available to anyone who signs up at StateU, not just people in the workshop (what else is open?).
You can find all the workshop materials (typos are free) at https://connectedcourses.stateu.org/
Quite a few pieces were updated an added for the 2017 rodeo:
All was going great, people were energized, creating stuff, and eager to go. We got everything done on the agenda as planned through the lunch break.
Then I went to demonstrate how to install WordPress and use the pre-built versions shown above.
Except they had vanished.
Poof.
I tried another browser, restarting my computer.
No dice.
We switched a bit and had people explore more of our resource links as I emailed Tim to ask what happened.
It's always rewarding when the tech people say, "I've never seen that before". As usual Tim was onto the case in minutes, and tried a few things, but shortly he apologized saying that they would not be able to fix it quick enough.
I'm in the air tossed by the horse.
Okay, we can do this from scratch.
I had every one install the vanilla WordPress, and then install the Wp Big Picture theme from scratch. They all did it. Then we walked through the customizations and how to create their content portions. Everyone was able to get something going.
It's the Wild Wild Web after all.
And now the StateU Installer options are back.
But still this led me to start modifying the instructions with an alternative, the one I experimented with last week on Instant SPLOT. I added three more install packages to the shelf of Instant SPLOT noodles.
And this is an approach that can work anywhere one can install WordPress, not just StateU. It means, after setting up a new WP site, installing the the All-in-One WP Migration plugin. Then one can import with this plugin one of the *.wpress files I have made available, and POOF! Instant SPLOT (or calling card).
These are now available from the 4 GitHub repos, like the one for WP Big Picture, where one can do it from scratch or by an Instant Mix:
Also available at:
It seems to be quite workable. I do think back of my mind, that maybe it erases some of the understanding that happens when you install from scratch, but still, one does have to lift the hood and tinker even when they get a working automatic site.
Anyhow, the wild ride? It's the best kind. As long as one lands gracefully.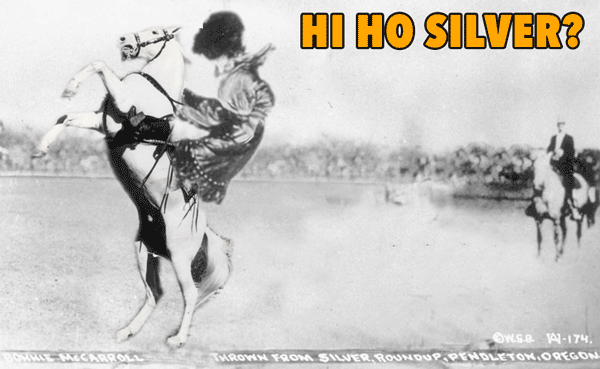 ---
Featured Image: Bonnie McCaroll Being Thrown from Rodeo Horse public domain photo from Wikimedia Commons. Bonnie's story as an early rodeo star is amazing and I've used this photo before and seen an amazing story of openness play out from it.