Sitting in an airport for a trip where I will never see Friday, I'm thinking of the view from my back deck. Because what you observe is not always what it turns out to be.
That view of a straight ridge has always intrigued me, covered in snow or not. Yes the first reality altering is that it snows here in Arizona.
No it always spoke to me, that once atop the right, you could easily walk all the walk across. I've not just thought about it, I've bush whacked maybe 8 different routes up and down. There is only one established path, one jeep road that goes directly up and over. All other paths are trails that peter out, a few animal tracks, and often hand scrambling up rocky ledges.
The other tricky thing is the prominent peak I see on the left side.
It looks like the highest point. I call it Strawberry Mountain, but really that's the name of the whole ridge. And once on top, or from other angles, or from reading mapes, it's not even close to the high point. And standing on top, you realize the one to the right is actually higher.
But it sets further back. And no matter which way you scramble or contour around, you cannot avoid dropping into the ravine that separates them. A few weeks ago I took a neighbor up there, and instead of scrambling the 50-75 vertical feet upward out of the ravine, we contoured it back. A glorious path because it was full of boulders but also.. red maples.
Yes, in Arizona, in a few select ravines, are glorious red maples. They are quite delightful to walk through, better than catclaw by fair. A carpet.
And as expected we got to a place where it was a much easier walk up and out of the ravine, the longer route was a better one.
And on top, yes, its flat and fairly open. It's not quite as easy to find that ridge line, and to be honest, the highest point in the mountain is not even a peak, it's just a cresting ridge way towards the far side, out of range of my sight from home. It's the 6813 foot marked peak on the bottom edge of this map: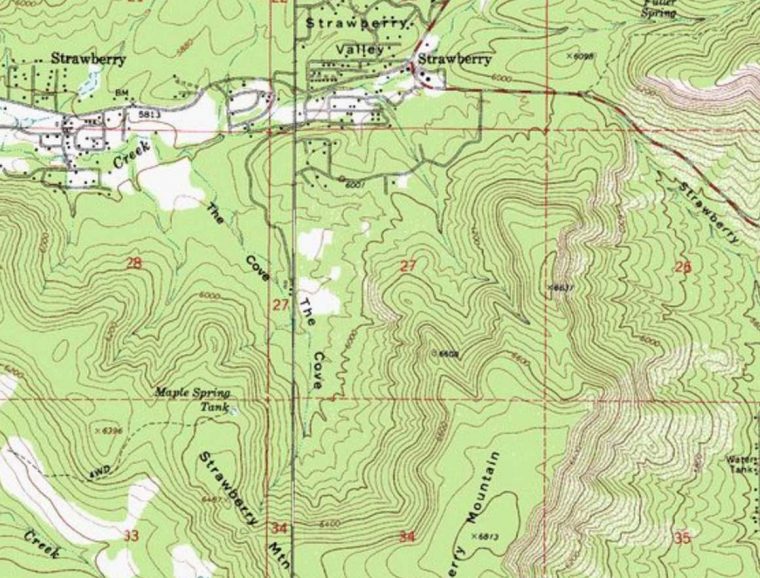 And walking the top, following the route of least elevation change, reveals that it's not a straight line at all from where I see it, more of an arc. My friend and I followed it all the way around, and met up with the Jeep road that returned us.
I wanted to get a geotracked collection of the route, but I messed up the Runkeeper app on my iPhone, accidentally stopped it halfway, and what I thought it was turned on was not. But my friend did get a full track, and sent me the GPX file, which I loaded into Google My Maps. When I shared it with him, he texted, "Dude, it shows where I live!" because he turned it off when he got home.
But you know what? A GPX file is just a data file, it's XML, I can see that by opening it in BB Edit.
1

2

3

4

5

6

7

8

9

10

11

12

13

14

15

16

17

18

19

20

21

22

23

24

25

26

<?

xml

version

=

"1.0"

encoding

=

"UTF-8"

?>

<

gpx

version

=

"1.0"

creator

=

"GPSBabel - http://www.gpsbabel.org"

xmlns

=

"http://www.topografix.com/GPX/1/0"

>

<

time

>

2017

-

10

-

18T17

:

57

:

47.782Z

<

/

time

>

<

bounds

minlat

=

"34.381044169"

minlon

=

"-111.509663105"

maxlat

=

"34.406262634"

maxlon

=

"-111.483300343"

/

>

<

trkpt

lat

=

"34.406234387"

lon

=

"-111.485965118"

>

<

time

>

2017

-

10

-

14T17

:

29

:

33Z

<

/

time

>

<

trkpt

lat

=

"34.406262634"

lon

=

"-111.485995544"

>

<

time

>

2017

-

10

-

14T17

:

29

:

34Z

<

/

time

>

<

trkpt

lat

=

"34.406227849"

lon

=

"-111.485900325"

>

<

time

>

2017

-

10

-

14T17

:

29

:

38Z

<

/

time

>
It does not take too much to figure out the data structure <trkpt>... </trkpt> is one datapoint with coordinates, a timestamp, and a velocity (the latter I dont care about). So I went back to google maps, and clicked on the spot on Fuller Road where I wanted to end the track, it showed me the latitude and longitude: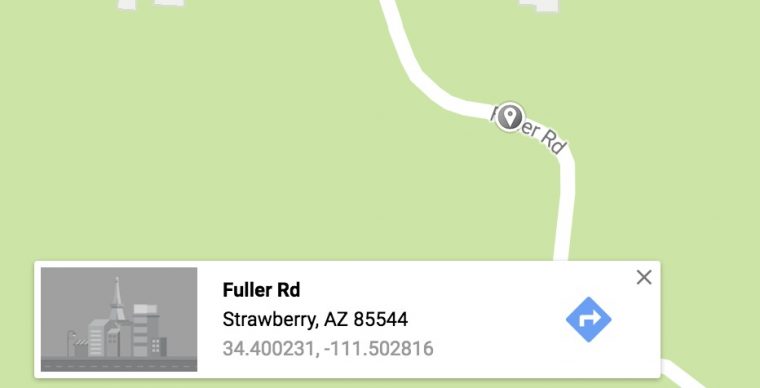 I started at the bottom of the GPX file, and scrolled up until I saw a <trkpt>... </trkpt> set with coordinates closest to this point. I then deleted all the <trkpt>... </trkpt> sets afterwards, and saved the GPX file. I was only guessing this would work.
And it did, importing the data file again, I had the track the ended at Fuller road, not my friend's house. I rule the maps!
I added annotation points with my photos. This latter bit reminds me what a great platform maps are to build on.
Even with maps, photos, can I say I know this mountain completely? I know it better each traverse, but each time I find myself marveling at what I did not know.
And I look at it differently from my deck, plotting the next ascent.
---
Featured Image: My Backyard View flickr photo by cogdogblog shared under a Creative Commons (BY) license