I swear I am not a compulsive organizer. The spice rack is not alphabetical, the books and albums on the shelf are not arranged in any bibliographic schema, and I have several drawers crammed full of random stuff.
But when it comes to my photos? Guilty.
The end of 2018 will complete my 10th year of doing an [almost] a photo a day project where daily I ty to post a batch of photos to flickr and pick one as The Photo of My Day
Not compulsive.
It started January 1, 2008 with a photo of a llama named Mike, inspired by a project D'Arcy Norman had done on his own the year before:
I'm trying to take at least one photo a day. Ideally, the photo should not completely suck. On days where I take more than one (which, really, is most days) I select the photo that says more about that day for this series (not necessarily the best photo, technically or artistically, but the photo that says more about what happened that day).

btw, taking a photo every day is REALLY hard. Try it for awhile…
I tried it "for a while", like 10 years now. This includes from my count some 3460 self-selected photos of the day.
In that first year, 2008, D'Arcy joined in a flickr group we created that at last check has over 1600 members and over 245,000 shared photos. Yeah flickr is passe. Right.
What typically happens at the end of the year, I look at my set and see I might have 25 or more fewer photos than 365 (or 366 in a leap year). There are gaps in my system. So I like to do a cleanup now, a week before the new years, so I can cross the line easier.
I do have a system, which helps find the photos that fell down the cracks, or never fell in.
Each year I create a new flickr album with a name like 2017/365 (year/number of days)
Each photo I prefix with this same pattern, plus a digit for the day of the year. So the first one of this year had a title that includes 2017/365/1; the one I posted last night, day 358, has 2017/365/358 in the title.
Each photo of that year gets a tag like YearDays or tis year 2017365
Each photo of course goes into that album. Well I seem to forget about 10% of the time.
Each photo gets added to the group. Well I seem to forget about 10% of the time too.
It's a human system, I do it usually at night, sometimes really really really late, when i edit photos and upload to flickr. So I expect slop. This year's shortfall was about the same as usual.
I have a small app on my laptop called DayOfTheYearViewer that tells me the day number for any date on the calendar. I don't even think you can find it any more, but my copy still works. There are plenty of web sites you could use too like Epoch Converter.
My wee little app helps a lot figuring out the day of the year it is when titling the photos or when cleaning up (which of course I don't need in January)
The process is going through my set (I forget to call it an album like flickr does now) from the top, mousing over to see the titles, and looking for gaps, or sometimes, repeated numbering.
I had sometimes several weeks without gaps, other parts were rampant with mistakes on every other row.
When I find a number missing then I have to do some detective work. I check the tagged photos to see if I managed to tag it, but not add to the album.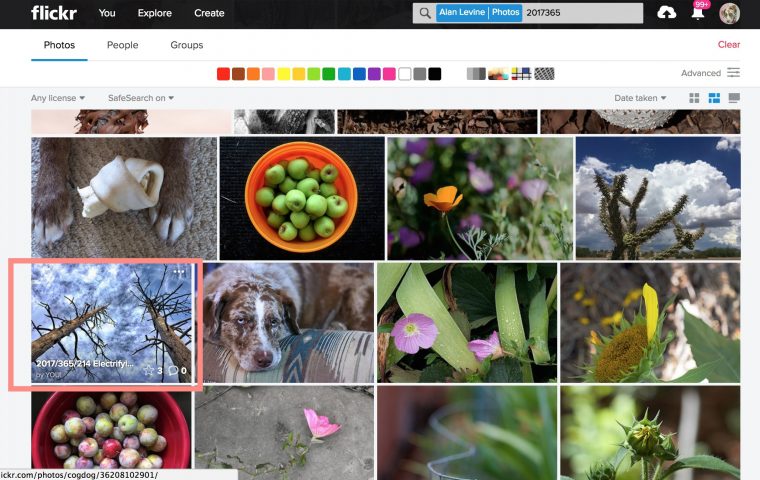 If not, I might just search on the missing title code, often this means I forgot to add to the album and tag.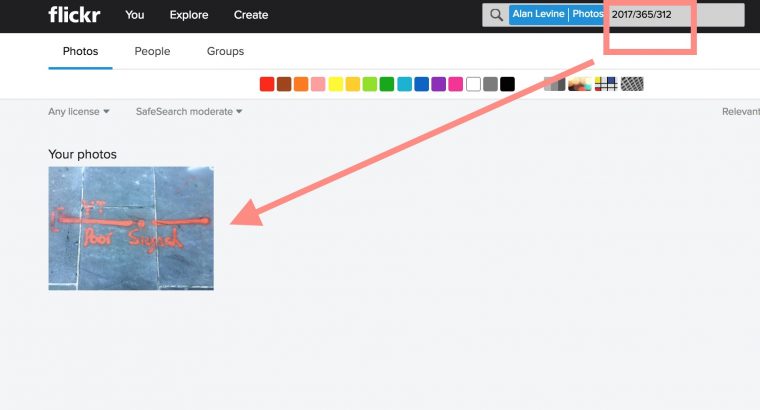 Other times I have to identify the calendar date I am looking for (using the DayOfYearViewerApp). Then I can go into the camera roll mode of flickr, where I can see all the photos I had for that day. Sometimes, I did not add to the album, other times I just did not even select one.
Quite a few times, I had gotten photos assigned to the wrong day, and have to juggle over adjacent days. Each time I find one missing, I edit the photo, adding the right title, and making sure it is added to my album/set and carries the right tag.
Today's review took about two hours, and I found about 20 missing ones, but also saw about 8 days I did not post any photos. That's the thing, it's my project and having perfect participation is not important.
But there's more to my system with gaffes and goofs and omissions. Some people might want a more automated system that does it "perfectly". Some want a system that just continuously logs photos like some bot recorder. Others just will accept some algorithm's decision on what your year's best photos were.
I relish my faulty, hand curated system. It means I put my own effort into the selection, and this pass through is in a way a reflective visit again on the year as a whole. I don't want a bot doing this for me, damnit.
And I am ready for another year, and will set things up for 2018/365
https://twitter.com/realdlnorman/status/944269195281285120
What about D'Arcy, you in?
---
Featured Image: Pixabay photo by DariuszSankowski placed into the public domain using Creative Commons CC0