The do it every year.
There are three adjacent houses in Strawberry, Arizona, where Wingfield Way turns into Tonto Rim Drive and the north edge of town folds into the forest. Each Christmas, whomever lives there, sets up a huge display of lights.
Of course it's not novel, it happens everywhere. And it's not anywhere near some of the Disney meets Vegas displays I remember seeing when I lived in Phoenix.
I see the set up in the day time when the dog walks lead me over that way. Last night I planned to walk the 30 minutes or so to see it lit up, leaving at dusk, right as the temperatures hit the freezing mark.
My hunch is the people who do this are retired, a safe bet, as that's about 65% of the population here. It looks so pure and playful and joyous under the deep black skies.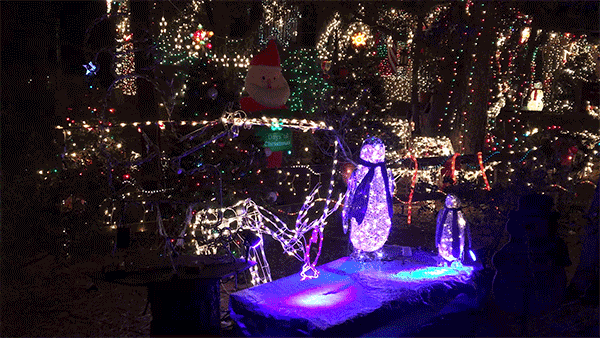 Every few minutes a car creeps along at sub-walking speed, people gazing out the window, turning around at White Tail Drive to come back for a second look.
I was almost halfway home before the memory units kicked in.
I grew up in a Jewish home in northwest Baltimore. This time of year our Hanukkah celebrations bounced around the calendar, getting gifts earlier some years was somewhat satisfying. Near Christmas day we'd visit friends, the Bente's (?) an older couple that somehow my Dad knew (lodge brother? work?). They layout of their living room, two chairs in front of the stairs was just like All in the Family (no other resemblance in characters). The Bentes Christian, and it felt like living in a TV holiday show to see their tree and the decorations and the cookies and such. One year they thought it would be funny to let the little kid taste a shot of whiskey. Ha ha ha.
But the thing I remember as a constant during Christmas was my Dad taking me for a walk around our neighborhood to look at the Christmas lights our neighbors set up.
He (and me like him ) was introspective and did not say a lot. Out loud. I just remember the moment together, and nothing about being envious of the other holidays. It was just different. And we could still enjoy the twinkling lights.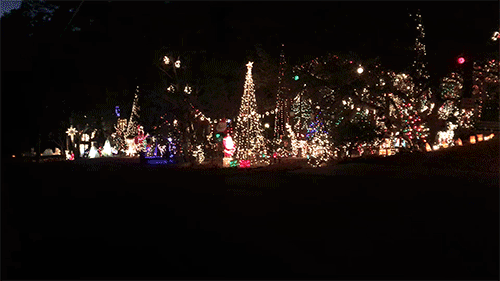 However, the most memorably decorated house was one lacking lights. I think it was on Buckingham Road? Bedford Road? It was a two story square white house, with a flat roof that sloped backwards, and a thick bounding margin to that roof. For Christmas, the people who lived there (and I have no memory knowing them) would hang from the front a giant red ribbon on the edge of the roof, and the wide red cloth ribbon hanging down the front.
A giant gift box.
That's what those walks were. A long long long time ago in a neighborhood far far away.
On returning home, warming up, I hung my scarf up. Yup the one my Mom made me in her last years.
These memories are deep down in my own box, but they are warm. The system works by creating new ones all the time, but also, digging down time to time to see what's at the bottom of the box.
Thanks for the walks, Dad.
---
Featured Image: The Lights flickr photo by cogdogblog shared into the public domain using Creative Commons Public Domain Dedication (CC0)