My first resolution shall be to never again trying using a regular expression in a blog post title. And my syntax for counting matches is a bit problematic.
Later today I will add the 11th flickr album set to this collection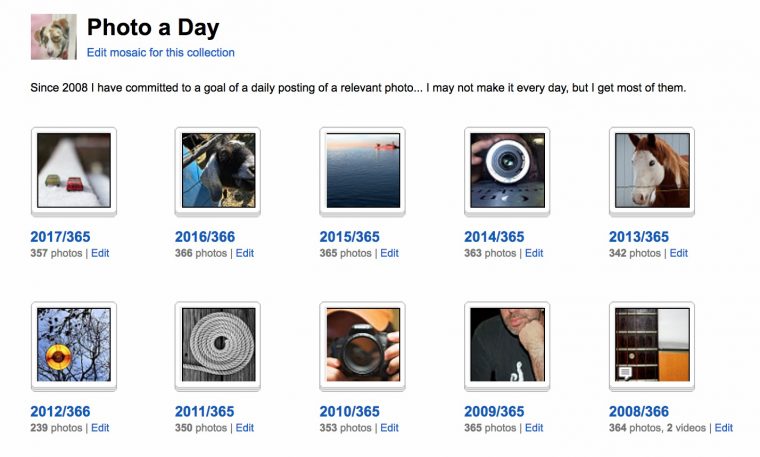 In theory my lame regex should find all the album titles in the form of 20XX/365 ot 20XX/366. That's a distraction.
I'm thinking about today's first daily photo, it will have 2018/365/1 in the title. Dean Shareski has been in it for a long haul too, like him, I made a video of my 2017 daily photos:
Unlike him, I did not do any video editing; my photos were made by modifying a script that John Johnston cleverly wove that uses some command line to download the images from flickr, resize thrm, and with the magic ffmpeg, put them in a video (to give some appreciation for John's scripts, peek at all his github gists).
I made some mods to pull photos from an album rather than a tag. It cranked for a few minutes, and the video popped out. I uploaded it to YouTube, and picked some of the music they provide. 2017… done.
Much has happened since 2008. Technologies have come and mostly gone, cresting and troughing the Gartner curve, politicians names have changed but still are more more less the same clowns, they keep making the same Star Wars movies again and again. I've gained and lost and gained friends and weight, lost hair… but I am still enjoying and getting much out of the habit of looking about the world wherever I am and trying to capture some interesting portion in a frame. Photography after all is just cropping out 99.99999999999999999999999999% of the world.
Curly totally laid it down better than I could write it.
Curly: Do you know what the secret of life is?
Curly: This. [holds up one finger]
Mitch: Your finger?
Curly: One thing. Just one thing. You stick to that and the rest don't mean shit.
Mitch: But what is the "one thing?"
Curly: [smiles] That's what you have to find out.

Curly's Law: Do One Thing
www.codinghorror.com/blog/archives/000805.html
Me? I found out it's photography. Well and maybe blogging. Blogging about photography.
I almost never know at the time of taking photos which one it will be. The choice happens at night when I am reviewing all the photos I took that day; I cull out the unwanted ones, crop and tweak the rest. That's one pass where I get a sense for which photo stands out. I then go back and add my titles, captions, tags etc. By the end of the second pass, I choose before uploading to flickr.
It's sometimes a favorite photo on its own. It might also be connected to, representing something about the day. Maybe it's one that triggers a memory or a story. Sometimes I am just too tired and pick randomly.
It's not very algorithmic.
In thinking about this post, I was wondering about writing a bit about the way I go about the daily "what was never a vice but now is a habit". The thing is, every person's approach is different, unique to them. As in many things I have learned to do, it's paid off to pay attention to how people do the thing they do, but always mix, remix, and incorporate into my own ways.
In other words, your mileage will vary.
A big change since 2008 is having a camera in my pocket all the time that takes good quality photos. I've had a series of iPhones since then (3,4s,5s,6s), and really, with the most recent, it's become one that takes photos I really like, a few have even gotten into flickr explore. The mobile can't really match what I can do with the DSLR, but it's more worth it to have a camera with me all the time.
I try to get a few photos "in the can" early. As the coffee maker is chugging, I look for interesting light coming in the window, or creating sharp shadows
Having a dog in my life means also 4 times a day getting out of the house and walking the neighborhood (which in my case is a forest). There are always details to see.
Traveling makes it easy, because you are awash in things that are new. I had a good number of trips this year, often it is the travel itself that provides the photo.
And there are people you spend time with when traveling
But I think it's more interesting to find something new every day in the place you live, a small details, light that's different. I spend a lot of time walking about my massive 1/3 acre estate, so there are a lot of flower photos in the mix. Sometimes past prime.
I look as well for objects in my house that carry memories too, the stories sometimes in the captions, sometimes in just my head. I like to think it keeps the memories alive to revisit them through the camera.
And then there is light, always look for interesting strong light, early morning, late day, or sharp shadows.
Sometimes, like that Soleri Bell, you photograph the same object twice, it's never the same.
And then there is just weird stuff or photos you make by juxtaposing things.
And it helps to have a photo worthy pets and family in your life
I better stop before I embed all 357 photos from this year.
But I am starting up my second decade of daily photos. If you are game to take on the challenge, join the flickr group D'Arcy Norman and I launched in 2008. It matters not if you get perfect attendance (I rarely get all the days). It matters more that you take some time away from the screen and the job and the mundane, look at your world and notice things, every day. That is a gift to yourself that may take 10 years to really set in.
---
Featured Image: D'Arcy Norman, Professional iPhone Photographer flickr photo by cogdogblog shared into the public domain using Creative Commons Public Domain Dedication (CC0) This is totally appropriate as D'Arcy was the one who inspired me doing this for 10 years; this photo was on a 2010 visit to Calgary.