There's a lot of dark writing about the state of the internet.
Those links are just by people I know. Through the internet.
And then there is this guy, who I don't know, who is offering, and suggesting the folks who were around when the Wizards Stayed Up Late, should all in unison declare "We Were Wrong":
For the last twenty years, I believed the internet prophets of old. I worshipped at the altar of Stewart Brand and Kevin Kelly. I believed that the world would be a better place if everyone had a voice. I believed that the world would be a better place if we all had no secrets.

But so far, the evidence points to an escapable conclusion: we were all wrong.

:
:

It's quite easy to see the differences between the internet world we live in and the utopia we were promised. And a fair measure of that is because we didn't actually make it to the utopia.
I can't speak for him, but he does not speak for me— I never had an expectation nor dream that the internet would be utopia. I find utopias not only a ridiculous goal, would we ever get there it would be insanely dull. Utopias never happen, dude. They are a bad idea in themselves.
But I don't have anything to counter this dark cloud. If I were to mount my unicorn, jump over a rainbow, and offer the same optimism many of those folks, and I, might have expressed in the 1990s, I too would launch a few torpedos my way. It's not, and never has been, all good and wholesome and fair for all.
But, that also means, that it cannot be totally shit across the stratum.
All I have are tiny anecdotes.
Last week I got a message via flickr:
Dear Mr Levine:

Your pictures on Flickr are very good. Beautiful compositions and interesting places. I used one of them with attribution and link to your Flickr account on my site which promotes the U.S. overseas. It is in Polish. Here is the address:

www.ameriguide.pl/guide/usa/arizona/arizona-regions/north-central/camp-verde

I hope you will not have anything against it. Thank you.
I never have anything against this. There are over 59,000 photos I have posted to flickr, all available for anyone to use, all placed in the public domain (well ost, flickr never has been able to batch convert all my photos, some are still Creative Commons CC-BY).
But I am curious, I know I have taken photos in Camp Verde (a small town about 40 minutes from where I live, not a huge mecca for anything).
There is is, a web site guide to this small town, and I recognize my photo.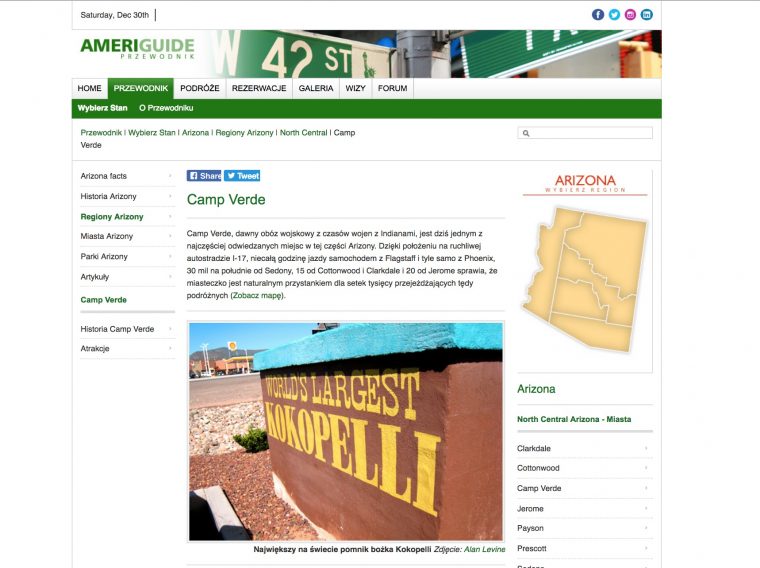 It's all about this small town
Camp Verde, dawny obóz wojskowy z czasów wojen z Indianami, jest dzi? jednym z najcz??ciej odwiedzanych miejsc w tej cz??ci Arizony. Dzi?ki po?o?eniu na ruchliwej autostradzie I-17, nieca?? godzin? jazdy samochodem z Flagstaff i tyle samo z Phoenix, 30 mil na po?udnie od Sedony, 15 od Cottonwood i Clarkdale i 20 od Jerome sprawia, ?e miasteczko jest naturalnym przystankiem dla setek tysi?cy przeje?d?aj?cych t?dy podró?nych (Zobacz map?).
IN POLISH.
An entire web site about America, published in Polish.
The tag line under the big image?
O Ameryce napisano miliony ksi??ek i nakr?cono niesko?czon? ilo?? filmów, od westernów po komedie i historie mafii, a mimo to reszta ?wiata wci?? wie o niej zadziwiaj?co niewiele.
If I can trust Google's translation it's an interesting phrasing (well I do have a colleague who lives in Warsaw I could ask, Hi Kamil) (Someone I met because of both our work being on the Internet).
About America, millions of books have been written and an endless number of films have been filmed, from westerns to comedies and mafia stories, and yet the rest of the world still knows astonishingly little about it.
This ought to be our country's new tagline, the heck about greatness, the people in Poland think we are pretty great.
So that guy who really wanted the internet pioneers to apologize, or maybe to never have gone ahead with what they did? We might have some kind of network managed, created, controlled by private enterprises. I doubt in that internet that some people in Poland would create an information resource for travelers to America, offered for free, using media openly shared by people they don't know.
I don't see much to be hopeful for in the large corporations who manage a lot of our online experience. I don't see much to be hopeful for in the monitoring/management by our government, considering the FCC has signed over everything to the folks in the first sentence.
The places I see are in the efforts of the people down at the human level, the individuals who get an itch to create, or to share something for others, the folks that create weird corners of the internet just because they get an itch.
I see much less shit in those corners, it's piled high in the middle of the room.
And speaking of weird corners… the photo of mine the Ameriguide people in Poland chose?
Why Camp Verde, Arizona is home to the World's Largest Kokopelli. As if you knew there was such a thing.
Keep the Internet Weird, and influence by individual weirdos. My kind of folk.
---
Featured Image: Pixabay photo by aitoff shared into the public domain using Creative Commons CC0