Maybe it's that impending tax time of the year.
As an independent self-employed company of (rounding up) 1.0 I start the tax forms around now, just in case it looks like a refund might be in the works. If the numbers tilt the other way, as it looks, I shelve it til April.
My friend and fellow soloist Bryan Alexander is good about regular reporting on his consultancy. This past August marked the five year mark since I had a last regular full time pay check, and I think I posted once on the Company status (I am not incorporated, just a humble one dog proprietor).
I asked my accountant if he could run me some numbers. He said he would get back to me after his meeting.
I had a spreadsheet set up from 2015, so just popped in some fresh numbers. I just put my income into some broad categories, and do a pie chart for the year percentage (not normalized at all by totals, so stats, stats, and stats), here as an animation: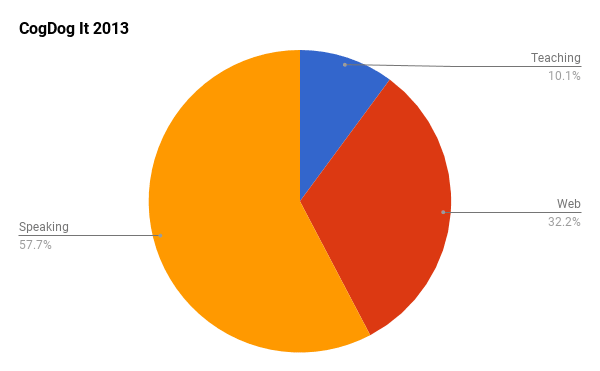 It has nice colors. I had things more the first years in web site development and presenting speaking; in the last two years the bulk has been broader project work (like the 15 months on a Creative Commons project and over the least 3 years, the UDG Agora project) which still includes a lot of web work. In the middle was a chunk of Fellowship (TRU, Sagrado, and last year the ISS Institute). Teaching came back into the pie last year with the classes I have been teaching at Kean.
I see zeroes in my budget for advertising and promotion; I've been very fortunate that all my work has flowed my way through contacts and connections. I guess this blog is my PR machine, typos and all.
I don't spend much. Cost of living in the Strawberry Arizona metropolis is low, my home a humble 900 square feet of space, and one vehicle turns 20 this year. Big chunks go to health care costs (premiums and extra out of pocket stuff). Maybe my accountant Felix is my biggest extravagance, but he's worth it.
I also chart my days of travel, and am glad that 2017 was my least amount of travel days (I get the data from TripIt) — and the bulk of that was the 5 weeks of November spent in Australia for the ISS Institute Fellowship.
Who knows even what the rest of 2017 will mean? There is always a quiet looming worry of what might happen next (and what of nothing materializes), as my present commitments end in June, so I am looking for the net opportunities. This post might be part of a plan, or just a whim. Stay tuned.
But hey, if you got something, I'm all ears.
---
Featured Image: Pixabay image by Cornfreak shared into the public domain using Creative Commons CC0.