I don't do a wacksock of presentations these days. When I do, I like running them on the web, from the web, a la SPLOT fashion.
But I did/do like the approach of being able to send out tweets during presentations, something I figured out in 2011 with Keynote Tweet. To be clear, I did not invent or build this, all I have done is over the years, as twitter keeps changing their API authentication, figure out how to keep it working.
I just poke around the engine with a flashlight.
I gave up a few years ago, as in later operating systems, Apple took away the methods the script was able to talk to Keynote. It was busted. (I think @bennettscience was working on a way to do it from Google Slides).
For reasons I won't bore you with, for the software I use to manage photos. I still work in an old OS (Mavericks, the one that came with my 2013 MacBookPro). For the work I do, I have yet to be stopped from doing my work because of something in Some New Mountain Named OS. Yes I know it's a BAD thing to be doing (my latest research says I can upgrade, but I don't want to monkey with things in the middle of teaching and projects).
The only machine I can test on is my even older (2009) machine running Yosemite. It's main duty is playing music through my stereo.
A few months ago, I heard from @amywebb who was interested in having it work in the current Mac OS. Whatever I offered had no success for her.
Until yesterday.
Amy emailed me a suggestion she got from an Apple engineer for a small change in the script. I made the changes and went to the Yosemite machine to test it out. I put this text in Keynote's presenter notes for an old deck: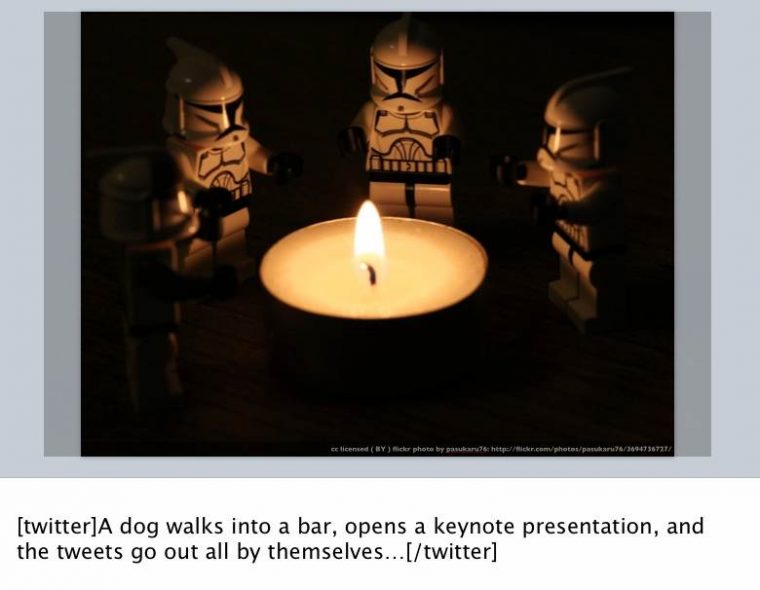 I launched the new Keynote Tweet app, started the show, and Huzzah:
A dog walks into a bar, opens a keynote presentation, and the tweets go out all by themselves… @amywebb

— Alan Levine (@cogdog) February 3, 2018
Success (in Yosemite).
I sent the app to Amy, we wrestled a bit with the ZIP, and then I gave instructions on how to modify her existing script. Then there was some issue on her machine with the path to the twurl app, but she says it works.
But until I, or someone else, can verify, I am not 100% sure. So I created a new app, and updated the instructions for anyone willing to try it out, look for details at https://github.com/cogdog/Keynote-Tweet.
If you previously set up twurl, you should be ok. You might want to test the use of twurl from the command line. I provided the text of the script there; the easiest way to build the app is to compile it yourself by copying to the Script Editor app.
We will hold off any further celebrations until someone else can confirm it works. No guarantee.
Updated Feb 11, 2018
There is an error/goof in that first version, namely that your command line interface knows where twurl is, but Apple Script needs full paths. An updated version now has the most typical installed location, but if you want to built it from scratch and make sure you have the right path, here is some info to hopefully get you Keynote Tweeting.