By day he's an ordinary computer science professor at Universidad Sagrado del Corazon, but once he puts that hat on, it's adventure time for… Puerto Rico Jones? Indiana Vantaggiato?
I've been thinking it's time to record a new podcast with Antonio Vantaggiato, and in a few DMs he asked what about the last one we recorded? My brain was fuzzy; I know we did the one from Australia with Parisa in Japan. Then he types back that he has a Skype call from January 1.
And sure enough, I dug into my recorded Skype calls, and there it was, like an old wooden treasure box, inside was a shiny, un-edited set of audio files. I split them out, combined and cleaned up in Audacity, and sent it to our shared Google Drive folder.
Then Antonio dug in for his first experience editing it in TapeWrite, and despite one cry of ****** laden anguish in a DM (when one errant click lost it all), like a true Raider of Lost Tapes, Antonio re-traced his edits and published our newest podcast.
So here it is, long overdue, especially if it were left to me, Episode 3 of the Puerto Rico Connection podcast with Antonio…
Okay, okay, it's almost an hour, way too long. We like to talk! And ramble. But it's full of stories of his Christmas trip to visit his daughter in San Francisco, talk of classes, and how things were in Puerto Rico (Antonio leans on the positive side).
Our vow is to be more organized, and thus produce a shorter one next time.
I don't know, frankly, I'd rather talk longer with "Puerto Rico Jones".
And just to top off the experience, Antonio also shared via twitter the fantastic surprises he got from someone who truly does #caree4sagrado
1/2 The package rested many days unopened at the post office here, but once again @ParisaMehran made our day!! Plus, love the video they made!! @cogdog @sagradoedu #care4sagrado https://t.co/JepkCDjkBw

— Antonio Vantaggiato (@avunque) February 7, 2018
2/2 Thanks @ParisaMehran and students from Japan!! Plus, love the video you made!! @cogdog @sagradoedu #care4sagrado https://t.co/EcZZqya6La

— Antonio Vantaggiato (@avunque) February 7, 2018
https://twitter.com/ParisaMehran/status/961481894717042688
Yes, peace and love from many places in this world (except the White House).
Will Raiders of the Lost Tapes have a sequel? We plan more podcasts, but hopefully no more lost tapes.
Stay tuned.
---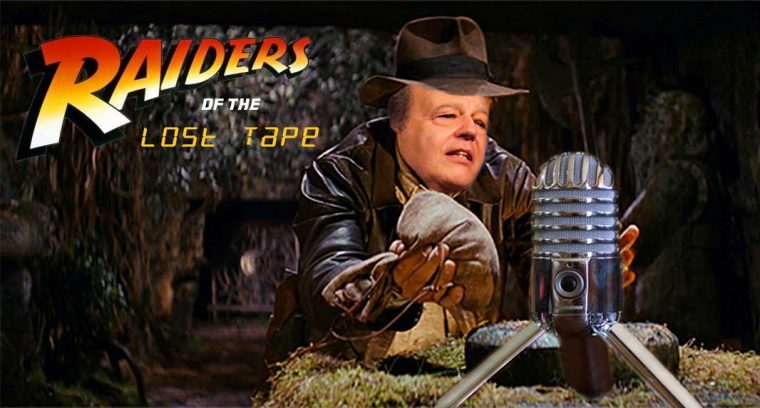 Featured Image: A hasty mashup of a screen of Raiders of the Lost Ar, a weak effort to replicate the title text, my own photo of Antonio and a different one of my Meteor Mic microphone.