Thanks to Colin Madland I got to co-present out work on creating a system for WordPress hosted portfolios for over 500 new students at Trinity Western University.
I was unable to attend in person, but Colin submitted us a proposal and got me in the room via his Zoom room.
Waving back at you @cogdog #etug pic.twitter.com/9TBwIYqheX

— Terri Bateman (@terribateman) November 2, 2018
There was that bit of podium time while Colin and the local AV guy were fiddling with the audio settings, leaving me big on the screen just to make goofy expressions.
@cogdog providing interpretive hand dance for this ETUG lighting round :-) #etug

— Amy Severson (@duckdeux) November 2, 2018
Just getting ready for this was a win as Colin introduced me to GitPitch a slick way to build web-based presentations (powered by Reveal.js) be editing Markdown content in GitHub.
Got our slides right here
You will find reference links to relevant content etc right inside the deck.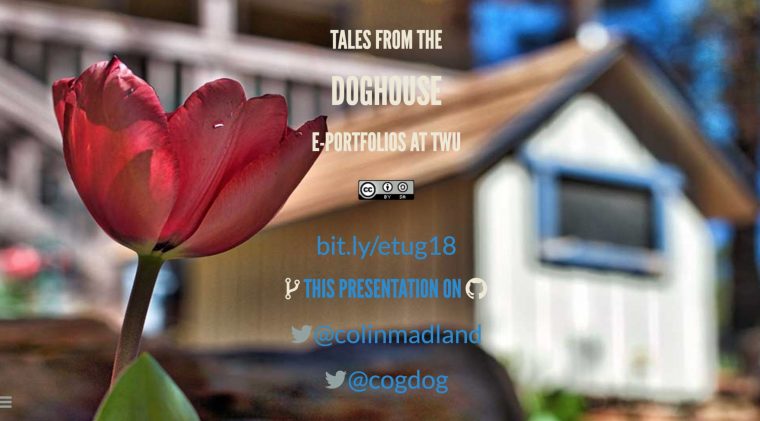 I gotta thank Colin a lit for giving me a nice pitch (and he's right, I need new projects!)
@colinmadland rightly praising the amazing @cogdog (joining us virtually) during his #ETUG presentation. "So if you have a job for Alan…" pic.twitter.com/2L7wGdhoRl

— Rajiv Jhangiani (@thatpsychprof) November 2, 2018
But really, I must thank him for bringing me onto a great project that, as most do, got me to stretch both familiar and new tech muscles.
An #etug isn't complete until we Skype in @cogdog Thanks @colinmadland for making that happen pic.twitter.com/MHWTMrAp12

— Clint Lalonde (@edtechfactotum) November 2, 2018
And maybe the best part was after our round, as Colin was carrying his laptop back to his seat, I got to wave to a lot of friends and colleagues at ETUG.
I regret I was unable to stay for the table conversations, I guess that makes me some kind of virtual parachute presenter, but I had plans to get to Regina as a my wife student taught last year was playing in a UR basketball game.
And imagine the irony getting there to see that UR was playing a team named the Spartans … from Trinity Western! I know the team name since that was what we came up with for the fourth portfolio theme template I made for TWU.
I'm eager too to give GitPitch another play.
---
Featured image: Via a tweet from Brian Lamb. Since twitter has nothing even remotely enabling of licensed media, I'll give credit to Brian and invoke a WTFPL license.
A @cogdog sighting! Joining @colinmadland talking about using NS Cloner on WordPress to generate pre-built sites / portfolios for users. (A tactic dear to my heart.) @openetc #etug pic.twitter.com/446HkdPCkU

— Brian Lamb (@brlamb) November 2, 2018