It's time I back blog on a project I have been dabbling on since April. There is a WordPress site to be shared soon, but this is part of a new series of posts about the development (because I did not do it as I worked, I fell off of the narrate your work train).
This project is for a site at the Justice Institute of British Columbia, made possible by a recommendation from [now departed] Tannis Morgan. This in turn came from a bit of prototyping I did for Tannis a little over a year ago on a constellation metaphor for organizing information.
The project itself is organizing a collection of resources for Leadership development for a certain government branch. This is a project where the parameters were rather loosely defined in the beginning, and some evolved along the way. Part of the site was a collection of recommended leadership courses/activities (stuff prescribed) and then a bigger collection of optional resources (articles, videos, podcasts, etc) (stuff one chooses ).
In the beginning, picking up that my main contact had a strong interest in using visuals and metaphors of the outdoors, a map metaphor emerged early. In my early research I came across a suggestive article Do You Lead Using a Map or a Compass?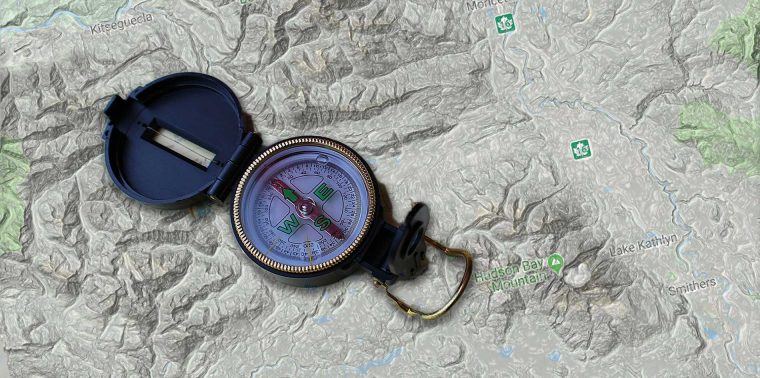 Command-and-control-style management is about maps. It is about strict adherence to a chosen course, with no deviations allowed.


It assumes someone at the top already knows the best path. It is about discipline, control and compliance. The problem is it creates a dependency mentality because management is about having the answers.


Transformational leadership is about a compass. It is about a process of discovery, which assumes we will learn as we go and get stronger as we gain experiences, collect insights and make decisions along the way. It assumes there is more than one right path, and no one person is smart enough to know which one is best. It is about personal freedom and collective accountability. It serves to create an independence mentality because leadership is about asking the right questions.

Do You Lead Using a Map or a Compass?
This very much aligned with the general overview of the project as presented early. Their leadership model focused on three broad areas: Personal Leadership, Relational Leadership, an Organizational Leadership.
I got in my visual cortex a vision of seeing Leadership as a large territory, with areas or regions in the ones listed above. I could see the site having a navigational interface that was a dynamic map, with points in it generated as WordPress content in the site. There would be maps and trails for the topics that were prescribed/suggested, but then the other optional kinds of resources would be just pins in the map. So like the various ways one might hike, sometimes you choose to follow the marked trails and routes, other times, you choose to bushwhack.
Either way, you explore the territory.
It also lends itself to visual icons like compasses and waypoints.
I gave some thought (and later returned) to using a map of British Columbia as the base. Ironically, I found there were very few open licensed maps of the province. There are some government services (Toporama is very cool with layers and BC has a fantastic Topo Viewer) that generate maps that are free for public use, but beyond that, the maps are copyrighted.
This seems bizarre.
Allowable Reproduction


Anyone is allowed to print off one copy of this map for personal use without permission from the Province of British Columbia.


These maps are created on a page size of 44" X 28". If you do not have access to a large format plotter or printer, any quality print shop with a large format plotter or printer will be able to print this for you.


License & Ownership


Copyright © 2013, Province of British Columbia. All rights reserved. This material is owned by the Government of British Columbia and protected by copyright law. It may not be reproduced or redistributed without the prior written permission of the Province of British Columbia.
But the more I thought about it, there could be problems with associating say one kind of leadership with a real geographic area, especially considering where power and populations are centered (and not).
So it made sense to devise a fictitious map. This got interesting, exploring a number of fictional map generators, most of them aimed at creating maps for fantasy games. They are rather impressive in features.
My first experiments were with Azgaar's Fantasy Map Generator where you can toggle features on and off, and use sliders to change parameters: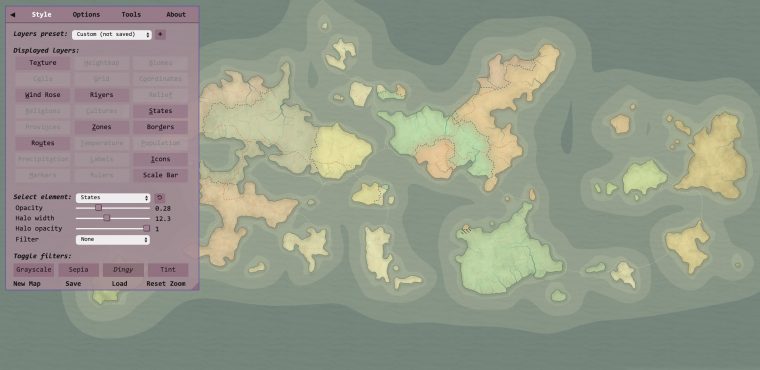 One could lose a few hours there. I may have. It did not exactly give me what I was seeking, and I moved on to another amazing (open source) map generator, MapGen4 from Red Blob Games.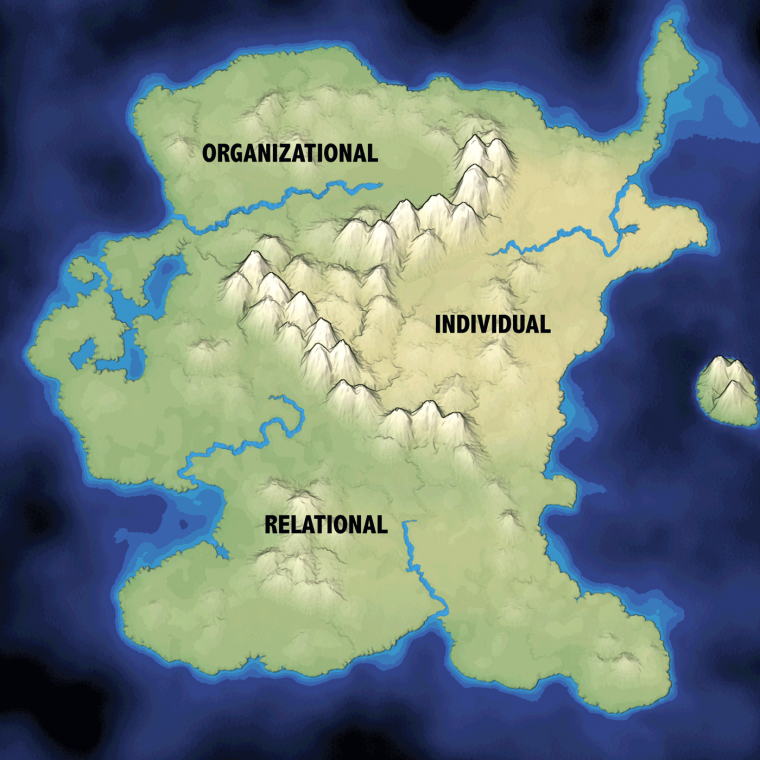 This was less to be the "final" version (especially because mis-labeled "Personal" as "Individual") and more so I could experiment with dynamic mapping tools.
After some R&D with the dynamic map features (that's another post), I ended up returning to Azgaar's Fantasy Map Generator to make what came the one I worked with the most: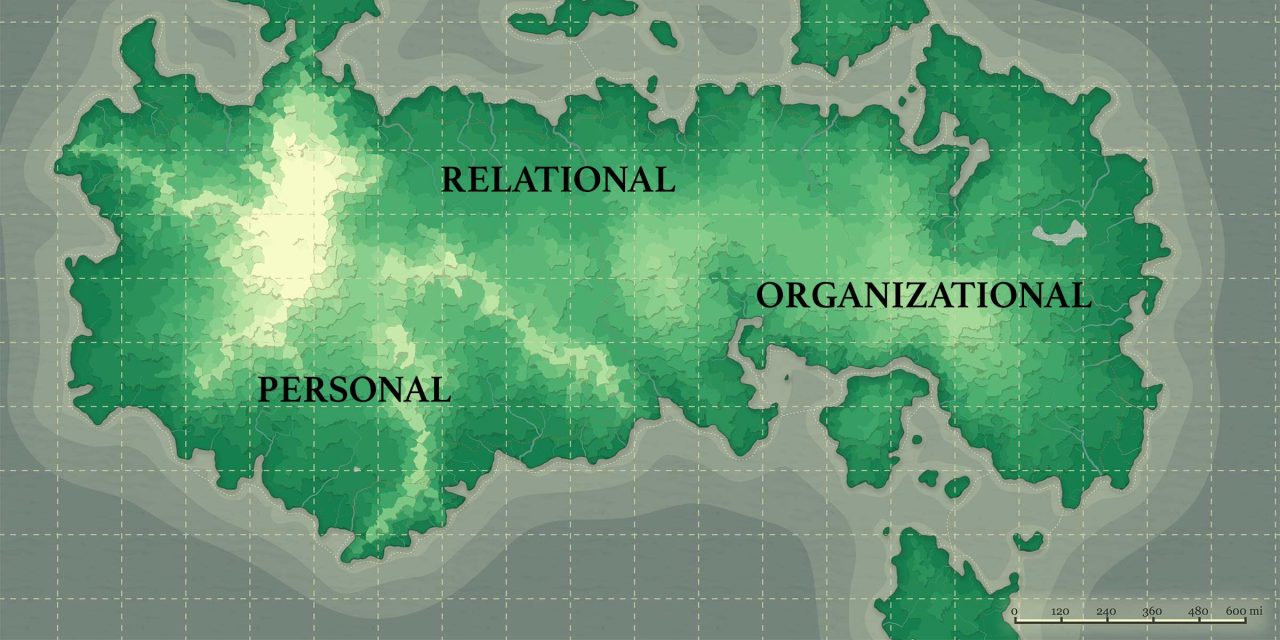 Some other resources from my notes include:
Also, just for the fun of it, follow the @unchartedaltas bot in twitter as well as @MythicMaps and/or @Metropologeny for generated maps fun
I really was hoping for something that generated fictional topographic maps, but never quite found it (beyond seeing the rabbit hole entrance of terrain generators).
And the whole point was to have something I could build off of for adding points and nodes.
That's the next post, where I dove into Leaflet.js.
But let's keep this as a series rather than a monster post.
The metaphor is in the making.
See all the posts in this series…
---
Featured Image: Project base map generated with Azgaar's Fantasy Map Generator and labels added in PhotoShop