It happens so often and ends up being blogged that I've tagged this phenomenon freetousewonders.
I open a new browser tab in Chrome and the Library Congress Free to Use Extension knocks on my curiosity door with a random public domain image.
This time, what you might see as a blank white screen of nothingness, gives me this bizarre image.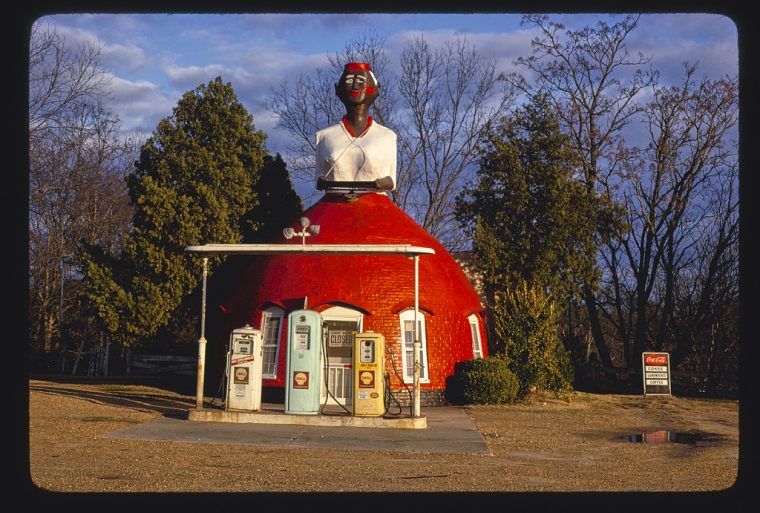 This is definitive Roadside America, that thing you have to veer from the Interstate Zoomways where you will only see the same replicant chain stories… to weird wonders. And just wonderfully bizarre.
I note from the LOC entry this image is categorized Mimetic Buildings (that links gets you like 105 more, many by the same photographer, John Margolies).
Mimetic? Like mimes? No- it means "relating to, characterized by, or exhibiting mimicry." More from the Designing Buildings wiki (did you know there was such a thing? new to me and ironic for the way I see many in our field dismiss little wikis)
Mimetic architecture, also known as 'novelty' or 'programmatic' architecture, is a style of building design popularised in the United States in the first-half of the 20th century. It is characterised by unusual building designs that mimic the purpose or function of the building, or the product it is associated with.

https://www.designingbuildings.co.uk/wiki/Mimetic_architecture
There are wild examples there as well as in These historic photographs of mimetic architecture are pure roadside Americana from Timeline (another treasure of discovery for history told in media-rich storytelling format).
The example here include Mammy's Cupboard, but also ones I know very well. One is Wigwam Village in Holbrook, Arizona, I'd photographed before when I lived in Strawberry. You see the cement tipis right from I-40 though they were built when the main road was Route 66.
But it was the other image I saw that flowed the memories- the big dog structures of Dog Bark Park, in Cottonwood, Idaho. I have my own photo.
When you are on a road trip npt driven by timelines, and you see out of the corner your eye a giant structure in the shape of a beagle, well that ought to make you do a U-Turn and check it out.
That was how I met Dennis.
Dennis gleefully told me of his interest in these types of buildings (he did not use the mimetic term, but he pulled out an old fashioned book that featured examples like the Miner's Hat Realty office in Idaho, Longaberger Basket Company's building… that looks like a giant picnic basket, and Lucy the Margate Elephant.
So amongst all that is to worry about in the world, these intersecting threads of memory, association, that are serendipitously driven by the randomness of a browser extension, fill me with joy.
Do yourself a favour- give yourself time to wander down curiosity holes. Like these arcane and decaying places like Mammy's Cupboard, away from the busy corporate interstate highways (aka social media), their weirdness is something human to behold.
Aim for "Noble and Absurd".
---
Featured Image: This sign is at the front entrance to the "big" beagle at Dog Bark Park Inn.