I am drafting this post using a tool I rarely use for blogging: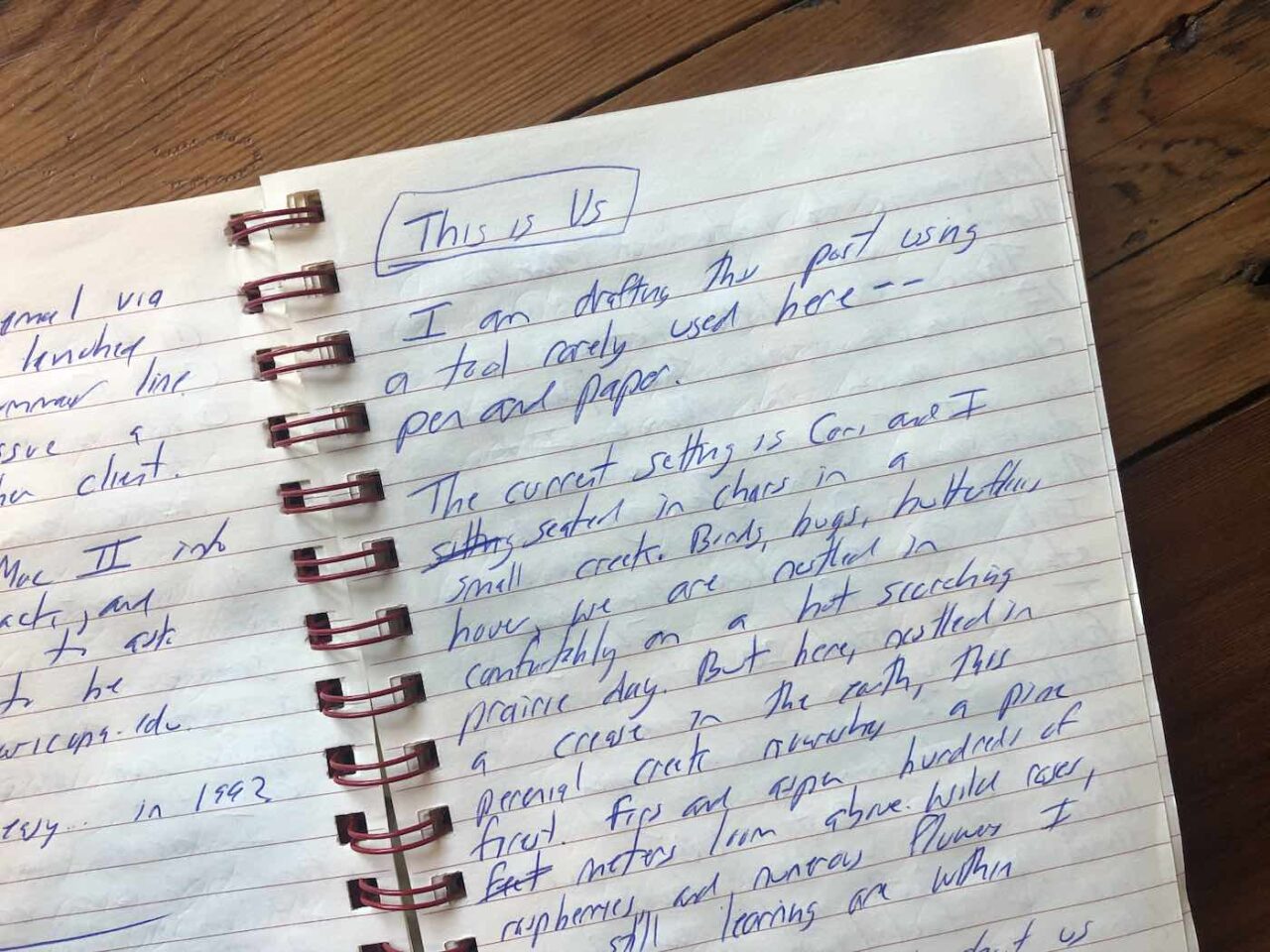 This tool choice might change.
The current setting is Cori and seated in soft chairs settled in the middle of a small creek, water rushing beneath our seats and over our toes. It's cold, rather refreshing on a day when it is more than 30°C out in the full sun. Here though, the birds, bugs, butterflies hover and go about their business. Nestled in a crease in the hills of Southern Saskatchewan that defy your stereotyped picture of prairie, this perennial creek nourishes a lush pine forest. Firs and aspen hundreds of feet high loom above .Wild roses, raspberries and numerous purple, yellow, red flowers I am still learning are within sight.
I don't write enough about Cori and I here in the blog (well the blogging itself has slowed, insert excuses here). You can infer correctly the immense happiness in our photos in flickr and more in Instagram. Shared photos is in the story of our meeting, but I have done a disservice by not writing as much of the us that is the us we relish and even marvel at the odds that there is us.
There's been little let up of life's intensities since the pandemic "closed" much in March. It was not a surprise here; we both had been doom scrolling news since January with news from China, South Korea, Iran, Italy – there was no way that North America would avoid this (orange head delusionists tried). We started stocking up on food supplies in early February. I have in our back shed to large jugs with maybe 20 liters of fuel "just in case". I got a last withdrawal of cash, thinking it would be handy (not really thinking of how useless it would be). I always feel better with a few stashes of cash.
We did a lot of worrying how and when my step-daughter would get home from UBC, where Jessy Lee would miss the end of her last semester, and likely we would not be traveling there in May for graduation. We had all kinds of plans, who might risk flying, who would be able to drive, who might need to drive with the spare fuel cans.
As it turns out, Jessy Lee as she does so well, organized a quick pack up, an early exit from her lease, an intense rush to pack everything (and leave some furniture) into a rented SUV, and drive across two provinces with minimal contact.
This was no one's plans before.
Before.
Since then we have been Team Family, Jessy Lee doing our in town errands (me being Type 1 diabetic means avoid as much public contact). I've not been in Safeway so long I forget what aisles have what items (I kind of like grocery shopping, well I don't mind it).
Oh our household has expanded by one more with Jessy Lee's adoption of an adorable kitten named Mags. We managed the dog/cat interface, and even beyond our wildest hopes, Felix and Mags are like best buddies.
Cori's school year, like most, is at best crudely defined by the word "pivot". Both for her high school teaching and her class t University of Regina, she did whatever possible to teach and reach as she does so well (tutoring students via a distance of the hood of the car, running a read-a-thon).
Whatever we associated with that tired word "normal" is now grainy, faded snapshots in photo albums held in place with yellowed scotch tape.
And we read the stats and news and announcements daily (more than daily likely), sigh. I frankly no longer recognize the country south of here I called home for 55 years. Or maybe it revealed itself to what I failed to see. I have had more stretches of doom and gloom and feeling mired than ever, and Cori has been more than just steadfast in being in this with me. She buoys me daily.
But the us we have, our home, the feeling of not being alone in this, is the glint of light coming across the horizon.
My own work has gotten super overloaded after a thin stretch of work as the pandemic opened, with now 3 concurrent major projects, plus 3 more running in the small spaces in between. I've not blogged much of them, and my SPLOT tinkering has been mostly put aside as well (unless I can wedge them into work).
And I cannot say my focus and efficiency has been anything in sight if laser like. As Cori and I say when we glance up from news– "effing pandemic".
So here we sit now, in a creek, far from it all. No internet unless we walk up a hill. No news scanning No sighing over WTFJHT.
With Cori I have a personal universe, we call it Ursa, the constellation hanging over our home, in sight during our night walks. In all that was terrible over the last 4 months, we've been doing what we love, turning our golf course grass yard into a wild prairie oasis, long grass in the back. We removed a large swath of sod our front, put down a patio of 100 year old brick, built a privacy fence, planted sage, wildflowers, roses, and just about finished building a split rail fence made from old field posts given to us by one of Cori's former students (who we got to see get married a few weeks ago, a socially distanced affair out in a field). Our trees are thriving and will hopefully be a small forest in a few years.
We have our regular sunset walks, out the front door, across a field we call "ours", out the gravel road lined with wild roses, meeting up with the local horses (all named "Bob") and the odd llamas. We have our backyard with comfortable deck and a firepit for our home campfire.
But Cori and I have not had any time away. Save one weekend for our anniversary, we've been at home. So now we have these 4 days carved away to do what we love and for four days, have no lists or agendas. We set up a campsite, our chairs, our books, our notebooks, our camera.
It's a different feel of time.
Our conversations often turn to the marvel of the odds that we would have met, much less found such an unimagined kind of fit with each other.
I said on our drive out to where we are, "It was like our souls messaged each other before we did."
Loving you Cori, is all I can want/need. And together, we can take on anything that comes our way. Meshing lives, floods, a malfunctioned fireplace, and yes, an effing pandemic. It's all no match for us, #ursahome.
This. Is. Us.
---
Featured Image: A composite of two of my own photos I Love this Woman flickr photo by cogdogblog shared into the public domain using Creative Commons Public Domain Dedication (CC0) and 2020/366/202 Us flickr photo by cogdogblog shared into the public domain using Creative Commons Public Domain Dedication (CC0)