Conferences are in the air right now, heaps of them. Just in the rear view mirror is Creative Commons Summit, EDUCAUSE, Open Ed is coming up, and after that one I am involved in, OE Global.
And that's likely a small bit of the overall conference pie. Everybody is trying to solve out the riddle of how to organize them when they are online. How can these be effective when participants are not seconded in a hotel away from their home?
Whinging about conferences is a long running rant topic in this blog, dial it back at least to 2004.
I guarantee you I do not have the answers. But what I find a little wearying is that these events center around the programmed presentation sessions- that means keynotes, breakout sessions, workshops. I call it Presentationally Oriented.
Some exceptions I remember to this were the old Northern Voice conferences, the early Open Education ones (when they were small), and for something in this decade, ones organized by the Association for Learning Technology (ALT).
And pretty much pivoted online, conferences stay the course of presentationally driven. I cannot judge them all, because, to be honest, I attend very few (especially compared to how many are going on these days).
My unfounded hunch is that attendance at sessions is much much lower for online conferences than in-person ones.
Dominik Lukes wrote maybe the most insightful (to me) series on this way back in April– Moving events online: Platforms, strategies and challenges. Planners focus much on the platform and the program, but I am tuned into his piece on challenges, especially the way he zones in on "the affordances of space and time."
Bear with some long quotes. Drink them in.
The whole physical configuration of an event is working to make it seem like a natural environment for interaction. Rooms are configured obviously so that it is clear where one should sit and the idea of a group of people sitting in rows and watching someone speak seems so obvious it is beneath our notice.
:
:
It is not just the rooms in which the talks are taking place. It is also the spaces connecting them and the people in them. We see corridors through which we can walk and even follow other people.
:
:
They automatically present themselves to us for interactions and in that they remove much of the mental burden of deciding what to do.

https://medium.com/techczech/moving-events-online-part-1-challenges-why-are-not-more-events-taking-place-online-a1b94533649c
And then….
Let's compare it with an online event. Nothing about an online event offers these natural affordances. There are no rooms, corridors, posters on walls, or helpful people in the way. All attendees have a is a link somewhere in their Inbox. This is not a problem for an individual webinar.

But a whole online event is much different. Each participant is forging a lonely path to the component events and meetings. Some carefully put them on their agendas, other just trawl their emails for the links or Google the website hoping to find the right time and place. It is not the lack of sociability that gets in their way, it is the lack of affordances.

Organisers of online events often underestimate this aspect of the event and only focus on the interactions between speakers and audiences, and not how they connect together. An online event then becomes a series of webinars that may or may not feel like they belong together.

But there is even more to it than that. We also need to think of the affordances of time and space from which the virtual attendees are taking part. They are often in their office or at their home which is full of affordances suggesting very different ways of natural interaction. They are most likely sitting at a desk with a headset on. Every cue in their environment is suggesting that they should be doing other things. Going to meetings, washing the dishes, talking with colleagues or family. By moving an event online we have not only removed the social space of the event itself, we have disrupted the social space from which the participant is attending.
This was part of my own planning last Spring. As part of the work I am doing with OE Global, I was asked to help with the planning for their annual conference (one that has always been the in person kind) to an online one– this is happening in few days!

And, as far as I know, the organization has never run an online conference (although they do deftly organize the annual Open Education Week).
I credit my colleagues for making a decision early (back in April?) to Do The Pivot. This of course meant a huge shift of role, opportunity for the conference host, Taipei Medical University. To serve a global audience, we decided to bring on conference co-hosts in different time zones, so adding to sessions in local Taiwan time, we have co-host TUDeflt leading events in Central European time, and eCampus Ontario hosting sessions in North American time. This means something like 20 hours of programming per session day.
Our planning committee felt like it was worth scheduling synchronous sessions (Keynotes and presentations) on Monday, Wednesday, Friday, and leaving Tuesday and Thursday for workshops and a variety of asynchronous activities, some social, some connective, and as it stands now, mostly things conference attendees create.
The call for proposals and review process followed a traditional process (their use of EasyChair works really well for the proposal process), with options built in for presenters to choose asynchronous format.
This has all been a long pre-amble to get to how the conference is being run, and in what. We looked at a few possibilities for hosted conference platforms. I have a feeling about them like I do about the LMS- they do what you want to do, but you end up with something you do not always filly control and often, it just does not do everything you want. I doubt there is any perfect or near perfect system.
I had a meeting with my former colleagues back at the Maricopa Community Colleges who are planning an online conference and urged them to not focus so much on the platform. Just pick one and find a way to bend it you your whims.
Since we were already starting to shape the use of discourse as a community platform for OE Global, what we called OEG Connect. We were still developing the kinds of activities/discussions we might do there as a community space, with not a whole lot of traction.
My colleague Jure Cuhalev suggested we could make it work as a conference platform, although it is not really designed directly for that. What I have been saying is that every part of the conference venue is conversational. Each keynote, presentations it its own topic, and it means participants can engage with them at any time.
In the back of my mind, this is the influence of many years being involved with Virtually Connecting, which offers conference conversations in the margins or edges of planned conferences. We are trying to put conversation at the center.
Well, enough talk, here it is!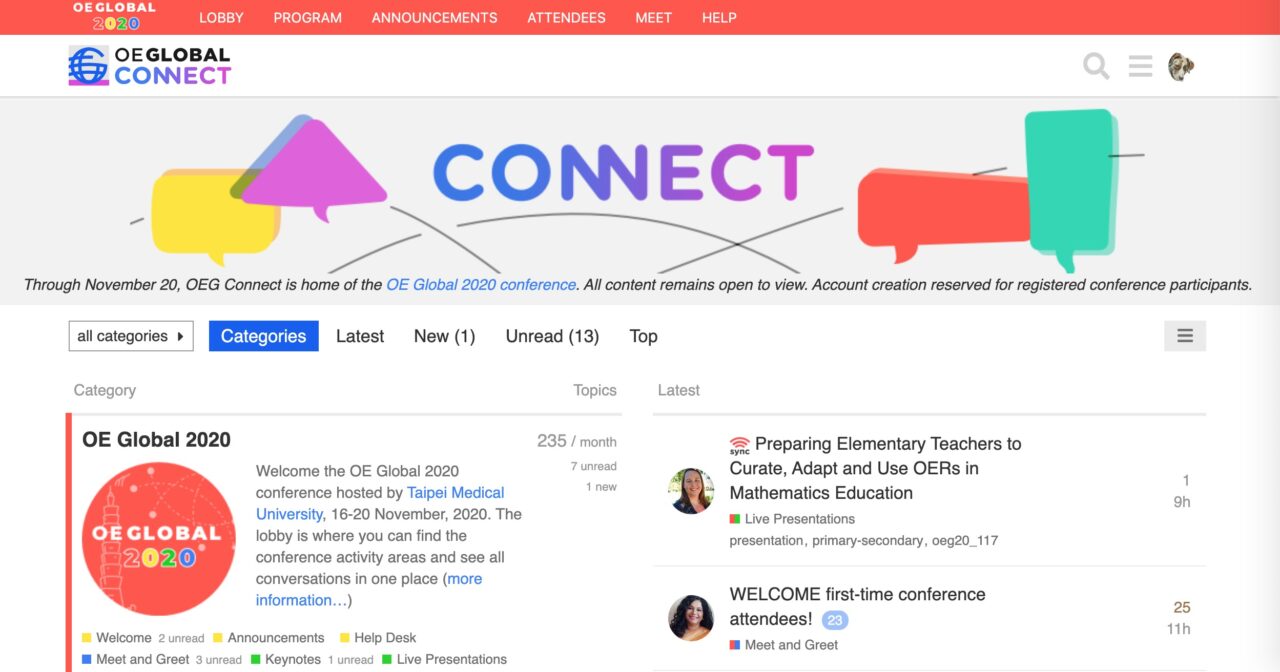 For now the menus are all about the conference, and we also have normal account creation turned off. Conference attendees were sent unique invitation links to create an account, and it is set to add them to the conference group that gives full access to the participation features.
And here is something unique. All of the conference session descriptions and the discussions are going to be open to read. You have to be logged in as a conference participant to access the links to the Zoom rooms for live sessions and to be able to post/reply to the discussions. We had some talk early on about making the conference visible only to participants– but why do we have to do that? Does a conference have more value with a shroud tossed over its activity?
Here is what the conference space looks like (yes, you can look too). Each area is a "Category" in discourse parlance, each with its own topics.
The green areas are all session types. Yellow are conference information, and blue are open discussion areas as well as special activities.
But again, everything inside is a conversation. Have I said that too many times?
It may be bedazzling to people, but one thing the discourse platform does well is create ways to do some of the nudging, affordance of making serendipity happen them Dominik Lukes wrote about. We can see it in the big ramp of activity in the last week since we first invited presenters in, and now that conference participants are in there as well. Leading up to the conference, we have activity. And I anticipate/hope it will continue after.
Participants will have to learn some ways around. Discourse does a good job of onboarding, especially for those that engage with it's "bot" that teaches you about its features via private messages. I've been posting guides and support in the Help Desk area.
It does some things subtly as well, like when it suggested a certain person (moi) was posting too much:

There's a lot of spaces in this setup. As a orientation here is a quick screencast I made to help to show people around.
What is happening now is presenters are finding their sessions (more on that soon) and then doing their own "reply" to add presentation material (slides, videos, links, images) but also, hopefully, to post some questions or prompts to engage participants in their sessions.
One of the challenges in the discourse platform is that the listings for say, Live Presentations, has a long list and are displayed in the order of the most activity. It's not the way to really browse the program. This is where my colleague Jure pulled off some wizardy of code.
A first key point of global conferences are the always hassle of dealing with time zone differences. What Jure has crafted is a way that all session times are presented in the local time zone of the person viewing a session description. As an attendee the conference schedule is presented in MY time, not the hosts. But he also created a chronological view of the program.
It can be filtered by day. If you are logged in as a conference participant, here, and on individual session views, you have to option to save it to your own personal schedule. Something like:
This is really something like our own homegrown sched tool. I think it's amazing.
The conversational spaces are picking up in activity. In our welcomes we suggested people extend hellos in the "Meet and Greet" area, what we are casting as the open public space, maybe the hallways of the conference.
And I am also hopeful for the other open space, what we call Convo and Collab (or Conversation and Collaboration). This has a few asynchronous activities we set up in advance like the Iron Chef OER Mix Off and an Open Recipes exchange. We have some Visual Thinkery Remixes that Bryan Mathers is hatching for us.
Or see how it is set up as a topic in the Convo and Collab area. This is a place we created for mostly asynchronous activities. While we/I have posted a few as starters (a recipe exchange, a call for musicians to collaborate, GIF sharing) the idea is that conference participants will create their own activities or discussions.
We already see ones launched for:
This is exactly what I was hoping for, and much more of the inter-presentation action that is most interesting at conferences.
There's a lot of moving parts here. We are working hard to get everyone who is registered to create their accounts on the site. We are urging presenters to reply to their posted session with additional materials, slides, links, but also to consider posing questions or invitations to the discussion.
Here's a great, evolving example, a workshop by India educator Roma Joseph– Creating and Integrating MOOCS in Blended Learning.
There is also so much to coordinate behind the scenes- we have a large team of volunteer session hosts and tech support staff, distributed around the global and across 5 Zoom rooms.
And oh Zoom, the headaches. It never seems to do what you expect it does.
It all starts Monday 9:00 AM (Sunday 7:00 PM for me) with the first keynote from Taipei.
It's exciting, and nervous, but definitely the Sherman Alexie kind of nervous.
I go back to the wisdom of my mentor at the Maricopa Community Colleges, Vice Chancellor of Academic Affairs Alfredo de los Santos. I was put in charge of planning a system wide year end retreat, and had my stomach in knots in worry about the event going well.
Alfredo wisely advised me all that needed to happen was to get a bunch of people in a room with something worthwhile to do. Everything else takes care of itself.
We have some 600 people coming into the room next week. And it's open to see what happens in our OEG Connect space.
---
Featured Image: