I was a tad skeptical when I saw the tweets being reshared from a student who was (rightfully if true) upset that his university was having dead professors teach classes.
It was the macabre right out of a Netflix series idea of the Teaching Dead but then it is amplified by this Slate story,
How a Dead Professor Is Teaching a University Art History Class
The fact that the dead can literally replace living faculty members is a perfect metaphor for what is happening across higher education.

https://slate.com/technology/2021/01/dead-professor-teaching-online-class.html
It's almost like Slate is doing the click bait headline work left off by the Chronicle of Higher Education.
Is this story really the perfect metaphor? And what is happening across higher education according to the Slate magic 8-ball?
I have no means of deciphering the truth here, I have not spoken to the student, but the Slate article reads like they did not either. But we do not see inside this course, nor do we know what ways these video lectures are set up for the students. Nor do we know the level of instructor/student interaction.
But Slate did give me enough, to in about 5 minutes of searching last night, to through some light on the shade.
In a statement from Concordia, the university confirmed that François-Marc Gagnon, a longtime lecturer in the Department of Art History and prominent scholar with a large body of written work, created the lectures as part of Concordia's online course catalog, eConcordia. In other words, Gagnon's lectures are from a pre-COVID-19 era and were intended for a dedicated online class, not the in-person-designed courses that have moved online as a result of the pandemic. Technically, Marco Deyasi is now listed as the instructor of record, along with two teaching assistants who also interact with students and grade their work. Gagnon's lectures continue on as a "teaching tool," according to the Concordia spokesperson.
It's rather easy to find the course in question is ARTH 272 – From Realism to Abstraction in Canadian Art right there in the Confordia catalog, and detailed information in the Course Outline.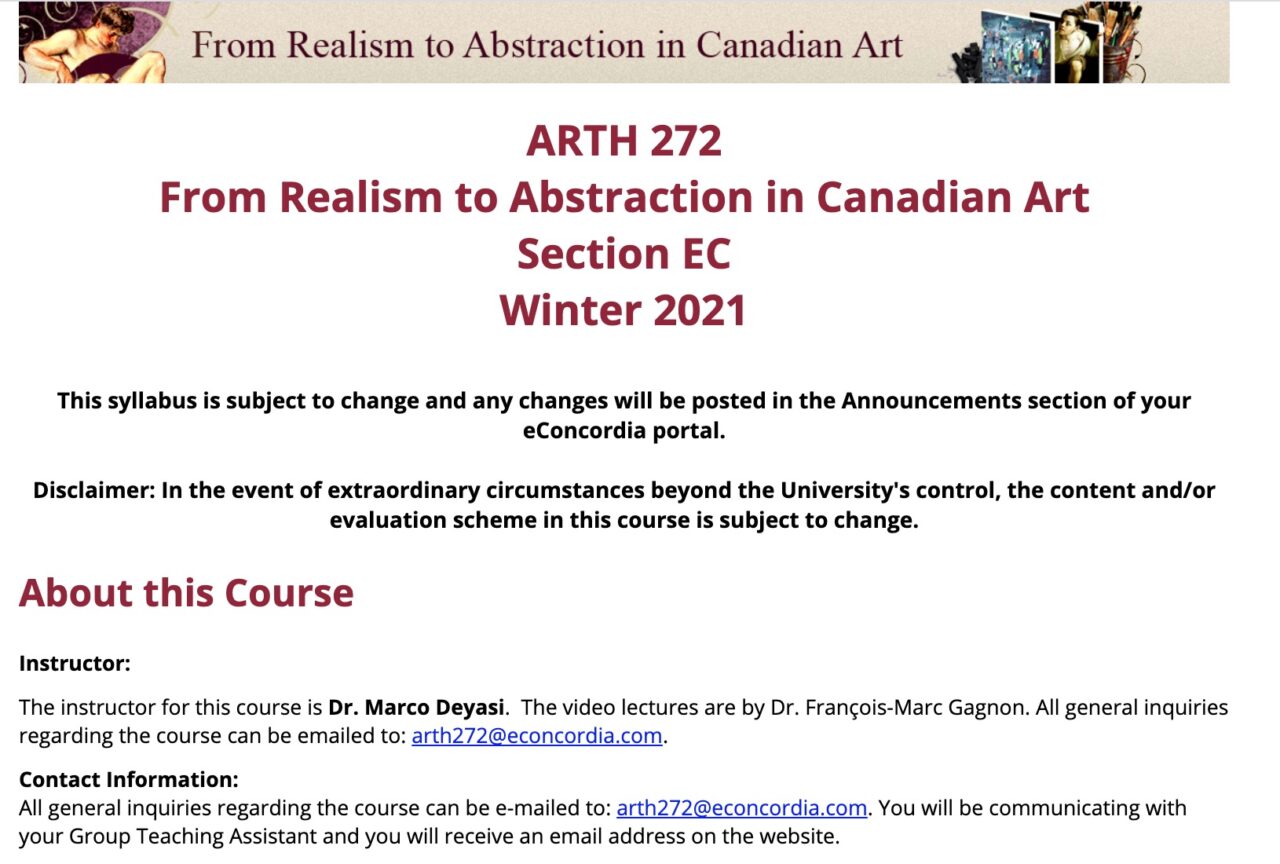 It rather clearly defines who the instructor is and that videos are from another profesor, as well as who to contact.
The instructor for this course is Dr. Marco Deyasi. The video lectures are by Dr. François-Marc Gagnon. All general inquiries regarding the course can be emailed to: arth272@econcordia.com.
Is there any doubt who the instructor is? Is there any question how to email them? There is a rather detailed section under Communication that is abundantly clear that the way to communicate with professors is not googling for their email.
One could say it suggests that Dr. François-Marc Gagnon is a co-teacher, and it does not specifically state that Dr. Gagnon is deceased. Are syllabi required to define living/dead status of all course videos?
It does not take much effort to find the lecturer is dead.
I've used video lectures in my class from Kurt Vonnegut and none of my students tried to email him with questions.
If anything, to me, the student missed rather critical course information. Or maybe ressented the format of the class. I don't know, and it's not right to guess.
Is it slimy to offer course built around dead professors lecturing? Maybe this course was just watching course videos and the paid teacher clicking buttons. But we don't know that.
I can't call it ghost work as Slate as tossed into the mix. We do not see the workings of this course. And yes, there is a plenty of this in higher education. And I too am part of the lowly paid adjunctariot.
The issues they raised are worth discussing, but I have trouble taking a Dead Professors Society as the perfect metaphor for the problems in higher education. There are much bigger ones. It reeks more of sensationalism.
I give Slate a D for digging in with this story.
Update Jan 29, 2021
From comment below by Marco Deyasi– the very much alive professor- there is more clear article on the situation from the Toronto Star: Concordia University says lectures from dead professor are 'teaching tool'
---
Featured Image: Tombstone Herbert Sandberg a Wikimedia Commons photo shared under a Creative Commons CC BY-SA license superimposed on a single frame from Dead Poets Society