After many years of being a first grade teacher, my sister Judy has certainly earned the freedom of retirement days doing what she wants. She has been messaging this week as she is sorting through many boxes of family memories, sharing a gem every day.
She sent this photo asking if I remembered it: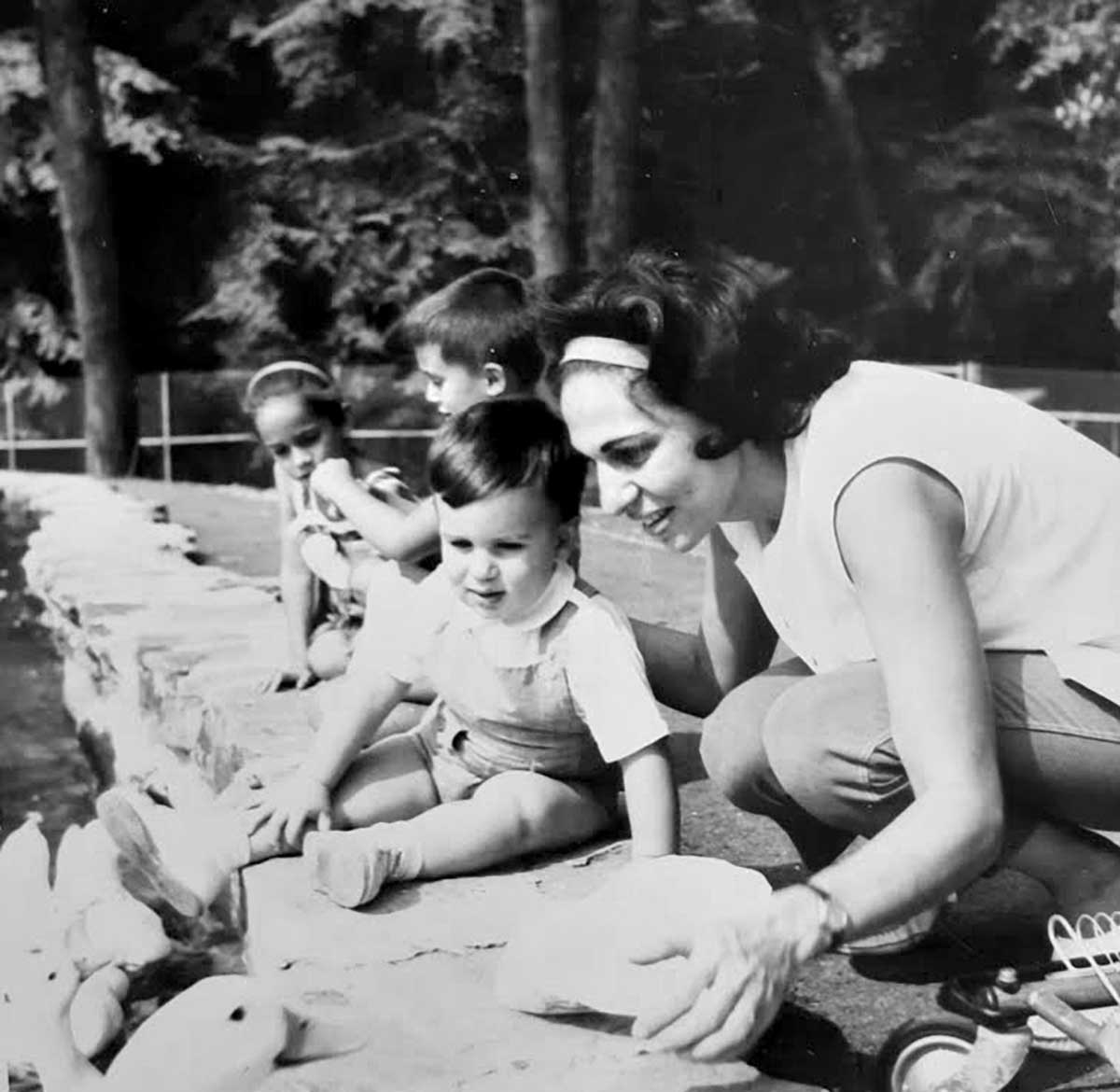 But I don't really remember the moment, I remember really only the familiarity of the photo (I may have a copy Mom sent once), and knowing my Mom's face (plus my younger sister and cousin in the background). What I conjure as a memory is perhaps just my story of reading the scene, but also of remembering how much I adored my Mom and her loving presence.
So my "memory" of this comes out as a caption like, "Mom teaching me to be curious" about those ducks. I both want that to be the memory but also it fits the pattern.
I reach even more in vain to define the ways she instilled this sense of… and then the word curious is even curious. You can find it to mean eager to learn and be in wonder, but can also carry the connotation of odd or unusual. Those variants do not seem to overlap for being the same word.
If was anything Mom did as a seeder of curiosity it was the encouragement of reading (and setting expectations I would perform well in school). She sought to find books for me as a child and as a teen. In my first year of elementary school she volunteered at another school's library. I am not even sure why. But often she would come home with books the library was discarding. That's where I got The Thing at the Foot of The Bed (which I still have).
William Steig's CDB was one she also brought home and we laughed at the dialogue made of letters. Only decades later did I realize that the title was the acronym for this blog
My favorite was the classic Go Dog Go, the copy I had as a kid was almost obliterated with random crayon swirls
And I learned to love numbers from Zero to Zillions, it was almost a book of magic. I also recall Mom saying I learned my numbers first from the TV Guide- the memory I conjure is that living in Baltimore in the 1970s there was even math at work as the local stations where 2, 11, and 13.
And then there was Scrabble.
Mom started me young, encouraging me to not only get the tiles into words but play for points. Well maybe not in the beginning. There was a long stretch where I gradually got better and did not need to ask for help, and at some point I actually won. Those times together at our kitchen table, with the old wooden set (yes, I have that), the tiles in an old velvet bag. I can feel those moments.
And as a teen Mom was always thinking about my curiosity as she would bring home books from the library she thought I might like. I think she made guesses based on the title, the book cover, I do not even know the logic path she used. There was a lot of spy novels, and the "Bastard" series, and biography, maybe some non-fiction. But she came home every Saturday from her errands with books for me.
Perhaps the favorite memory of the library years was when she brought home a biography with a woman on the cover. This was where Mom's judgement was off as she had brought me home, without realizing, Linda Lovelace's autobiography. I devoured the book. "How is that book I got you, Alam?" she likely asked. I can't imagine the reply I manufactured. And speaking of curious, I had no idea what the librarian at the checkout desk thought.
I told her that story later in our times together, she laughed it off saying she did not remember.
These are but memories I can grasp at, the long continuum of lives together does not get well preserved, we end up with a black and white photo that maybe can suggest the moment, but it never is even close to how that moment was.
If anything comes out of this memory dancing, it's savoring in these day to day memories that we may not have all the fidelity of, but we can find the story that maybe is not conjured, but close enough.
Thanks for instilling curiousness in me Mom, both the wonderous kind and the odd kind. I will take some of both.
---
Featured Image: