You know you have a domain of your own problem when you venture into your cpanel and find sites that you not only do not remember making, you forgot their purpose.
In this case I gazed down the spiral of WordPress Theme recursion.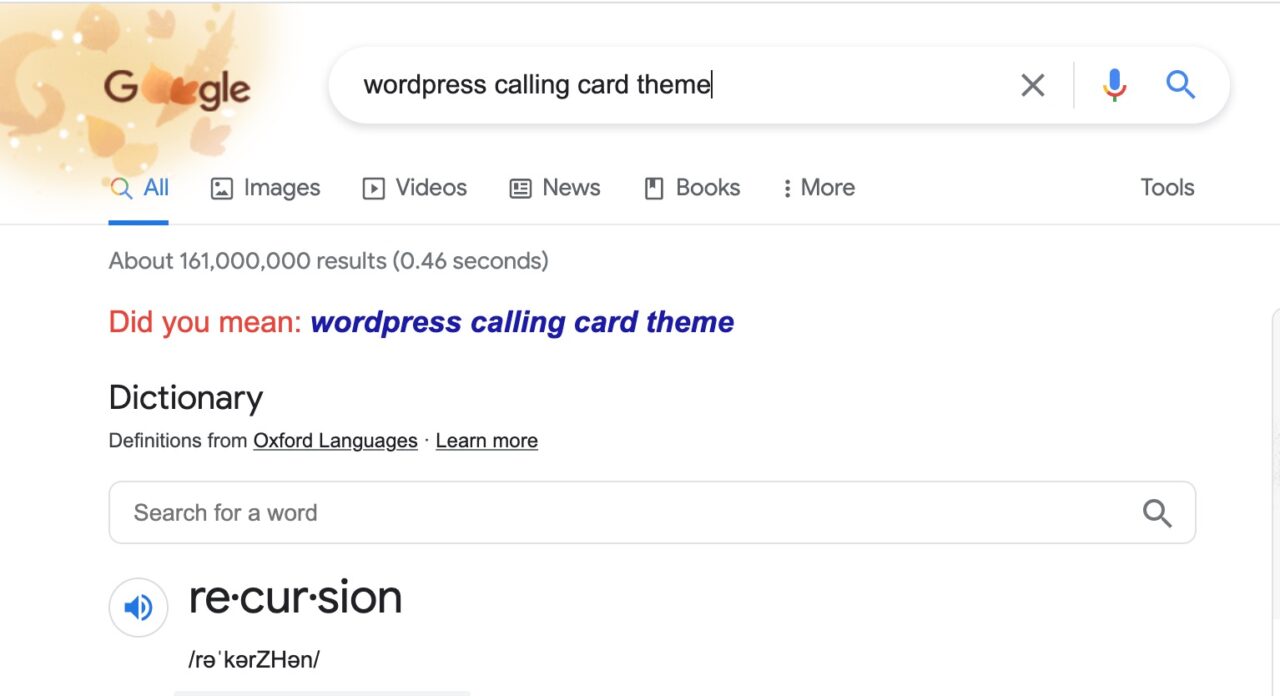 What the bleep am I blog muttering about?
It's this subdomain of my own https://cards.cog.dog/.
I started crafting these themes in 2017, that first one, WP-Dimension is used for my own "calling card" at https://cog.dog (best domain ever, thank you Tim Owens).
This idea of a domain calling card is part of the thinking of considering a domain as more than a single site, and that at the top entrance you should have a simple elegant gateway (this was played out at the DML workshop on Staking a Claim on the open web co-presented with Kim Jaxson).
The other thing I like about these is they turn on it's head the typical WordPress as Blog of Reverse Chronologically Organized Posts. Calling Card themes end up making neat small sites to organize information, provide resources for a presentation, and other clever uses I see out there when I search on the weird phrases in the footers.
I've made five of these, all of them have been converted to WordPress themes from their original format as HTML templates from HTML5UP (all are licensed Creative Commons, attribution is given in the footer of all). They are made available in GitHub which I usually use as a place to provide a list of them.
But I had totally forgot that I had put one of them, WP-Eventually to use as a nifty site for the themes themselves.
I've not tended much to these themes, sometimes just fixing small cosmetic issues I find when using them myself. I am not even sure if the HTML5UP originals I built from have significant updates. The least used ones likely is the WP-Lens theme for photos… I had wanted to make a better display (collapsible pane?) for captions.
Maybe one day I will get back to unfolding a number 6 for the batch, but for now I will remember better (hah) that I have a calling card site for my calling card themes…
---
Featured Image: found in a nifty set of recursion images by flickr user gadl