Just using those words in the title sends the warning flag that this is a grey bearded old man of the internet post.
So the idea of connecting together independent bits of the web to do something useful might by yelling at a cloud (or The Cloud), but damnit, it all works for me.
Sit back and bear the odor of old tech Ben Gay cream…
It Starts With A Tag
I still save and organize sites I want to remember or come back to with social bookmarking in Pinboard and its totally for my own sake to Organize Stuff By Tags. It's got everything in it that made sense in the hey days of del.icio.us (maybe one of the first word domains I smiled at)- no glitzy UI but incredibly useful functionality. It's so good I am willing to pay for it.
The effort is nil. I am reading an interesting article or web site or blog post, I select a description portion of text, click the browser bookmarklet (smell the Ben Gay?), up pops the mini form where I can add tags, and BOOM, it's in there. This works well because there's very little interruption to my flow.
For some reason, I started a "cooltech" tag for just stuff that was … cool. Like the town. I have literally been to Cool (and my photo got to Wikipedia) (that's cool).
So there is a link for that cooltech stuff.
But wait, there is more.
An RSS Feed. A stream of data that always shows the newest cooltech stuff.
Thus the joining begins,
I take that to a web tool I built first in maybe ?? 2003? called Feed2JS. It still works, y'all. I go to the build a feed page, enter that RSS URL, set some options, and I get some old fashioned code I can copy elsewhere.
Now there probably are fewer places to put cut and paste JavaScript, but on my own WordPress blog it works great as custom HTML. So I have a Cool Tech page on my blog.
Gee wiz. I actually never look at it, but is does update itself according to the latest stuff I have tagged. The format is not the prettiest. I could spiff it up, all elements do have CSS classes. Maybe later.
Still not all that exciting, eh?
Just for grins a few weeks ago I cracked open my IFTTT and thought about setting up a thingie that would tweet these out. I had tp nuke a few inactive apps, but it took about 10 minutes to set this up.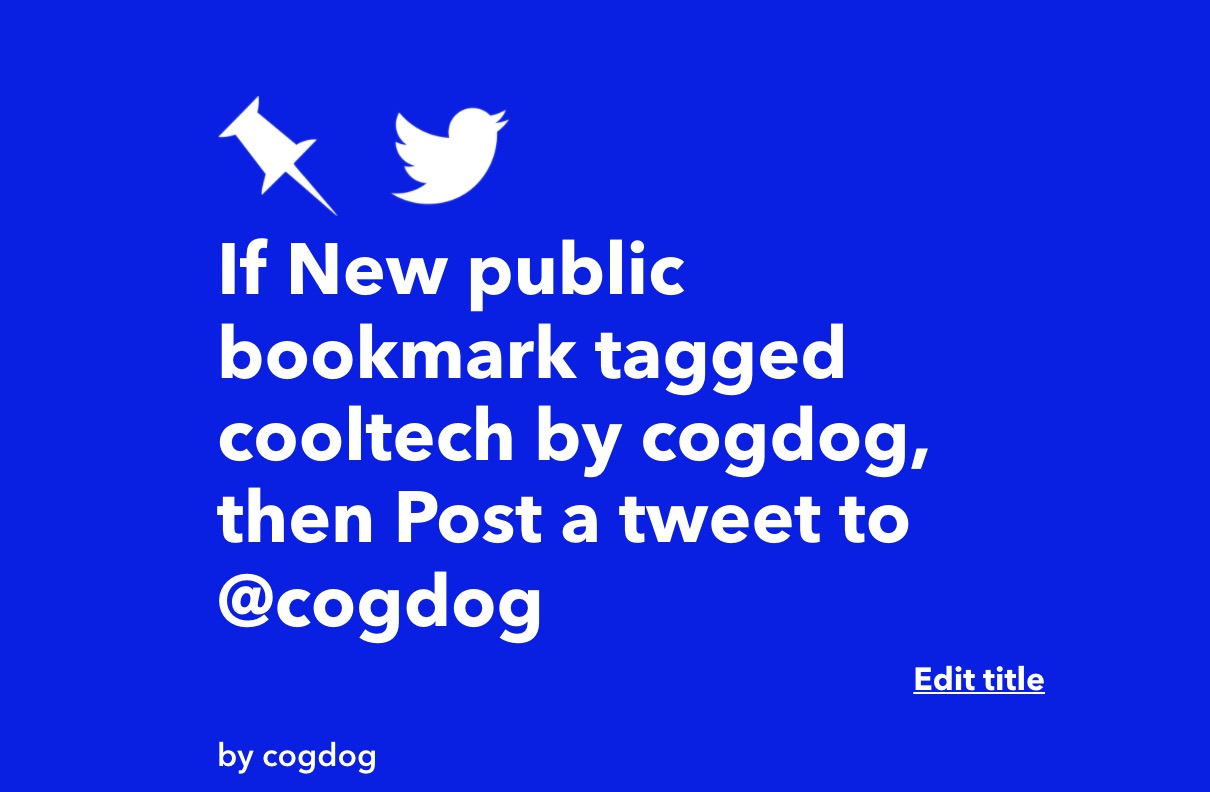 And thus, the last thing I bookmarked was tweeted, with a little link back to the full collection
This is hardly artificially intelligent sentient analysis of anything, but it makes me smile. I could just share stuff, but in this flow, I get to save my stuff first in my pinboard. what is tweeted is really just social media exhaust. It's discardable.
And this is all fully automated, but more so, this simple stuff makes sense at least to me. And I manage it, design it, own or at least can get to my stuff, and can have a bit of pride about it. Rather than letting some app or Google do all the work.
End of show, Grandpa's blog fingers are tired.
---
Feature Image: