Nothing new here, is there ever? But I am a bit tired of every post to Mastodon WordPress plugin (and ActivityPub too) sends there a featured image without the alt text entered here in WordPress.
I end up getting (correctly) slapped by the Please Caption bot!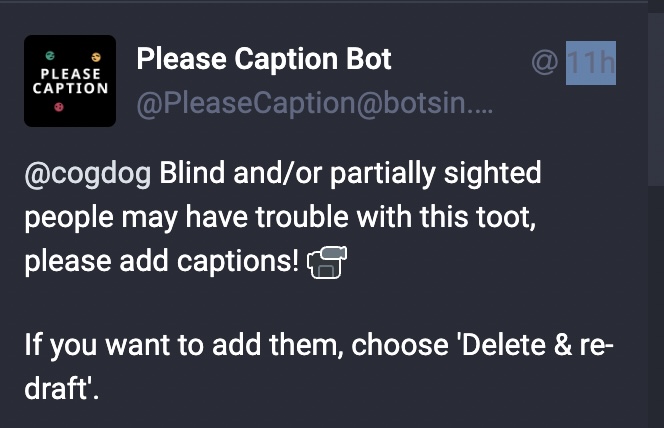 So I am switching the posting there to use the IFTTT gizmo approach I set up earlier.
And thus, I must try a post with a featured image fully decked out with alt text, and see what happens. It has in the WordPress media Library the alt text that should travel with the image:
Looking upward at a 1970s style building, plain walls, just two windows with birds in front. Words at the top of the building trim read Question – Experiment – Connect
Stay tuned (or not) For those outside of the Fediverse… you can easily see in to https://social.fossdle.org/@cogdog
UPDATE: Aack, my IFTTTing really borked, back to using a darn plugin, now trying Share to Mastodon which ironically posted the alt text of the building below but skipped the alt text for the first image in my post.
---
Featured Image: I forgot where in the UK I saw this building with the great verbs on it! Question, Experiment, Connect flickr photo by cogdogblog shared into the public domain using Creative Commons Public Domain Dedication (CC0)