The unexpected responses to online activity, sharing openly, are the things that sparks my optimism the most.
This most recently happened through a flickr email notification:
Hi ! Congrats! The photo 2022/365/226 In the Cloud (*that* kind of cloud) you added to the group CSSS: Canada's Thunderstorms has been selected to be its cover photo. See how it looks here: http://www.flickr.com/groups/canadasthunderstorms/ Any "safe", public photo that has been added to a group is eligible to become that group's cover photo.

via my email inbox
Just in case it's not forever, saving here for my own sake, small measure of chest thumping pride: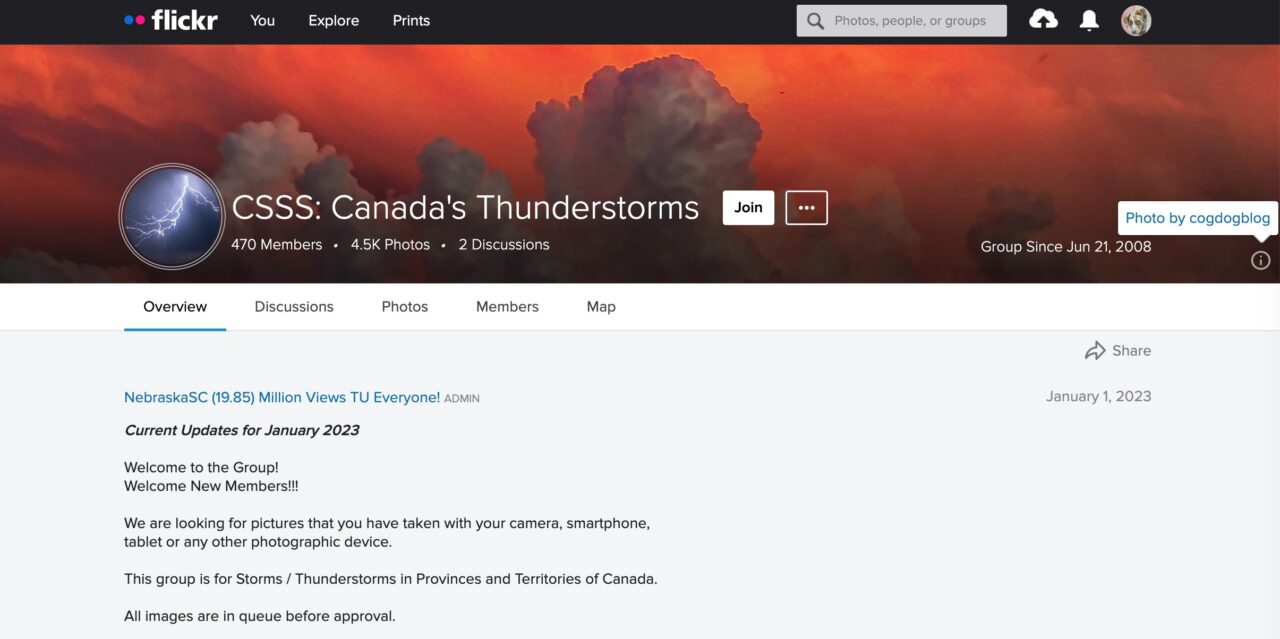 I had not joined the group but periodically I do get requests to allow a group to add one of my photos to it's pool.
But I do remember the photo from a brilliantly lit up storm cloud over our acreage in August of this year. I did boost the colors a bit in editing, but it really was a spectacular cloud.
This CSSS group has been around a long time, though I am not even quite sure what the acronym stands for. Like I had described in the flickr Daily Photo group I manage this is one of a vast, maybe too vast to even take in, collections of interest based communities in flickr where really the interaction level is quite indirect (this caught the all seeing eye of Stephen Downes, who has been a faithful daily photo participant himself).
Again, this is such a tiny speck of all internet, yet demonstrates to me that the long tail of web spaces is more than any one person can know or summarize. There are too many independent weird and wonderful (and maybe not) nooks and crannies out of the reach of the latest Big Thing that Will Change Everything.
The more independent, not corporate controlled, human crafted stuff we can hang on the web, the more durable it will be.
In that vein, I am aiming to put small items here that may have previously been stuff tossed into the social media streams that just wash downstream be they tweets or toots or whatever. The stuff I hoist here at least has some roots in the shifting soils.
---
Featured Image: Mine!