Against all common wisdom, I have been running an old operating system (10.14.6 Mojave) on my old MacBookPro (2103) to mainly use the photo management software Apple dropped in 2015 (Aperture).
Yes, newer software is out there, and I have access to Lightroom via my Adobe plan I pay through the month for to get PhotoShop, but the Aperture Strategy I have used since honing it in 2009 has just kept working smoothly for me. Especially for adding metadata to all photos and also the (long gone) Connected Flow Flickr Exporter that until recently deftly posted photos, sending titles, tags, captions, said metadata to my flickr and also writing back to Aperture the flickr url.
I did learn recently, from some stellar Flickr support, that the reason many of my photos have gotten mis mapped to the opposite hemisphere is my old software. I was willing to live with my barn photos being located to the Russian village Botsiy.
But the dying has gotten worse. For about the last two weeks, my uploads have been regularly failing like 20% out of a bach with API errors: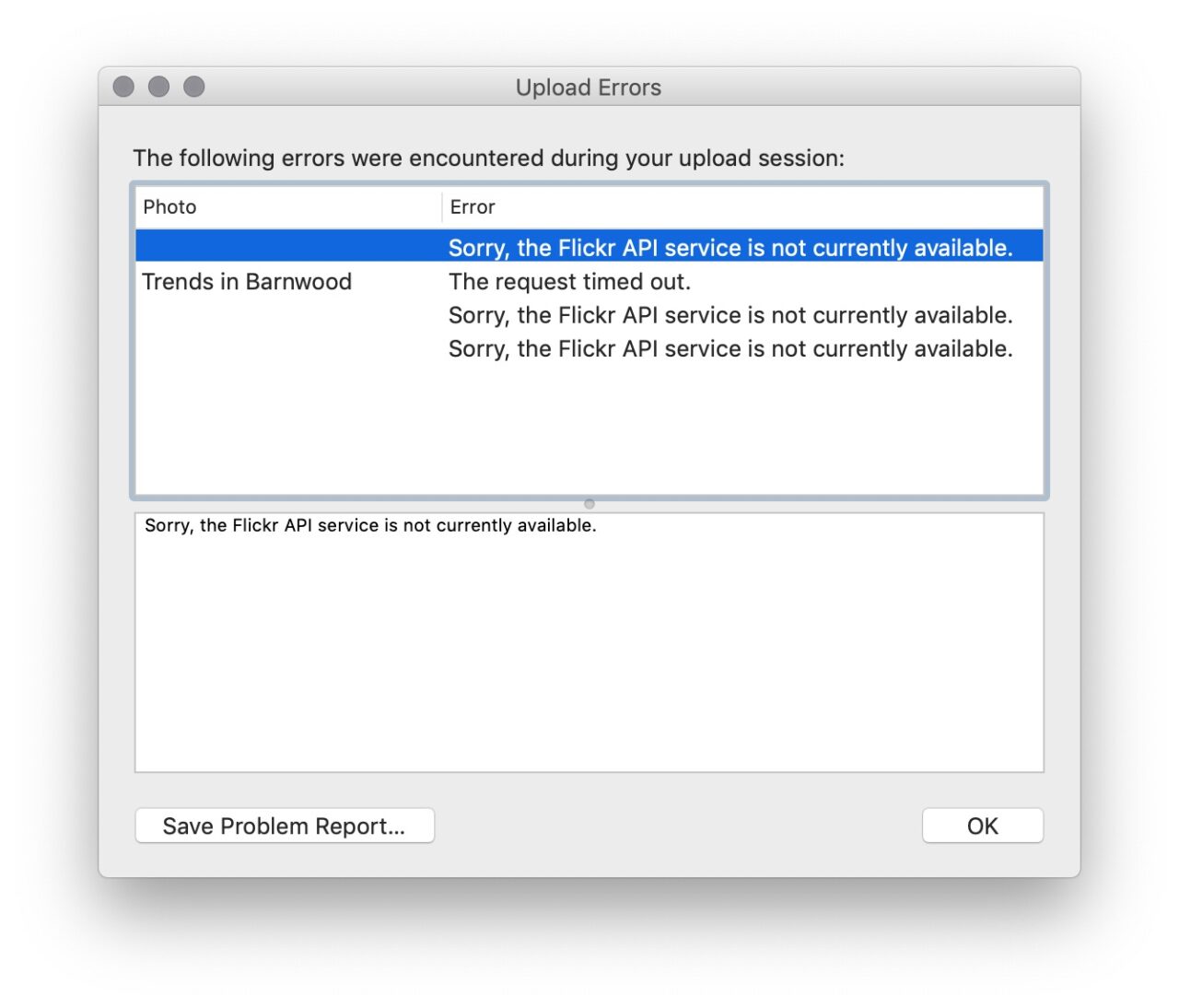 And another plus for the old Flickr Exporter is that it provides tech details in a "problem report" (a log of the comm between Aperture and flickr).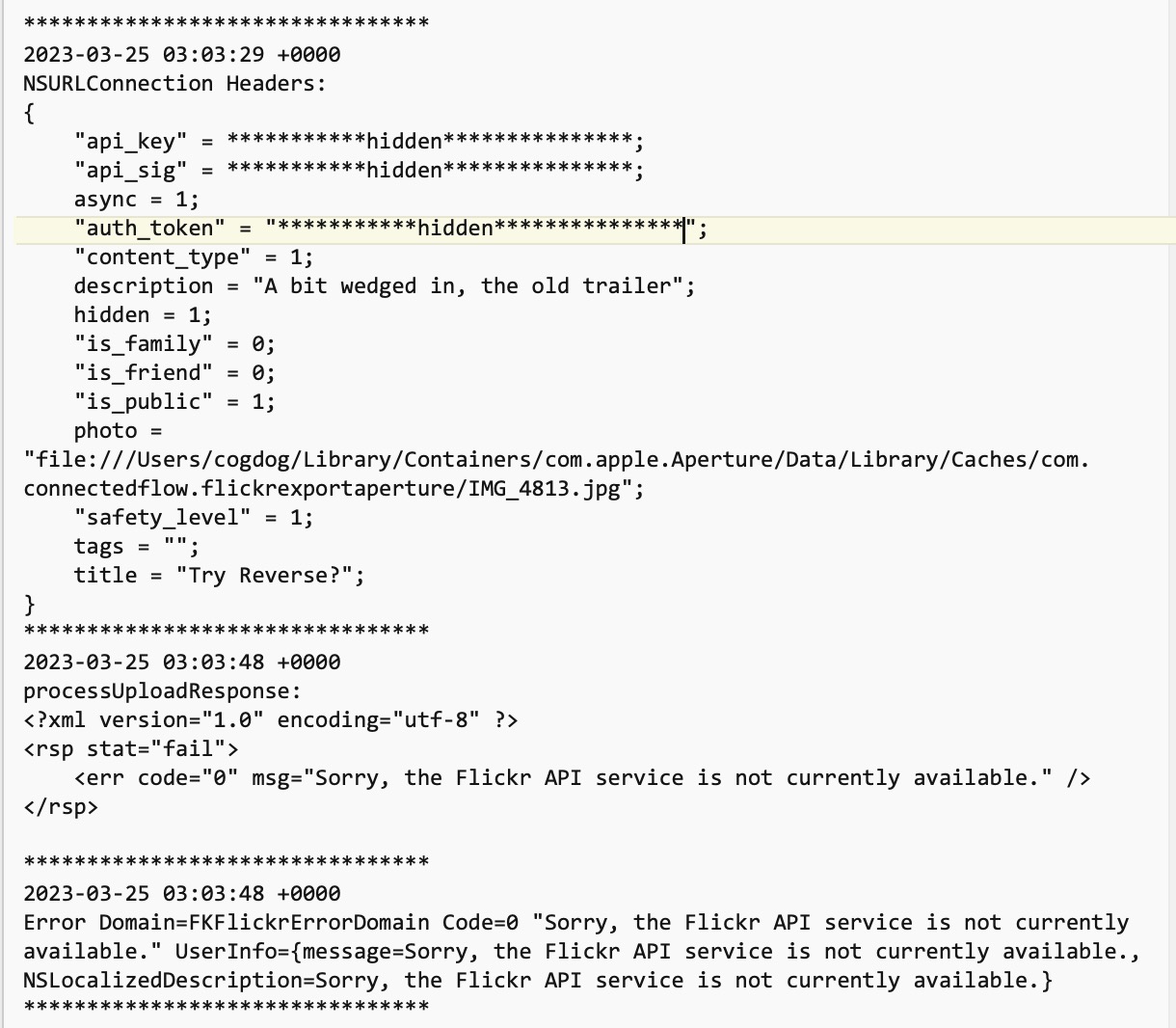 At the same time, I, like many others got a weird email from flickr about impending changes to the Flickr API, they were adding a requirement to include some other data in the transmissions, all played out in a torrid exchange in a flickr forum.
I was invested in this since two of my long running creativity tools (from the days when creativity was not relegated to typing text prompts into an AI box) Pechaflickr and Five Card Flickr Stories depend on the Flickr API to grab random photos based on tags.
I was able to the best of my more hacker than programmer skill set to modify the old phpflickr library that still works. And I managed to make them work in the API change testing window.
All for naught as Flickr announced a day later, in best Emily Litella style– "Never Mind!"

Regardless, I saw other mentions in the forum of others reporting API failures.
The clock is ticking. So I am accepting that its time, 14 years later, to hone a new strategy.
I'm not bothering to try to import my mega Aperture Library into Lightoom. I will leave it as be, but I do have to update my old MacBookPro to some newer mountain named OS (Big Sur I think is as new as I can go). My plan is to leave Aperture running on my even older older MacBookPro, a 2009 dented from a HD killing fall to concrete Just In Case I ever need to re-edit something (not sure when that might ever happen). All my photo originals are on external drives (luckily using Referenced files a long time ago).
This old photo dog needs to learn some new Lightroom tricks.
Thanks Aperture, you've been great to me for like 60,000 of my photos (I used the Wayback Machine to find my total in 2009 was about 9000 photos, and look at who I see in the stream there, hiya Scott! BG!).
Onward….
---
Featured Image: 2015/365/14 What The Lens Sees flickr photo by cogdogblog shared into the public domain using Creative Commons Public Domain Dedication (CC0) with superimposed on the lens a screenshot of my flickr/Aperture error and Pixabay image of Cracks by b0red.