For perhaps the first half of my Type-1 diabetic life (October marks 53 years without a properly functioning pancreas) I invariably walked around with a roll of these in my pocket.
Yes, it did take some explanation to other school kids when suddenly I started shoving them in my mouth "Hey! You're diabetic, you can't eat sugar". In short the need to inject the insulin most of your bodies manufacture as needed in the right amounts means a diabetic lives in a blood sugar level roller coaster, zooming too high and plummeting too low.
The brand name of these candies are literally true (I was tickled to find them with a translated name while working in Mexico).
Over time, in the moist heat of Baltimore summers, the candy rolls often got fused, or the labels cemented to the candy, all adding to that urgency when a "low" snuck up unexpectedly.
There was this time when my high school friends and I decided to skip school and go out on a river raft trip down the Youghiogheny River. Only Jimmy had ever rafted before. And we did not know that the day we went was the day of an upstream dam release. It's one of those "lucky we survived" high school tales, but also, I felt those waves of weakness creep up on the last stretch as we floated victoriously into Friendsvill, MD. I reached in my pocket, and found a plastic bag with my candy, mangled, half melted, but again they lived up to their name– life saved again, by candy.
Fast forward to adulthood- I forget when, 20 years ago? I discovered glucose tablets as a better treatment. More effective in the time to raise blood sugars, they came in little plastic tubes, more durable, and I could buy replacements in more economical sized containers. They were not quite as tasy, but worked better
I purchased them over the counter at the drug store and big box discount store I will not name, but I kept bottles in drawers, vehicles, camping supplies. I started ordering them along with my OmniPod (insulin pump) replacements.
Sometime in the last year, they started not being available from my online supplier, The shelf at the pharmacies were empty, as was the W mart store. Strange. I went to ye olde trusty Amazon, but the only listings available were at like 5 times the normal price and only from suppliers in the UK.
What happened to the Dex-4 tablets in Canada? Having some research skills and tools, I got to the manufacturer page at https://www.dex4.ca/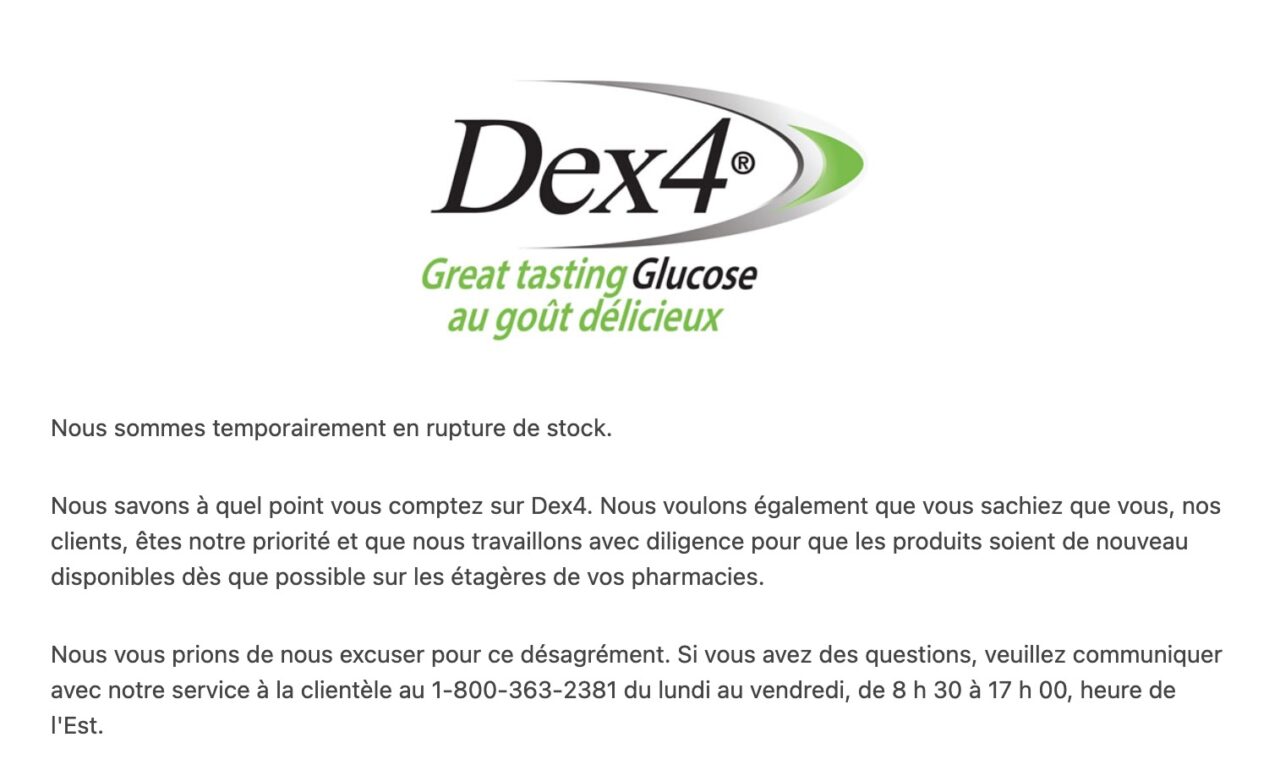 The cryptic message in French here has not changed in months. No explantion (the English is just a scroll down):
We are temporarily experiencing inventory shortages.

We know how much you count on Dex4. We also want you to know that you, our customers, are our #1 priority and we are working diligently to get products back on your pharmacy shelf as soon as we can.

We apologize for this inconvenience. Should you have questions, please contact customer service at
1-800-363-2381 Monday- Friday between 8:30AM-5:00PM ET.

https://www.dex4.ca/
No explanation. I looked for news of Dex4 Shortages in Canada but only found references to shortages of dextrose for emergency responders. I did dive into reddit zone (before the current meltdown so this is from memory) and found speculations that it was something controlled by Pfizer. Some dude in Toronto claimed he was getting them off the shelf at local stores. Other wild guesses it was because of a label gaffe that it was not translated into French (not true I have the bottles and besides look at their website).
My local pharmacist has no explanation either. So I am left to only speculative fantasies of conspiracy… the mystery is out there, what happened to the glucose tablet supply in Canada?
I recently bought a bag of my old favorite, but was rather disappointed in this kind of wasteful and time consuming packaging.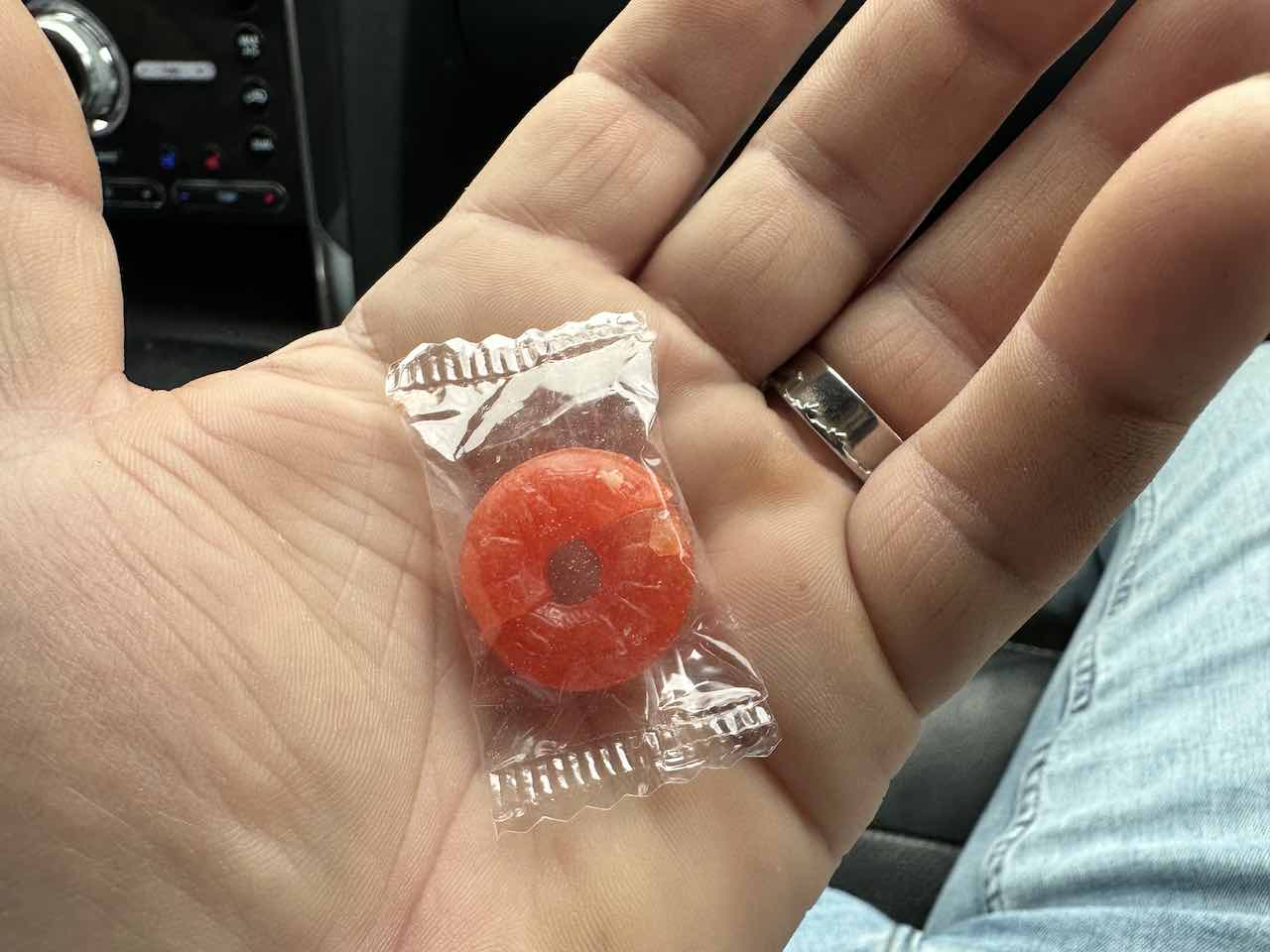 Maybe someone else out there has better sleuthing skills. Until an answer comes or they appear on shelves, I am back to plastic bags of candy.
What happened to the Dex4 supply in Canada?
---
Featured Image: I could use a large roll of these!