I've been tinkering with my simple approach of using MovableType as a publisher engine to create podcast feeds and content listings for audio content that is used across several different web sites. While there are many ways one could go about this, I am finding this to be efficient and fast. I only have about 7 feeds set up, but they are pushing across multiple web sites, with different design layouts.
This allows me to create a single directory of content and RSS files that can be accessed by any of our other PHP web pages. So the main podcast entry page lists all the casts on our site, and th elistings provide links to web sites connected to the audio, a description, a URL for the MP3 file, and now, stealing the idea from the EDUCAUSE blogs, the slick niftyplayer, and embedded flash audio player, e.g.:
But by setting up categories, I can have content filtered to feeds that are associated with specific project, such as our Dialogue Day podcasts, Ocotillo podcasts, and our Online Learning Group podcasts.
MovableType generates the correct RSS 2.0 feeds with proper enclosure tags, as well as generates the small text files that are used to provide the content to these pages. There is also another template that provides the content used to display as "What is Podcasting" info on these different pages. It works well because it is not publishing a full blog, just some small bits of content files.
For example, a snapshot of my current directory includes: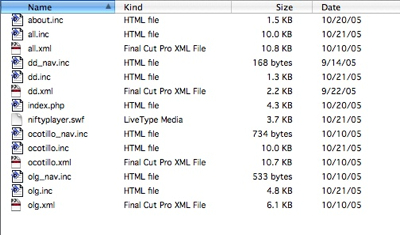 where *.inc are the main podcats listings, *_nav.inc are shorter listings that are just links to the sites that include the audio, and *.xml is a podcast feed.
Below I will describe in a bit more detail how it is done and provide a download of the template files. To use these you will need to
* have a web site that uses PHP for its content pages
* have an understanding of linking to web directories up and down a web server structure
* use or be able to set up MovableType on your server (I use the last free version, 2.661, but it ought to work on the 3.x versions)