Breaking News!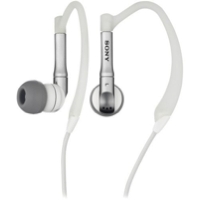 Based on all the feedback on my complaints about the slippery ear buds that came with my iPod Shuffle, I googled for the suggested Sony brand, and quickly found the Sony MDR-EX81LP buds at Amazon for $32 clams. And in white cables to match the pod.
But what an even nicer surprise when the box came to my house in less than 24 hours than I ordered them! How the heck to they do that?
I just plugged them in and the sound is much better than the Apple mini waffles. I'll know better tomorrow when/if I go for a run. Just hope the cables hold up to the heat and my sweat here– there is a fair bit of packaging meant to wrap of the cords.
Wow, does technology get more fascinating than this?