More fun, graphics creative Frivolity. Logogle, the Google Logo maker, allows you to turn any text into the style Google's word log. See for example, the new monetizing entity, CogDogBlogoogle: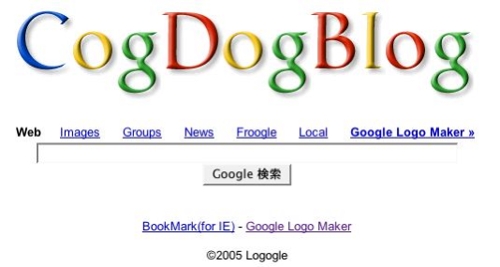 This was found via a curious site trendalicious which bubbles up popular sites that have recently been tagged in del.icio.us:
trendalicious is a near real-time view of website popularity trends as reflected by the del.icio.us social bookmarking service. All URLs that have been posted by a minimum of two people in the past fifty minutes are displayed, ranked by the total number of recent posts.
Could be an interesting way to do an animated screencast over time to track popular memes… but in general, it is a powerful use of the collective delicious hive mind.