Ahhh, that electronic tome of academia, the The Chronicle of Higher Education, is sporting some of the Emperor's clothing line. In an article published December 17, 2007 on Colleges Are Reluctant to Adopt New Publication Venues the keen writers there "discovered" the NMC 2007 Horizon Report:
Academe has been slow to accept new forms of scholarship like blogs, wikis, and video clips, according to a report released last week that examines emerging technology trends in higher education.

The Horizon Report 2007 predicts that in four to five years, academe will accept as scholarship this kind of interactive online material and will develop methods for evaluating it.
emphasis added since the 2007 Horizon Repot was released in January 2007 at the EDUCAUSE/ELI conference- heck I blogged about it.
Surely, they have access to sophisticated research tools (e.g. Google) that would readily reveal the date of publication of the topic of their articles. Oh wait a minute, this is one of those sources that criticizes the blogosphere, where amateurs can write anything, where there is no peer review, no authority.
In the spirit of "new publication venues", let me at least quibble about trying to write comments in a form field that is about 4 words wide. Gaack.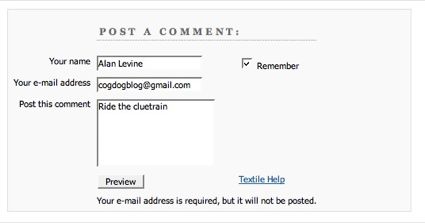 Nope. We dont have no need for no stinkin' new publishin' venooues. Dis here Chronicle is jeest what we need. Gud enuff for usn