The travel route for where I live now in Strawberry to Phoenix is a lovely drive down highway 87, the "Beeline Highway", that romps up and down some fabulous jumbled up geology, connecting the Sonoran desert to the forest plateau. Ir cab be idyllic… until something happens to close the highway, as the alternative routes can be 60, 80 miles of detour. Lats summer a fuel truck lost control on a steep downhill, crashed, and the northbound highway lanes "melted" from the heat of the explosion.
And just Friday, I heard, that a landslide caused by water running below the surface which loosened rock, buckled the highway, and it is still closed as repairs continue. So with some curiosity I've been Google mapping some bits and pieces, and have been dismayed that none of the news actually provides the map location of this incident. Shouldn't most online news be geocoded to map??
So, in normal conditions, the drive from Strawberry to Sky Harbor Airport in Phoenix is 107 miles, calculated simply by plugging in these end points into the driving directions tool on GMaps.
If I had to drive today, with Highway 87 closed from Bush Highway to State Rt 188, I'd have to take 188 to Globe, and then Highway 60 into Phoenix. I'm not sure how many people know tis, but with one of the Google Maps driving directions displayed, I can click on spot on that path, say where highway 87 meets State Route 188, and I can drag the path onto 188 to change the route. This detour makes a total distance of 176 miles, a 69 mile detour!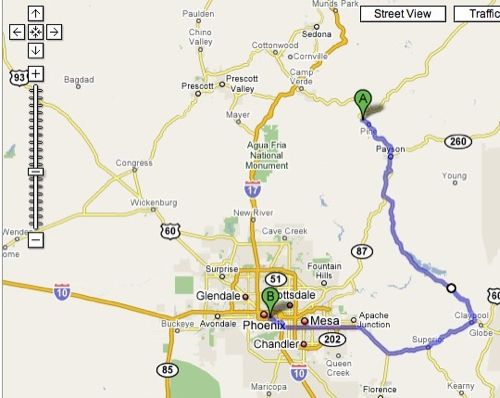 But since I am curious about where thi happens, I try to find it on a map. The ADOT Freeway Management System site has a map with lots of icons, but all it indicates is that highway 87 is closed at Bush highway.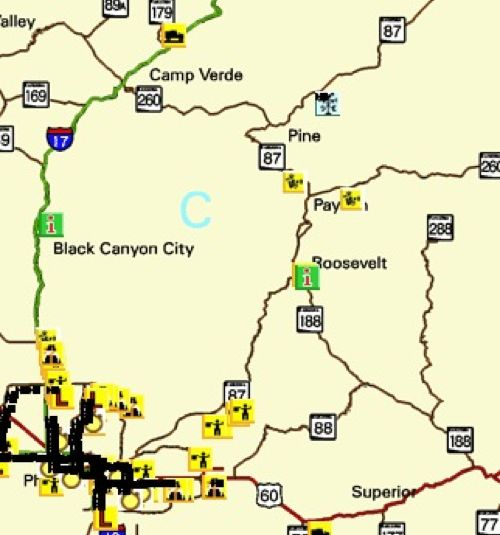 So next I try a Google News search on arizona highway 87 closed which by the way offers a lot of useful tracking tools at the bottom:

but almost every "news story" in the 23 sites with results was almost verbatim the same story (wire news = copy- paste- publish). They all gave the location as "between Sunflower and Rye" which is (thanks Google Maps again for measuring) a 23 mile stretch. They do give a location of "near mile marker 224" which does no use w/o a detailed print map that shows mile markers.

So then it was a matter of watching the video clip from the Channel 5 news story and from the footage, and only because I have driven this route so many times, do I know where this is- it is the descent going north after the Slate Creek pass near Mt Ord. The fake geology on the cliff are concrete painted tan meant to hold back loose cliff material.
So just for fun, I did my best to plot this in a Google MyMap, and add my news to my own pinpoint:
Now beyond my own dog headed pursuit to play with this, my observation is a disappointment in this disconnect between news locations and maps. Almost bit of news has a connection to a place- and with all of the mashup, geolocation tools available, shouldn't we expect more?