I flipped to Academia.edu after reading one blogger referring to it as "Facebook for Academia" and while it has a few FB-like features (updates) I could not think of a more opposite description for a social network.
My analysis here is admittedly first impressions and shallow ;-) What it seems to provide is a social networking for faculty, to find academics with common research interests, to browse by departments and roles.
The structure is a rigid tree. There is "universities" at the top that you scroll or navigate horizontally by name, departments underneath, followed by and orderly listing of people by roles, faculty in top, then post-docs, then…
I have a gut level negative response to an org chart structure which feels as 18th century as can be, and some of this in the midst of thinking about the discussions of networks and chaos theory in the ongoing Connectivism and Connective Knowledge course. Is a fixed tree really the forward looking network shape of academia? Is this the future looking way of thinking about academia?
And then beyond that, look at what "academia" is defined at the top search box…

Academia = universities only
There are no colleges in academic.edu; no community colleges, not art institutes, no research centers… Certainly no space for Stephen Downes or any other independent, un-affiliated educational researches who lacks the proper insignia and elbow patches to get in the tree..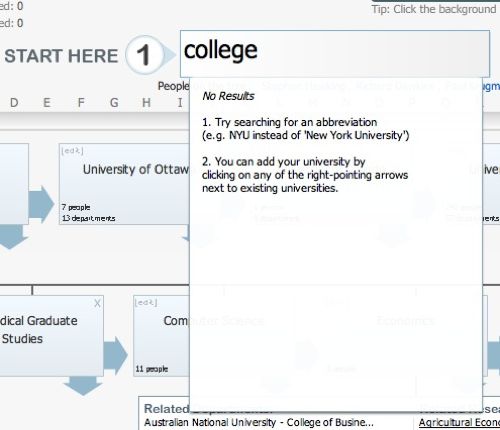 So none of my former colleagues at the Maricopa Community Colleges who were actively engaged with the Scholarship of Teaching and Learning are allowed inside. This was a program directly affiliated with the Carnegie Foundation for the Advancement of Teaching — which I would consider as rather "academic". Oh yes, because the Carnegie Foundation is not a University, does that mean its members cannot be part of the forest?
I guess one could simply add an organization as there is a link there. And there are some 6000+ academics sitting in their perches of tree branches. And maybe I am just taking cheap pot shots as someone obviously has put a lot of work into this site and concept.
But, to me, and who am I but a lowly Non-Academic.
Academia = universities only is a walled garden. No, not much a garden, it is a walled forest of sterile trees.
I like it better out here in the jungle. Where the wild things are.