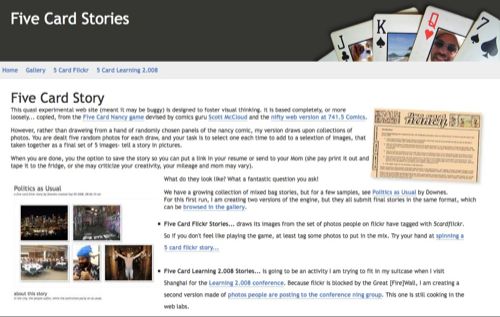 While shaking off the thick layers of coding dust in my Feed2JS efforts, I also took some time to update the code for my Five Card Flickr site- you can play with it now at http://web.nmc.org/5cardstory/.
Again, this is a variant of Five Card Nancy, where you are challenged to assemble 5 photos randomly plucked from ones on flickr with a given tag, and do so in a manner that creates some sort of "coherent" story. I first did this for Learning 2.008 in September and recast it for Northern Voice 2009– and somewhere in between did a little bit of explanation of the code.
The first change was adding a rating system to allow anyone to "vote" on the shared stories. This turned out to be not to hard to add using Masuga Design's Unobtrusive AJAX Rating Bar script. You can vote when viewing any single story, and the votes are also shown in the gallery.
And the other was for a suggestion I liked– to take the story that one person did, and be able to "retell" it using the same pictures. This again is done on a single story page- it shows a list of any other stories that used the same 5 photos and offers at the bottom a web form to write a new one for the same five images.
For example, these 5 were assembled by someone named Jenny for a story she called 20120brun:

I am not sure I understand her "story" but that's okay! It meant something to her (I hope):
1. gente
2. arbol
3. disfraz
4. pan
5. maestro
So with the new code, I merely scroll to the bottom and write my own interpretation of the same photos, one I called Monster Signs
People on the streets were passing rumors about monsters in the City. But what did they look like? How would we know monsters? Would they invade our quiet snow lined streets?

Then we had a definite sighting of a monster in the bakery; definitely hooded in his Monster Garb, drinking coffee and eyeballing the pastries coming off the assembly line… it was obvious!

Monsters Wave their Hands in the Air!
I think this offers some interesting ways to compare how people develop different ideas from the same images.
There are probably some things I ought to do on the interface, and while I considered the idea of adding a comment field to stories (and I still may), it seems more like a target for spammers than anything else.
I have the source code posted to Google Code — it would sure help to hear of someone who has been able to get it running on another server.