Here's a big twitterbution to robin2go (who was so cool to meet in person at Penn State) for sharing a really cool WordPress Plugin — Tagnetic Poetry. It displays your WordPress tags as something that looks like the magnets you make into poems for your fridge– and just as they do, in your blog you can re-arrange them (below is a screen shot; link to go to the real deal):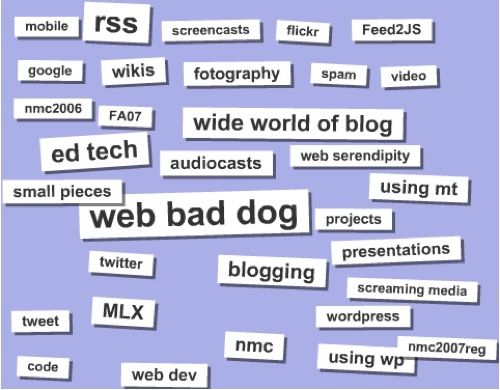 I have this running on a page at http://cogdogblog.com/tag-poetry/. Now I am inspired to do more tagging of my posts, cause this is fun.
The post "Not Your Grandmother's Tag Cloud" was originally thawed from a previous ice age and melted at CogDogBlog (http://cogdogblog.com/2009/05/tagnetic-poetry/) on May 15, 2009.