I admit it.
I still regularly review content RSS feeds in that archaic, pre-twitter-is-all-i-need thing called a "Feed Reader". Me and 3 other holdouts.
Go ahead, call me a throw back.
Recently, in using Google Reader, I am seeing signs that the Great Google is subtly slipping in more social network features, that have me wondering if Google is becoming more like Facebook is becoming more like Twitter? Is the bird wagging the Goog?
Blog experimentation notice- I am trying the Lightbox 2 plugin switched to z-Lightview to embed images… clicking will load in an overlay to see full size… if it works.
Oddly enough, we have the most unlikely technology prognosticator, Conan O'Brien, to credit for peeking ahead to YouTwitFace
and oddly enough, despite the Google -YouTube Connection; the Big G is not part of the acronym. But they are doing things in the space, all of which may be a tease once the Wave crashes on shore (or ends up being just a pond ripple no one notices).
First of all, Google has been expanding the notion of a profile, which has been in the services region a while, but never been clear what one does with it.
As far as other social media profiles, the Google one is rather start for now- mine has my icon, a feed of flickr photos and links I picked. Google has some quirky questions that are not clear what the use is (maybe pure fun or their evil harvesting of our beings? but the examples were funny).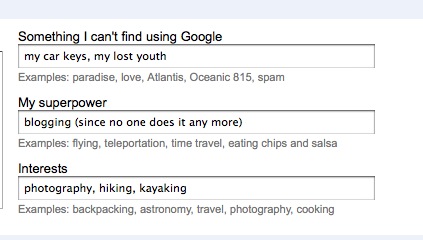 Is there any use for this? Dunno.
Something I still can't find on Google well yeah, an honest answer might give them ideas, but for now I list my car keys and lost youth. Snark is plentiful.
My superpower. Yeah very useful. I listed blogging since no one does it anymore, blogs are dead, yadda yadda.
Interests open ended, kind of facebook-ish. I would guess some connections could happen here
It all rather pales (for now) in comparison to say the fun new service card.ly — I whipped this up in about 8 minutes http://card.ly/cogdog.
I am guessing there are Bigger Plans out there.
But back to Google Reader.
They now provide some social networking hooked on the piece of reader that allows you to pick stories to "share"- this has always seemed a useful educator tool as you can pick among the pile of feeds you read to mix and match stories you think are relevant- you can share them via a URL or an RSS feed or even widgets for your blogs. They've added 4 "Styles" which are pretty lame- just cartoon banners, but would expect user defined themes are near:
But now, the people you associate as contacts or enable via the sharing- you can see an aggregated view of what they are sharing, and add comments as well.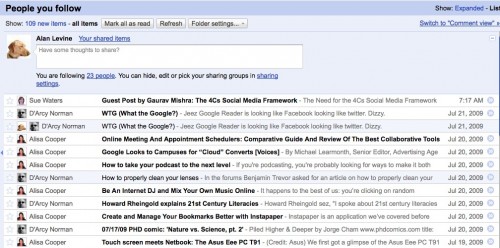 That is sort of interesting, as you can then follow what other people are sharing. But they have also added a twitter/facebook status like "notes" feature so you can just blurt out stuff to the emptiness of web space: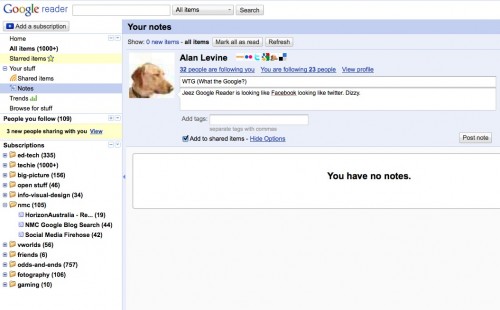 I'm not yet seeing a whole lot of "there" there unless people start using this; maybe the future Wave is being able to do this for any piece of web content?

And lastly is the new "Liking" feature- where as you go through stories in Reader, you can one click (or shortcut "l") to attach a Facebook-like stamp on news stories.
You've always been able to indicate "Liking" by sharing or starring, but now– "Liking is Public" so the reader stories feature of a count of how many times it has been Liked and even list the Likers.
Hmm, like others out there, the value here is a mixed one. A new story has fewer likers. Like none at first. Maybe we should get points for being the first Liker. But what does it say? Its a quasi vote, and Google can weave some ad magic with knowing what stories are more liked.
I guess with the New Age notion of friendship being just a click on a strangers profile (friends online with people we'd never have a friendship with in real life) so is "liking" now a throw away opinion.
I'm not sure where Google is going with all this, but I bet they have a plan somewhere.
What do you think?