I love being able to track the packages that get shipped to me; living in a rural town blessedly far from malls and mega-shops, I am ordering more and more of my household (and camera toys, computer stuff) items online.
Tracking helps, but now I want more, because the detail is not fine grained enough! Like today, I have something coming from FedEx, but all I know is that since 5am is that it is "on the truck"- the next notice will be that it was delivered (and I won't need to go online to check that).

That is pretty much like when the repair guy is supposed to be there "somewjere between 9am and 5pm" – how do you plan your day around that?
What if the package had an embedded RFID chip so it could be tracked more i real time? I could see it maybe on a map, and that would let me know if I have time to run an errand (or take a crap or go for a photo walk)?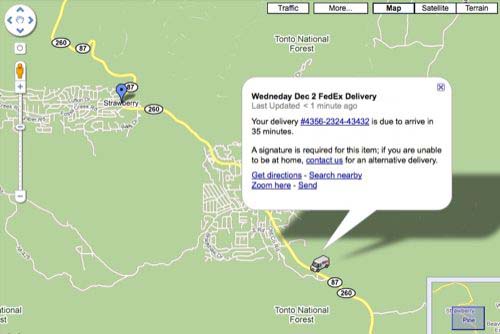 And then we could have mobile phone apps and … and …. well I am hopeful some large big shipping company is tinkering away at this now
Okay, I'll just be patient and wait for Lori's van to show up (I know my delivery folks by first name ;-)
The post "Map That Package, Please" was originally pushed out of the bottom of a purple jar of Play-Doh at CogDogBlog (http://cogdogblog.com/2009/12/map-track-package/) on December 2, 2009.