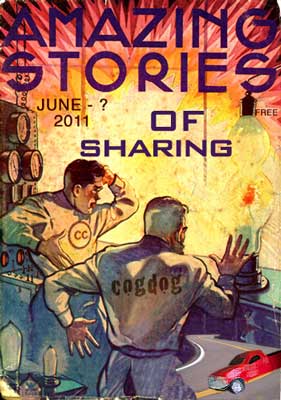 I'm thinking a lot about my plan to be on the road 4 months starting in June- I've carved out a corner of the blog site here to be my record for what I call my "odyssey" (one positive outcome is I can consistently spell that word correctly) — http://cogdogblog.com/odyssey. While I could have made a separate site somewhere else, this is my home damnit, and there's no reason not to have it be where I focus my energy.
Since I am dotting in my map with people to visit, most of whom I have known only or first online, I came up with an idea for something to do on this trip, collecting a new collection of Amazing Stories of Sharing.
This has been something I've created twice for presentations; the first at the Open Education Conference in 2009 (well, it was Amazing Stories of Openness than, but close enough). I collected videos from a few people I got to talk to directly (at a conference) but most were done via Skype video, and all were stories people shared that represent positive outcomes about openly sharing their work on the net: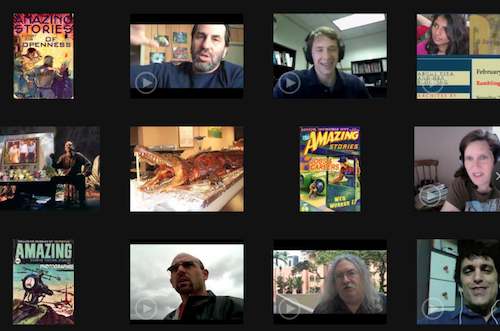 I assembled them into my CoolIris semi-hack approach, which worked great in presentation mode as I could randomly pick any of them out (although the web page also has mp4 versions of each story also viewable via a playlist).
What might have been most fun was hacking up comic covers for the story themes:
And then I did a repeat on 2010 http://cogdogblog.com/stuff/amazing10/
But thinking now, I am going to see people… in their homes, and it would be fun to collect a new round of stories. So if my truck rolls into your town, you can expect me to ask you to share a story– something that happened expectedly, or something that surprised you, just because you shared something on the internet. It need not be monumental, but just something that AMAZES you.
I'm hoping people will be okay with putting these online (I will ask) For this collection, I am looking at using a posterous site (in case I do any posting from my iPhone)– I nabbed http://amazingstories.posterous.com (which I may switch to be listed on my domain). I can then use its feed to bring in or maybe repost via FeedWordPress to my blog.
As I don't have a video camera now beyond the iPhone, my T1i, or my small pocket camera, I'd be interested in recommendations for (inexpensive) video camera that would be suitable for this kind of interviewing.
So between now and the time I see some of you on this trip, make sure you are sharing openly and seeing some amazing things happen. I'll be asking you about it…