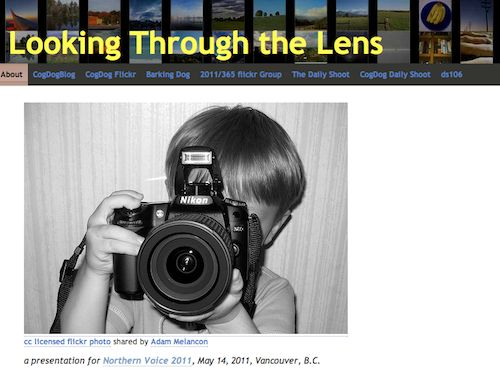 I was excited to have my session on Looking Through the Lens accepted for Northern Voice 2011. I had done this one before, but infused a few more new bits for this audience. More or less, I used photographs to talk about what we can learn about learning from the act of photography:
The mechanics and art of photography unveil an intriguing metaphor for thinking about learning and our world view. For a photographer, the operation of cameras– exploiting apertures, shutter speeds, optics, — coexist with the artistic skills of pre-visualization, framing, composition. It is no longer a field dominated by pros with expensive gear, we can all make photographic art, damnit.

Taking the metaphor farther, creating an engaging learning experience is much more than point and shoot or flipping the settings into automatic mode. Photography is a beautiful example of how you can get better at doing something just by regularly doing (and sharing) your craft. Regular acts of photography, such as the Daily Shoot, are a model of informal learning that works.
All of the stuff below is available (and more links) at http://cogdogblog.com/stuff/nv11/
I have audio I recorded as well
Through the Lens Audio [28.5Mb 39:38]
But the coolest thing that I got, amazing! are these iPad created visual notes from Giulia Forsythe — the full circle as she credits my favorite iPad visual recorder as an inspiration for her to get started (Giulia says she was prompted by both Grant Potter and Dave Cormier to check out Rachel's work (as should you).

cc licensed ( BY NC SD ) flickr photo shared by giulia.forsythe
It seemed to work really well to use the Twitter Keynote auto tweet to push out links and ideas I was presenting (for the method used, see my Geeking the Keynote notes)– e.g. as I got this great reply from Paul Latrelle with the suggestion to include filters in with my metaphors of aperture, shutter speed, iso
And the audience responded well to the activity where I asked them to take a photo with their mobile camera and post it to my flickr account via email
For many obvious reasons (I hope) this is a presentation I really love doing.