cc licensed ( BY NC ) flickr photo shared by wilmesmom
People (like me) can get upset when the ds106 server goes down, and here is another tip to help you to keep tabs on the Daily Create, so you can know the assignment even if the server is belly up and gagging.
At first i was thinking of building a new site on ym own server, and use something FeedWordPress to susbscribe to the Daily Create, but there is an easier solution, something we suggested people use already to keep tabs on the blog sin their class section.
Google Reader.
And yes, RSS, that technology that supposedly dies every 8 months.
All you have to do is to subscribe to the Daily Create Feed (http://tdc.ds106.us/feed) in Google Reader. This works because it continually polls the server, and the feed content is stored in your account, so it will be there even if the server goes down later:

Now of course, theres a chance if the server downage happens around the time when the new TDCs are published (10am EST). But heck, an asteroid could also land on your house (I hope not).
The other advantage is you will end up building your own archive of TDCs, and it is going to quicker to check the assignments on the reader than going to the web site.
But wait, there is more. You do not evne have to subscribe- yuo can use mine. I made my feed into a Google Reader Bundle, meaning it is publicly accesible from http://bit.ly/dailycreate. It looks like a basic version of the site, not as pretty, but all of the information is there: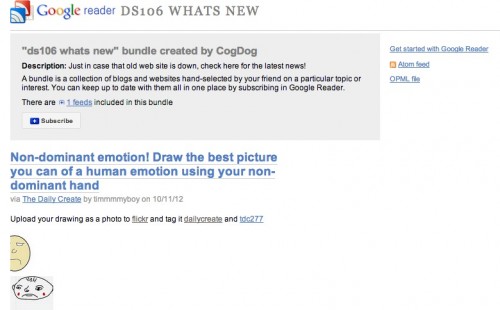 It could not be easier for you, just save that URL as a bookmark in your web browser )http://bit.ly/dailycreate).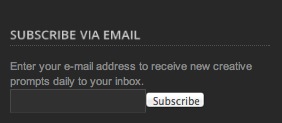 Another option is to sign up for email notifications of the Daily Creates, see the lower right corner of the site.
Some people may like these in their inbox- I have noticed that they are triggered much later, sometimes not until the afternoon.
But do not be just crying when the server goes down (cause I am already crying), take control and know your alternatives. There are always multiple options on the web.