Some unconfirmed rumors that a new device is coming out soon from Apple, the ultimate ds106 device, the 106pod- its evolution: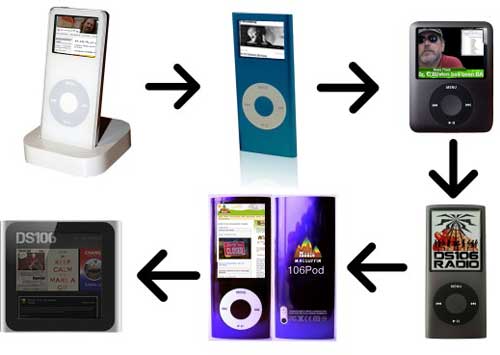 Okay, this is actually a remix created for the ds106 Remix Generated assignment, Evolution [remixed] DS106-ersizer:
This combines an original ds106 assignment:
Evolution created by Isaac Thesatus
Alot can happen from birth to death. Be creative, show how things; animals, objects, technology, evolve throughout time. This assignment doesn't have to be precise, your object evolving doesn't have to evolve the way is expected during the process of evolution. Be creative!
played with the remix card:

To start, I used the Evolution assignment by kkm32 (this looks like one of Scottlo's Spring 2012 students), which graphically showed the evolution of iPod nano from 2005-2010.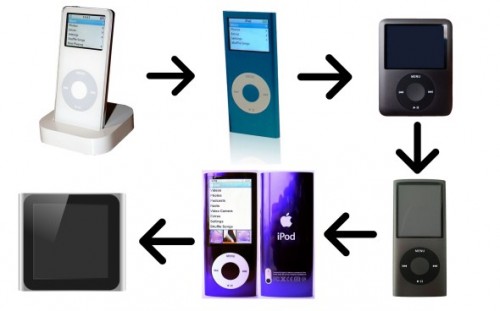 My idea was to insert images of the ds106 site as it evolved over 2010-2012. They are kind fo hard to see in the image, because I shrunk them to be part of the tiny pod screens.
Spring 2010: "1,000 songs. Impossibly small."
ds106 Spring of 2010 : early with a Lebowski themed header, but like now, aggregating blogs into one site
Fall 2010: "Completely remastered."
ds106 Fall of 2010– the last semester before it became an open course

Summer 2011: "A little video for everyone."
ds106: The Summer of Oblivion – wow, I managed to skip the first open course section of ds106, but here was its second iteration, probably the most zany, un-course like course evert taught. Completely unhinged. Beauty, eh? The screenshot is from the video episode where Dr Oblivion was banished from the course
January 2011: "nano-chromatic" and "Rockalicious"
Ongoing from January 2010 is the epic arc of ds106 radio. Name me one other class, MOOC or not THAT HAS A FREAKIN RADIO STATION! (well one group of elementary students do)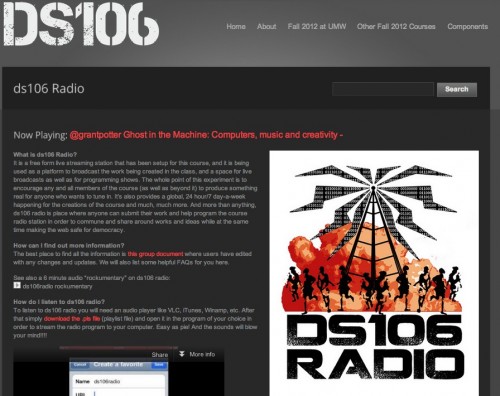 Summer 2012: "Multi-Touch. And multi-talented."
The purple wild version represents to hippie love Summer of Macguffin, the summer online version Martha Burtis and I taught in 2012:
Fall 2012: "Completely Renanoed."
The final model, the multitouch nano represents the current iteration of ds106, where it is taught only online.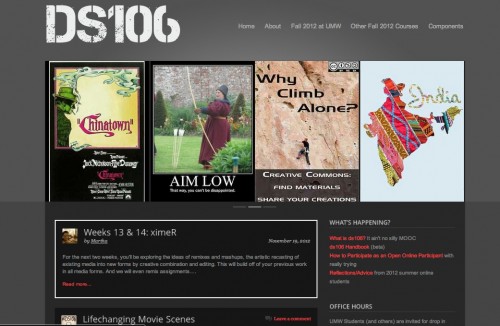 FWIW, the blog post title and the slogans are ones created for each iPod Nano
What can be after "Completely Renanoed"? Stay tune for the next generation od ds106, coming to your ds106pod.
The editing of the graphic was done in Photoshop, using a common method. I select a region I want something to appear in, like the screen of one of those nanos.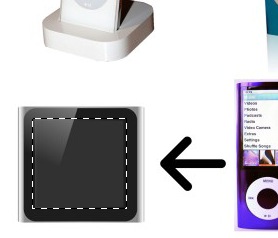 I then open the image I want to use and copy it all (sometimes on my Mac I do this in Preview, it is just to copy it for pasting).
In Photoshop, with the target area still selected, go to Edit -> Paste Special -> Paste Into this essentially creates a mask layer so that the image is cropped to the region I had selected: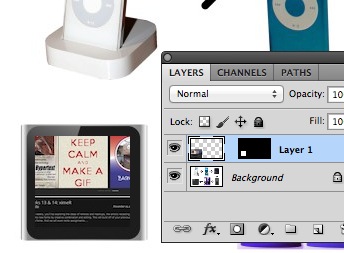 From here, I can select the paste image, and use resize, distort, etc to get the pasted image to appear how I want it:
I use this method ALOT.
And for the record, again ds106 is NOT Massive, not bovine, not XRated- it is "Impossibly Small"
Put that in your MOOC and smoke it.
While listening to your 106Pod.